Everything We Know About Midnights, Taylor Swift's 10th Studio Album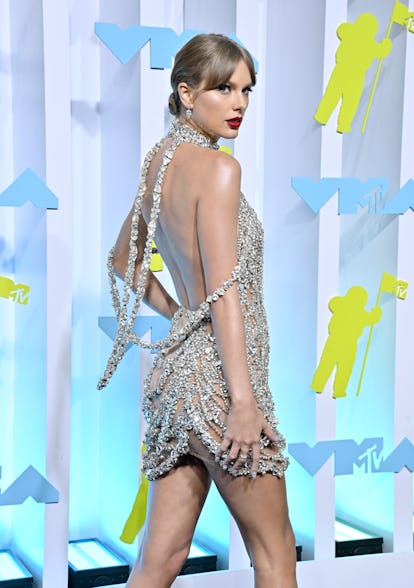 Photo by Axelle/Bauer-Griffin/FilmMagic via Getty Images
Taylor Swift has immersed herself in her archives ever since she embarked on a mission to rerecord her first six studio albums. But when accepting the video of the year award at MTV's VMAs on Sunday, the 32-year-old pop star (who was dripping in jewels courtesy of Oscar de la Renta) revealed that she's ready to step into the future with her tenth studio album, Midnights. It's her first new material since 2020's Evermore, and fans couldn't be more thrilled to hear how she's turned "the stories of 13 sleepless nights scattered throughout my life" into music. Find the answers to all your questions about what she has in store for October 21 below.
Who did Taylor work with on Midnights?
In a world where artists are getting sued left and right over accusations regarding crediting issues (Swift among them), it has become part of an album release process to look into the writing credits ahead of a drop. And now, just days before Midnights' release, we can see who helped Swift create her latest album.
A lot of the credits are unsurprising. Her frequent collaborator, Jack Antonoff, helped with a majority of the songs on the album. It is notable, however, that "Vigilante Shit" is the one song on Midnights that Swift wrote alone. Antonoff and Lana Del Ray are both credited for "Snow on the Beach," which makes sense, considering the track features Del Ray. The mysterious William Bowery also made a return to Swift's credit list on the track "Sweet Nothing." Swift fans know that Bowery is the pen name for her boyfriend, Joe Alwyn, meaning the couple penned yet another song together. The most surprising credit on the album, however, is Zöe Kravitz, who helped with the opening track, "Lavender Haze." Kravitz isn't new to music. Of course, she has it in her genes and likely grew up around it, being Lenny Kravitz's daughter, but she also fronts the band Lolawolf, and has released two albums with them. Last year, Kravitz even teased that she was working on some solo music with Antonoff, though that has yet to come to fruition.
As for Kravitz's relationship with Swift, the two have actually been friends for awhile, since at least 2016 and, according to E! News, they were in a quarantine pod together in London during the pandemic. They seemed to remain close after the fact, hanging out and dancing together at an Oscars after party back in March. When the actress starred as Catwoman in The Batman earlier this year, Swift fronted her fan club, sharing an Instagram Story in support of Kravitz with the caption, "@zoeisabellakravitz is the Catwoman of my dreams...The Batman was phenomenal!!!" So they've been quarantine buddies, dance partners, and supporters of each other in the past, and now, they can add musical collaborators to that list.
What can we expect from the week of Midnights release?
The release date for Midnights is quickly approaching, and if you thought Swift was just going to drop the album and walk away, you don't know her very well. The singer has a full schedule planned out for the week following Midnights' release, and she just shared it on Instagram so fans can be fully prepared for what's to come. Here's what we know so far:
Thursday, October 20th: A teaser trailer will drop during the third quarter of Thursday Night Football on Prime Video.
Friday, October 21st: The album will be released at 12 AM EST. Just three hours later, at 3 AM EST, fans are in for a "very chaotic surprise." Then, at 8 AM, Swift will release the first music video for the album, for the song "Anti-Hero." That night, at 8 PM, all the lyric videos will also become available.
Monday, October 23rd: Swift will make a guest appearance on The Tonight Show with Jimmy Fallon.
Tuesday, October 24th: The second music video from the album will be released at 12 AM EST, though it's unclear for which song.
Friday, October 28th: Swift will round out the week with an appearance on The Graham Norton Show.
Ahead of the album's release, Swift has also teamed up with Spotify to slowly release lyrics from the album. They tweeted out the first one on Sunday:
Is there a track list for Midnights?
Initially, Swift was characteristically coy about Midnights' track list, only disclosing that 13 new songs would be featured on the album, but providing no actual titles. Slowly, however, the artist released videos she called, "Midnights Mayhem with Me," where she randomly revealed track titles one by one. Now, about two weeks before the release of Midnights, the entire track list (and the album's one feature) is out:
Lavender Haze
Maroon
Anti-Hero
Snow on the Beach [ft. Lana Del Rey]
You're on Your Own, Kid
Midnight Rain
Question...?
Vigilante Shit
Bejeweled
Labyrinth
Karma
Sweet Nothing
Mastermind
The album includes a collaboration with Lana Del Rey, which many fans have been anticipating for quite awhile. The two share a collaborator in Jack Antonoff. And, back in 2019, at a Billboard Music Women in Music Event, Swift called Del Rey one of her favorite artists of the decade, saying, "she turned into, in my opinion, the most influential artist in pop."
While Swift hasn't said anything about "Snow on the Beach" specifically, she has spoken about some of the other songs on the album. "Track three, 'Anti-Hero' is one of my favorite songs I've ever written," she said. "I really don't think I've delved this far into my insecurities in this detail before." She also revealed that she was partly inspired to write "Lavender Haze" when she heard the term on an episode of Mad Men. "I looked it up because I thought it sounded cool, and it turns out that it's a common phrase used in the '50s where they would just describe being in love," she said. Swift went on to explain that the song is about her own relationship with Joe Alwyn, and navigating it in the public eye. "Like my relationship for six years, we've had to dodge weird rumors, tabloid stuff, and we just ignore it," she said. "And so this song is sort of about the act of ignoring that stuff to protect the real stuff."
The meaning of some songs are still up in the air. Many were surprised to learn that track eleven on the album is titled "Karma." For awhile now, Swift fans have speculated that the artist has a secret, unreleased album of that name, which was derailed after the drama with Kim Kardashian and Kanye West in 2016. Since then, Swift has dropped many hints that her fans are correct, even going as far as to say, "Karma is real," in her "73 Questions" video with Vogue. And given Swift's little chuckle after announcing the track title, it seems like she knows how fans would react to the name.
What has Swift said about Midnights so far?
The pop star gave her followers a sense of what's to come in a photo of herself sitting in an arm chair and holding a telephone overlaid with text. "This is a collection of music written in the middle of the night a journey through terrors and sweet dreams. The floors we pace are the demons we face. For all of us who have tossed and turned and decided to keep the lanterns lit and go searching—hoping that just maybe, when the clock strikes 12… we'll meet ourselves," she wrote. "We lie awake in love and in fear, in turmoil and in tears. We stare at walls and drink until they speak back. We twist in our self-made cages and pray that we aren't—right at this minute—about to make some fateful life-altering mistake."
What's the Midnights aesthetic?
Each TSwift album has its own look and feel, and with her latest, Swift joins Kendall Jenner and Lil Nas X in endorsing blue eye makeup. The cover bears a bit of similarity to that of Swift's seventh album, Lover (which incidentally was almost titled Daylight).
How are fans responding?
With just as much enthusiasm and theorizing as you'd expect. Her website even crashed when she made it available for preorder.
Who are Swift's coproducers and collaborators on the album?
Swift hasn't hinted at who she worked with on the record, and no one, so far, has come forward to claim credit. Frequent producer Jack Antonoff has remained silent, as has her Folklore and Evermore collaborators Aaron and Bryce Dressner. Some Swifties remain a bit baffled that it isn't yet clear.
When will Midnights be released?
October 21—which, as some fans have noted, happens to be Kim Kardashian's 42nd birthday. Just a coincidence? Knowing Swift, maybe not.
This article was originally published on