The Best 2021 Fashion Collaborations and Capsule Collections
Plus more of the season's best capsule collections and limited-edition collaborations.
---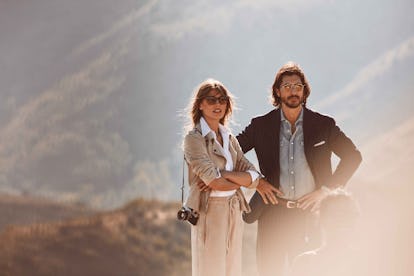 Brunello Cucinelli x Oliver Peoples
In its first ever fashion collaboration, and its first endeavor into eyewear, Italian luxury house Brunello Cucinelli is partnering with Oliver Peoples on a collection of five sunglasses styles. With references to Solomeo architecture and the glamour of classic Italian cinema, the collection embodies the heritage of the Cucinelli brand. The collection is available beginning today at Oliver Peoples and Brunello Cucinelli.
Arc'teryx Veilance for Women
Veilance a subbrand of the buzzy outdoor and streetwear label Arc'teryx, unveiled its first-ever foray into womenswear with a fall collection that launches globally in stores and online today. Creative Director Taka Kasuga (who previously worked as a designer for Junya Watanabe of Comme des Garçons) combined minimalism with fine tailoring to create a line of 11 apparel and accessory pieces representing an interation of wardrobe staples. There's an ankle-length down coat, a rain-repelling shin-length skirt, and an ultra soft merino base layer, all of which have been crafted with inclement weather in mind. The full collection is now available here.
Dundas x Revolve
Shortly after premiering at a rooftop fashion show packed with supermodels including Stella Maxwell, Soo Joo Park, and Sasha Pivovarova, Peter Dundas's capsule collection for e-tailer Revolve was immediately available to purchase. The expansive selection brings Dundas's signature party girl-on-the-go point of view to a more accessible price point. For night there are sparkling gowns and a plethora of LBDs, while for days Dundas offered sculptural knits and leather jackets. Accessories, including knee-high boots, statement belts, layered jewelry, and plenty of heels, will add the perfect finishing touch. Shop the full collection here.
Gucci Lifestyle
"When I was a child, going to the stationery store and finding pencils, pens, notebooks, and games meant bringing a dream into my daily routine," says Gucci creative director Alessandro Michele These "fine, well-made objects" from his upbringing in Rome became the inspiration for the Gucci Lifestyle collection, a stationary line that features Gucci-branded notebooks, pencils and pens, paperweights, and playing cards. Starting September 10th, this contents of Michele's own personal Wunderkammer will be available at the Gucci Cartoleria temporary store in Milan. To celebrate the launch, Gucci has released a look book filled with whimsical scenarios: one model lounges on a chaise surrounded by candles, while another watches his notebooks float through the air. "I could have included [these items] in the collections long ago, but they were not strictly related to clothing and accessories," Michele added. "That's why I wanted to build a whimsical space where they could be laid out, to restore that sense of wonder that makes them so dear to me."
Pharrell x Adidas
Pharrell's longstanding partnership with the sportswear giant Adidas has led to all kinds of career-defining drops—including the design and release of the much beloved Humanrace NMD sneaker, which first came out in 2016. The musician's latest redesign of the Humanrace sneaker comes in the form of the Sičhona—a streamlined silhouette that's meant to capture the feeling of feeling the earth beneath your feet. Sičhona is also a tribute to the Dakota people, with whom Pharrell has had a friendship with for many years. According to Adidas, this new silhouette is a call to experience and learn more about the Dakota land and its people. The shoe launch is therefore happening in conjunction with the "I am Dakota, We are Dakota" campaign, for which Adidas and Pharrell teamed with leaders of the community to create a photo series highlighting the Dakota people and their stories. The shoe will be available starting August 27 on adidas.com and in select stores.
Adidas x Karlie Kloss
"I wanted to create this line for the girl on the go, like myself. I've never really stopped moving (from airports to runways to meetings) and now, as a mom, it's nonstop," Karlie Kloss says of her latest drop with Adidas. "I wanted to create pieces that were both functional and fashionable to fit that lifestyle for all types of women: Gen Z, women just starting their careers, to new moms like me." The model, fashion plate, and entrepreneur released her new collection with the sportswear brand this week—and it's filled with chic takes on sweats, zip-ups, and workout tops that Kloss herself likes to wear in her everyday life. "For me, lifestyle and athletic are one and the same," she adds over e-mail. "To create a lifestyle line meant it was inherently an activewear line." The Kode With Klossy founder says she worked with Adidas from beginning to end on the collection, "From our very first conversations dreaming about what could be, to swatching fabrics, to reviewing sketches and then real samples." Before the pandemic began, Kloss flew between Berlin, Paris, New York, and Los Angeles for design meetings. But once Covid took over, she and Adidas' designers switched to virtual communication. "This entire drop was created and brought to life via Zoom," she says. Shop the offerings below, and at adidas.com.
Marc Jacobs x The Surf Lodge
Marc Jacobs is bringing a dose of color to Montauk. For the next three weeks, the designer's new "Color Collection" will stage a full takeover of The Surf Lodge, the Hamptons' go-to party spot on the easternmost part of Long Island. The Lodge's exterior has been decked out in hot pink awnings above its front windows, while a matching Cadillac is parked outside. The beach adjacent to The Surf Lodge's bar, meanwhile, is outfitted with navy blue and army green umbrellas and pillows—and its hotel rooms now contain a bubblegum-pink hued TV and nautical-themed decorations. Surf Lodge's onsite boutique will also carry a slew of Marc Jacobs products from the collection, including totes, camera bags, and dad caps.
Heron Preston x Gentle Monster
Heron Preston's design aesthetic has always been rooted in industrial workwear. The designer and creative director of his namesake brand has taken this sensibility to the South Korean sunglass and optical glasses brand Gentle Monster. The duo's collection features three sunglasses—done in acetate rectangles and in various colorways—along with a limited-edition, custom-designed case. The collaboration will be released on July 29th worldwide, and available at Gentle Monster and Heron Preston's on and offline stores, Farfetch and global select shops.
Wales Bonner x Laraaji
Industry favorite Grace Wales Bonner teamed up with the ambient music pioneer Laraaji on a very limited-edition t-shirt: Just 60 are available for purchase, exclusively on the London-based label's website. Inspiration came courtesy of Laraaji's album Vision Songs, which the 78-year-old self-recorded and released via cassette in 1984. (He first came to prominence four years prior, after a chance encounter in Washington Square Park led to a collaboration with Brian Eno.) All proceeds of the hand-dyed tee will go to CARE India, an NGO that's proven a leading force in the effort to address India's ongoing Covid-19 crisis.
BAPE x Coach
BAPE and Coach, two labels that were instrumental in carving out early aughts street style, have teamed up on a collection of ready-to-wear, footwear, leather goods, and accessories—and, naturally, have sought out the faces of the moment to star in the campaign. Megan Thee Stallion, Cordae, and the Japanese model Kōki were photographed by Sandy Kim wearing the offerings from the line, which includes t-shirts, sandals, miniature bags, and hoodies bearing a fusion of BAPE and Coach's signature logos. Plus, a take on the Bapesta sneaker has been updated for the Coach customer, with leather and denim accents. The goods will be available on July 24, with prices ranging from $95 to $450.
Tommy x Indya
Tommy Hilfiger and Indya Moore are making history with their latest partnership. For pre-fall 2021, the brand and Moore will launch the Tommy x Indya capsule collection—a range of non-gendered, size-inclusive offerings that the actor and activist helped design. To create the line, Hilfiger and Moore began with an essential piece from the Tommy Hilfiger brand's archives—the polo shirt, the baggy jeans, crisp button-downs—then reimagined them to fit multiple gender expressions. The ad campaign for Tommy x Indya, which is part of Hilfiger's People's Place Program, features gender non-conforming stars including Chella Man. Shop the capsule, here.
Kemio x Private Policy x Uprisers
The Japanese New York-based influencer Kemio has linked with the Queens fashion brand Private Policy and streetwear label Uprisers to support the AAPI community, which has seen a marked uptick in violent hate crimes since the Covid-19 pandemic. The brands and Kemio have collaborated on a printed t-shirt whose sales will benefit the nonprofit Hate Is a Virus—a group that mobilizes community members to participate in local and national political campaigns, create safe spaces for dialogue and education, and organize campaigns all in the name of AAPI-focused anti-racism. One hundred percent of the profits from the shirt, which bears a blue image of a flower with the words "respect and love," will go toward Hate Is a Virus. Shop the tee, available for pre-order, here.
Chanel Electro Timepiece Collection
Chanel's new watch capsule collection is, in a word, electric. Just not in the 'Boogie Woogie Woogie' disco sense. Instead, the luxury house has drawn from the electronic music culture of the '90s by reimagining its signature styles—the J12, Boyfriend, Coco Code, and Premiere—in clubby technicolor hues. To mark the limited-edition release, Chanel collaborated with Ed Banger Records on exclusive electronic playlists, available now on Spotify and Apple Music.
Gucci x The Shoe Surgeon
Los Angeles-based Dominic "The Shoe Surgeon" Ciambrone has long made a name for himself for his imaginative bespoke remixes of grail-level sneakers. Under the auspices of Creative Director Alessandro Michele, Gucci, as we know, is always up to joint projects with other exciting creators. So, the fact the brand recruited Ciambrone to create three new custom versions of the Gucci Basket sneaker makes perfect sense. With sustainability on their mind, the Italian house provided The Shoe Surgeon with upcycled materials featuring some of their most iconic prints to create three new bespoke sneakers. Naturally, Los Angeles Laker Kyle Kuzma, the NBA's reigning style star, was called in to help model the collection.
The sneakers are available exclusively at Gucci Beverly Hills. All proceed will go toward benefiting Oakland School of the Arts' Step It Up program and providing its students with technology resources. The program focuses on preparing students of color for education in the arts.
Travis Scott x Dior
In 1947, Christian Dior made a trip to the United States to unveil his brand's debut collection there. One of his first stops was Texas, where the French designer caught glimpses of the Southwest's canyons and dusty deserts. Seventy-four years later, the maison's current creative director Kim Jones has taken this American ethos into 2021, and collaborated with superstar (and Houston native) Travis Scott and his creative collective Cactus Jack on the Dior summer 2022 collection. The line was revealed on Friday; fine tailoring done in pink, green, and earth tones appeared alongside beanies and silken button-down shirts. As an additional collaboration to this collection, the artist George Condo painted a series of shirts that will be auctioned off to raise scholarship money for aspiring design students.
RuPaul x Balenciaga
Balenciaga's creative director Demna Gvasalia dropped the first installment of his brand's project with Apple Music at the crest of the pandemic's second wave—a time when most folks, no doubt, wished they were dancing in a club full of sweaty strangers rather than confined to their houses. And now that the United States is largely opening back up, with parties returning to the cultural calendar, Gvasalia has tapped a legend in the performance space to curate the latest Balenciaga x Apple Music playlist: RuPaul. Alongside the playlist, the maison and Drag Race star have created a product capsule inspired by tour merch, which includes cap-sleeve t-shirts, cropped hoodies, and dad hats, all bearing RuPaul's autograph. Shop the full line here.
Brock Collection x H&M
Since its founding in 2014, the LA-based label Brock Collection has been delivering covetable feminine dresses that are as suitable for casual affairs as they are special occasions. Now, just in time for summer wedding season, H&M is bringing the house's effortless luxury to the masses in a sure-to-sellout collaboration.
Brunello Cucinelli x Mytheresa
Cozy knits aren't just for the winter months. Luxury powerhouses Brunello Cucinelli and e-tailer Mytheresa have partnered on an exclusive high summer capsule collection that's inspired by happy hour. What that looks like: Elevated lightweight sweaters, classy shorts, and easy versatile dresses. Just add some yacht rock and you're good to go.
Dolce & Gabbana Sunset in Capri
A trip to Capri sounds heavenly right about now—or any time, really. For its new exclusive collection for Saks Fifth Avenue, Dolce & Gabbana looked to the sun-drenched island for inspiration. Cheerful lemons and majolica pottery prints grace ready-to-wear for men, women, and children—and set the mood of a dream Italian vacation for the whole family.
Salvatore Ferragamo Let's Dance
According to the French actor and director Jean-Louis Barrault, "Dancing means fighting against everything that holds us back, everything that brings us down (...), it means using our bodies to discover the very essence and spirit of life; it means making physical contact with freedom." It's that freedom of movement that's at the heart of Ferragamo's new Let's Dance capsule collection featuring lightweight, bendy, flexy flats and heels—perfect for the brand's accompanying Tik Tok dance challenge.
Christian Louboutin Walk a Mile in My Shoes
This summer, Christian Louboutin's famous red soles signal more than just status—they also signal solidarity. The legendary French designer has teamed up with close friends Idris Elba and his wife Sabrina Elba on a capsule collection titled Walk a Mile in My Shoes with 100% of its proceeds going to grassroots organizations that are combating racial inequity and injustice around the world.
Baby Dior
Your child can now officially be the coolest kid on the block. Christian Dior has launched a series of pop-ups for its Baby Dior line, which is now available all over North America for the first time. At locations in New York, Miami, Toronto, Los Angeles, and more, shop the children's collection—which consists of layette essentials (think bibs, onesies, and even a stroller) and kids' size hoodies, sweatpants, and teeny dresses done in the brand's signature Toile de Jouy print. Plus, the baby fall 2021-22 line features new designs, including the luxury house's B27 sneakers and a new bucket bag.
Saint Laurent Rive Droite x Memphis Milano
In honor of the 40th anniversary of the Italian design and architecture group Memphis, Anthony Vaccarello has created a capsule collection that pays homage to the firm's distinct shapes and patterns. The collaboration debuts alongside special exhibitions being staged May 19-June 23 at Saint Laurent Rive Droite stores in Paris and Los Angeles and featuring some of Memphis's most iconic pieces including the RING seat/bed designed by Masanori Umeda and RIVIERA chairs designed by Michele De Lucchi in 1981. The complete collection is available both in stores and online.
Ferragamo's Tuscan Wildflowers
Wildflowers: You belong among them. Salvatore Ferragamo's new collection places you smack dab among a field of flora as illustrated across bathing suits, sneakers, shirts, dresses, and more. The house's signature Studio Bag has even gotten a springtime makeover in a limited edition organic cotton iteration with destination-specific versions available at Ferragamo stores in the resort destinations of Capri, Forte dei Marmi, Marbella, Cannes, Miami, Las Vegas, Hawaii and Rio de Janeiro. Shop the collection at ferragamo.com.
Fendi's FF Vertigo Capsule With Artist Sarah Coleman
You may have seen the New York-based artist Sarah Coleman's creations on common household goods—Louis Vuitton's Multicolore Monogram print on a power strip, Hermès' orange packaging encasing a small side table, or Fendi's signature "FF" pattern covering a folding chair. But you've never seen her work, which plays upon designers' materials by repurposing them on everyday objects, like this. On May 13, Fendi released its FF Vertigo Capsule Collection, which the Italian fashion house's accessories and menswear artistic director Silvia Venturini Fendi made alongside Coleman. The collection—tailor-made for any summery outdoor activity—features the brand's logo pattern, but twisted and turned in a trippy, '70s-esque form. But this is a collaboration with Coleman we're talking about—so there are also Polaroid cameras, Bento boxes, and camping equipment covered in the iconic print.
Loewe x Paula's Ibiza Collection
Loewe creative director Jonathan Anderson feels what we are all feeling right now: the desire for a tropical vacation. He translated that emotion into a capsule collection with the Ibiza-based boutique Paula's, with which the Spanish brand has collaborated since 2017. The island is, incidentally, where Anderson spent summers as a child—it's become a cornerstone piece of inspiration for Loewe. "I'm after that vibrant zing of sunny Balearic effortlessness, channeled through uncomplicated pieces of clothing and accessories that are as easy to wear as they are craft-led," Anderson said of the capsule in a statement. Campaign images that capture the summery, chic feel of the collection were shot by Gray Sorrenti on location in Mexico.
Balmain x Maluma
Before the world shut down, Balmain's Olivier Rousteing was working with Maluma on a Miami-inspired collection for the Colombian sensation's 2020 tour. Of course, the past year put a pause on all that. So instead, the friends set about creating a limited-edition capsule collection that delivers the tropical, hot, Papi Juancho vibes. As part of the partnership, the pair also created a special playlist available on Apple Music Signature. Shop the beachy collection of hoodies, shorts, and sneakers now at balmain.com.
Peter Dundas Creates a Capsule for a Good Cause
The UK-based designer and creative director Peter Dundas has teamed with Childhood USA on a capsule collection consisting of four offerings: a tank top, a slipdress (pictured below), and for polished loungewear, a silk robe and pajama set, each done in a sumptuous rope print. Childhood USA, founded by Queen Silvia of Sweden, aims to end sexual abuse, exploitation, and violence against children.
Kim Jones Makes Couture (Sort of) Accessible
On April 15, Kim Jones will make his debut Fendi couture collection relatively more accessible by reworking it into ready-to-wear. If you're thinking about a purchase, you'll have to move fast; the capsule is only available for two weeks, and at just nine of the house's stores across the globe. Look no further than its models, Bella Hadid and Lila Moss, for proof it may be worth the trek.
Dries Van Noten Teams Up With Misha Kahn
When was the last time you went to see art IRL? Dries Van Noten is happy to have you at its L.A. outpost, but the house also offers a different option to take in the freeform, cartoonish works of Misha Kahn. He and Van Noten have teamed up on a limited-edition print silk bomber jacket and t-shirt inspired by a "watermelon party" at his family's home in Minnesota amid the first few lonely months of 2020.
Kim Jones Takes on the Classic Chuck
While designers like Molly Goddard have been taking platforms to new heights, Jones is keeping an eye on comfort. The ever-prolific artistic director of Fendi and Dior Men's has collaborated with Converse on a streetwear-inspired capsule collection, with his bulkier take on the classic Chucks as the centerpiece. Expect to see them soon on the feet of pals like Naomi Campbell and Kate Moss, as well as campaign photographer Juergen Teller.
Bottega Veneta Makes a Comeback
A month after boldly deleting its Instagram, Bottega Veneta has returned with the first edition of a free quarterly digital journal, Issued by Bottega, featuring talent like Missy Elliott. The goal, explained creative director Daniel Lee, is to offer "more progressive and more thoughtful" content than what you would find on your regular ole feed.
Adidas Originals x Wales Bonner Returns
The second collection from the ongoing collaboration between Adidas Originals and the British-Jamaican designer Grace Wales Bonner is inspired primarily by the 1980s Jamaican dancehall scene. The highly anticipated drop, which is available on the Adidas website and SSENSE starting today, includes Sambas and Nizza sneakers in playful color combinations, tailored tracksuit separates, and crocheted tops inspired by old-school soccer jerseys. Consider your summer weekend uniform sorted.
One-of-a-Kind Pieces from Altuzarra
Altuzarra is the latest designer brand to embrace upcycled fabrics from its own archives, releasing this month a limited run of unique tops, wrap cardigans, skirts and bags knit from strips of past-season silk. The slouchy sets come in bright cherry red, marbled sky blue, and a fetching eggplant shot through with flecks of white—easily interchangeable or super chic worn as full monochrome looks.
Linda Farrow Teams Up With Paco Rabanne
On the hunt for some statement sunglasses? The bold new frames from Linda Farrow and Paco Rabanne might be just what you're looking for. Choose from a pair of oversized round lenses in two-tone blue or red, or a squared-off cat eye in black, white or pink. Either shape makes for an instant, outfit-making pick-me-up.
Loewe's Charitable New Pouch
Loewe's classic elephant bag gets a charming new look this season. A limited run of 300 pouches have been rendered in blue and red Shuka, a checkered cotton fabric traditionally used by Maasai tribespeople, and hand woven by a collective of women artisans in northern Kenya. All proceeds will be donated to the Elephant Crisis Fund, a conservation organization committed to protecting the future of the species.
Dior Gets Personal
New York's SoHo neighborhood gets a new, one-of-a-kind boutique today. ABCDior, a pop-up that runs through May 21, is entirely devoted to customized pieces from the house. Anyone can stop by to put their own spin on Dior's classic Book Tote, J'Adior heels or Lady Dior Bag with unique charms, monograms or letter badges.
Uggs à la Molly Goddard
Uggs continues their fashion resurgence with a special collection designed in collaboration with the extremely in-demand British designer Molly Goddard. Best known for her voluminous tulle dresses (including one worn by Jodie Comer in Season 1 of Killing Eve), Goddard applied her signature flair for color and proportion to three Ugg silhouettes: a floral appliqué ankle boot, a curly sheepskin slipper, and a mod suede platform. The pieces are available (but going fast) at retailers like Dover Street Market, Nordstrom, Farfetch, SSENSE and Matches Fashion.
An 'It Bag' Contender From Loro Piana
Beloved for their extraordinary cashmere knits and performance outerwear, Loro Piana is getting into into the It bag game with their latest leather good: the elegant, clean-lined Sesia bag. It comes in a few different sizes, ranging from a sleek little envelope clutch to a large version with a crossbody strap and interior pouch. We love the "M"— it feels perfectly proportioned for days spent out and about. (Remember those?)
Dolce & Gabbana Does Miami
Inspired by the energy of South Beach and the colorful flora of the Mediterranean, the iconic Italian brand has joined forces with DJ Khaled to release a genderless, size-inclusive capsule of sporty resort wear featuring riotous bougainvillea prints and a serene-looking lion. Perfect for channeling your inner party animal (by the pool, of course). A second drop released in June features flamingo prints and colorful butterflies on ready-to-wear for men, women, children, and newborns—fun for the whole family.