Ferragamo Debuts Customizable Sneakers at New Soho Concept Store
Plus more of the latest designer drops and capsule collections of the season.
---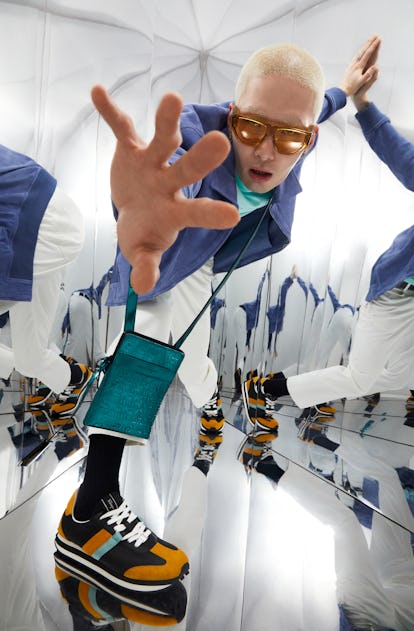 Ferragamo x DE-YAN
Salvatore Ferragamo ventured into the metaverse for the opening of its Soho concept store at 63 Greene Street. Partnering with the design studio DE-YAN, the storied Italian house tapped digital artist Shxpir to collaborate on multi-sensory booth wherein shoppers can create and mint their own NFT. Meanwhile, fully customizable 6R3ENE sneakers (the name is derived from the store's street address) can be created via a holographic experience that brings each personalization choice to life in real time. To mark the boutique's arrival, just in time for Pride Month, Shxpir also provided art for a special capsule collection of T-shirts and sweatshirts with proceeds benefiting The Center—one of New York's leading LGBTQ+ organizations.
No Sesso x Levi's
During its fall 2022 runway show, the Los Angeles-based ready-to-wear brand No Sesso debuted a stunning collection filled with ornate hairstyles; cheeky, inventive, multicolored patchwork knitwear; and corsetry dripping in gold chains. And then there was the denim: a show-stopping lineup of baggy jeans decorated with zippers that called to mind early aughts Marithé François Girbaud, corseted jean jackets, oversized Bermuda shorts with arty stitching, and a denim dress covered in pouchettes with a superlong train. These outstanding looks were part of No Sesso's first-ever collaboration with Levi's—a collection inspired by the 1990s and injected with the youthful and playful approach that's made No Sesso such an intriguing and hyped brand since it launched in 2015. The No Sesso x Levi's line, which debuted on June 8, is now available to shop online through No Sesso, at Nordstrom, and in Levi's stores.
Peter Do x Opening Ceremony
Opening Ceremony's Humberto Leon and Carol Lim have teamed with the designer Peter Do for a brand-new, first-time collaboration as part of OC's 20th anniversary celebrations. The capsule consists of Do's minimalist take on Opening Ceremony's signature varsity jacket: two styles were made in Do's "spacer" material, and a third in upcycled parachute material from his very first runway show. Katsu Naito photographed the campaign images, which feature friends and family of the brand including Angela Dimayuga, Maia Ruth Lee, Christine Sun Kim, and Alan Kim.
The collab also marks the launch of Farfetch Beat, a series of exclusive, limited-edition ad-hoc collaborations and product experiences that feature some of the most progressive voices in fashion and culture. There will be many more Farfetch Beat releases in the future, but for now, shop the Peter Do x OC offerings here.
Gohar World for Gucci Vault
The artist sisters behind tableware and lifestyle brand Gohar World, Laila and Nadia Gohar, have taken their talents to Gucci Vault.
In an exclusive with the Italian label's online concept store, the Gohars created a capsule collection that evokes the kooky, family-oriented ethos that's baked into the mother of pearl serving spoons, plate ware printed with a sprinkling of cheeky images of beans, and old-school lace linens (sourced in Egypt and sewn in the Cairo atelier owned by Laila and Nadia's relatives), sold on their website, gohar.world. For Gucci Vault, (incidentally enough, another kooky brand with family roots), Laila—who is known as something of a chef-slash-artist, creating edible works that run the gamut of curiosities—and Nadia, a painter, made a mini jupe-style apron with Battenburg lace bow appliqués, Venetian glass candy cutlery rests, and ricotta-shaped candle rounds. "When designing this collection for Vault, Nadia and I wanted to create pieces that could exist within the Gucci universe," Laila told W days before the capsule dropped on June 6. "The colors we used for this collection were definitely inspired by the Gucci palette. I like thinking about a brand that way: Not as products, but a universe. Alessandro Michele has crafted this fantasy planet and everything he designs comes from this place."
To celebrate, Gohar World and Gucci Vault will host a dinner in Milan, opening the doors to Ristorante Gohar Gucci Vault on June 6. To shop the collection, click here.
Burberry's TB Summer Monogram Collection
Gisele Bündchen is the star of Burberry's latest campaign for its TB Summer Monogram Collection—and the photography, captured by Luigi & Iango, reflects not only the label's past-meets-present aesthetic, but also speaks to a sense of avant-garde artistry that echoes the clothing selection and Gisele's status as a legendary supermodel.
The Gucci Blondie
Gucci's newest bag, The Blondie, has already been spotted on the likes of Anne Hathaway and Elle Fanning. Now it's available to everyone else. For the latest collection, Alessandro Michele looked to Gucci's famous Interlocking G as seen in the house's patent documents from 1971. The curved emblem, which features prominently on styles that range from messenger bags to minis, offers a modern-day nod to the past—an era-spanning fashion trick that's become something of a Michele signature. The corresponding ad campaign is a tribute to New York—a city whose denizens, by virtue of simply hitting the sidewalks, have long been elevating every great bag to "It" status. For more information and to shop the collection, visit gucci.com.
Cass x Prada
For the artist Cassius Hirst, son of Damien, sneakers have always been a canvas of choice. At 14, he painted a pair as a gift to his father. Now, Prada has tapped the Gen-Z star to reinterpret their classic America's Cup sneaker in a range of four styles with hype-appropriate names that reflect the look and feel of each. See: the ATT4CK style's molded neon pikes and D3CAY's faded and distressed leather. The accompanying campaign by Axel Morin showcases the sneakers with custom masks that create an anonymous character around each look. The limited edition collection is available at select Prada boutiques and on prada.com.
Valentino's 90th Birthday
"I love beauty, it's not my fault!" Those are the famous words of one Valentino Garavani who turns 90 years old on May 11th. To mark the occasion, the house has emblazoned the quote on a limited-edition sweatshirt with all of its proceeds benefiting the designer's non-profit, the Fondazione Valentino Garavani and Giancarlo Giammetti. Additionally, the Italian label is staging a special retrospective at the Teatro Sociale in Voghera, Italy, Garavani's hometown. The exhibition, which will be open to the public May 11th through June 5th, spotlights the fashion icon's storied career through his personal drawings, sketches, and iconic archival looks including 36 red dresses that graced the runways from the 1960s through his final runway show in 2007. For more info visit valentino.com.
Fendace
When Fendi and Versace joined forces to create a fashion line in September of 2021, supermodels like Kate Moss, Naomi Campbell, Mariacarla Boscono, and Gigi Hadid were just a handful of notable names that appeared in the two house's clothing. Kim Jones and Donatella Versace had finally done the unthinkable—linking two classic houses to create a whole new look for "Fendace," as it was named. But the designers stressed this was "not a collaboration." It was a "coming together" of "two iconic fashion houses, or more rightly, two iconoclastic groups of people," as well as "a celebration of Italian fashion and a to-hell-with-it disruption of the established order of things." And today, that celebration and disruption is now available to shop. Handbags done in black and gold, cream and pink, and featuring a combination of the brands's signature emblems (soaring columns for Fendi, and Medusa heads for Versace), in addition to gleaming gold jewelry with the interlocking "F" insignia, can be purchased at Fendi boutiques and special pop-up locations, as well as on fendi.com, beginning Thursday May 12th. The SoHo, New York and L.A. pop-ups will be open from May 12th – June 19th.
Gabriela Hearst x Madres & Artesansas Tex
Since its debut in 2016, Gabriela Hearst's Nina bag has become one of fashion's most covetable items with an extensive wait list to prove it. Named for the artist and activist Nina Simone, the top-handled round pouch carryall would go on to beget the smaller Demi version. Now, Hearst, whose name is synonymous with sustainable luxury, is reimagining her popular it bags in partnership with Madres & Artesanas Tex, an organization made up of women-led small businesses that specialize in handmade fabrics and production methods. Working closely with the Bolivia-based non-profit, Hearst provided the artisans with a sketch that served as the starting point for four colorways called Fire, Neutral, Phoenix, and Mineral, all created in cashmere and hand crocheted. For more information on the special limited edition collection visit gabrielahearst.com.
Catbird x Vito's Gems
We're calling it one of the most charming collaborations of the year—Catbird has partnered with Vito Giallo, a 91-year-old artist, illustrator, and antiques dealer on a collection of limited-edition and one-of-a-kind jewels. Giallo is a lifelong New Yorker, with a quintessential New York story. After serving as Andy Warhol's first apprentice, he was the first to give Warhol a solo show in 1954. Giallo also owned an antiques shop across from The Carlyle—a destination for well-known names like Mark Rothko, André Leon Talley, Greta Garbo, Robert Mapplethorpe, and Jackie Kennedy. In 1969, Vito came into possession of a trunk full of gems. He sold a few to Warhol, then saved the rest for 53 years—until now. Catbird x Vito's Gems is a collection inspired by Vito's New York: nights at the ballet, his erstwhile shop on Madison Ave, an end-of-day martini at Bemelmans Bar, and the arc that connects the past to the present. The collection is being unveiled in two parts. A portion was made available last week and the second drop of new pieces will launch on April 26th, with pricing between $244 - $5400. For more information, visit catbirdnyc.com.
Pyer Moss
Pyer Moss designer Kerby Jean-Raymond has brought the surreal, cheeky, on-the-nose design ethos he imparted upon his very first haute couture collection, titled Wat U Iz and shown in July 2021, to accessories. For the first time, Jean-Raymond's coveted brand has introduced a line of handbags, in addition to a mainline women's footwear offering. A version of the sandal range, some of which feature straps that tie up the leg, were first unveiled at the Wat U Iz presentation—and the bags, which feature cartoon-esque hand motifs, come in a wallet, shoulder bag, or handbag design. For those seeking something less avant-garde, there are also charming triangular handbags, which can be carried from daytime well into the night. Shop the full line here.
Fernando Jorge at Bergdorf Goodman
Brazilian jewelry designer Fernando Jorge created his eponymous line 10 years ago. And since then, his body of work has earned him a slew of industry attention and awards, including a nod from the British Fashion Council and a Gem Award for jewelry design. This month, the designer known for his distinctly sculptural and elegant designs, launches a two-month residency inside the iconic Bergdorf Goodman jewelry salon. The shoppable exhibition showcases Jorge's 10-year body of work and exclusive new designs. Jorge's work has always been informed by his Brazilian heritage and love of the natural world—an aesthetic that is apparent in the space's design, which is the result of a collaboration with Studio Mellone. Also hailing from Brazil, Mellone helped to create a perfect backdrop for Jorge's work, inspired by "modernist and mid-century design, neutral palettes, nature, and [their shared] South American heritage." The Fernando Jorge residency will be available for viewing and shopping through June 7th.
Off-White c/o Church's
After making its debut on the Off-White runway during Paris Fashion Week, an Off-White c/o Church's collaboration shoe has made its way to stores. Personally designed by Virgil Abloh, the classic Burwood brogue oxford (a well-loved staple from the heritage British shoemaker) is reworked with the progressive ethos central to Off-White, and Abloh's "Question Everything" philosophy. The Burwood x Off-White collaboration, which is the first of two drops and one of many in the Off-White world (Abloh was, as many know, a prolific collaborator), showcases the designer's obsession with reinterpreting and re-contextualizing classics. The shoes, in true Off-White fashion, are screen-printed with the words "Special Events" and feature the brand's signature hangtag. The collaboration is on sale now in Church's and Off-White stores, and at church-footwear.com.
Telfar x Eastpak
After years of customer demand, the Black-owned genderless fashion label Telfar—known for its cult-favorite "Bushwick Birkin"—has finally given fans a backpack. In collaboration with the well-respected luggage and pack company, Eastpak, the two brands married style and technicality. And, in true Telfar style, the collaboration debuted through a blind presale in which customers bought the bag without even seeing it—and it sold out in minutes. Now the collection is available in select retail stores. The four-piece lineup consists of Telfar's iconic shopping bag in three sizes and a new circle bag reworked with Eastpak's expertise. Prices range from $110 to $198.
Comme des Garçons Shirt x Sky High Farm Workwear
In February 2020, the artist Dan Colen worked with Dover Street Market and the illustrator Joana Avillez on a line of merch for Sky High Farm, a 40-acre sprawl in New York's Hudson Valley—which he bought on something of a whim nine years ago. After the capsule quickly sold out, with all proceeds going to the food banks with which the farm works, Colen launched a four-part project with DSM that consisted of collaborations with artists and big names in food and streetwear. Now, the final chapter of this collaboration is available: Sky High Farm Workwear has partnered with Comme des Garçons SHIRT for the first in a series of luxury brand partnerships launching in April of this year. All of the profits generated from sales go directly back to the 501(c)(3) Sky High Farm, making possible its mission to make nutritious food grown with regenerative farming methods accessible to all communities. Quil Lemons shot the campaign, which features Ella Emhoff and boyfriend Sam Hines. Shop the range—which includes button-ups and short-sleeve and long-sleeve t-shirts in tie-dye prints, stripes, and patchwork fabrics—here.
Kenzo by Nigo
Diesel's over-the-top return to fashion, Schiaparelli's cone-shaped take on the denim jacket, Telfar's first foray into jeans—if you were following the trends for spring 2022, you'd notice denim leading the way, even for the most fashion-forward, haute couture-minded brands. Kenzo men's fall 2022 collection was no different, with embroidered work jackets, swing skirts, and even mushroom-shaped pageboy caps done in the fabric. And if you know Nigo, the new creative director for the label, you're aware that the fashion designer and record producer has made jeans a core part of his signature style. Now, he's extending his love for denim to Kenzo ready-to-wear. His latest limited-edition Kenzo capsule collection is focused on jean staples: jackets, button-down shirts, and denim slacks are adorned with embroidered flowers mirroring what could be seen on Kenzo's men's runway. The collection is available April 2 at Kenzo's New York City store in SoHo, and on kenzo.com.
Louis Vuitton's Moonlight Boot
The peep-toe boot-meets-sandal worn by every single model at Nicolas Ghesquière's Louis Vuitton spring 2022 show is now available to shop. The maison has unveiled its latest silhouette, the Moonlight ankle boot, on its website, where fans of the collection can browse the footwear that completed each grand ball-inspired look from the runway. Here, the musician and LV face Lous and the Yakuza models the shoes amid a glittering, moon-like environment. Choose from colorways including black and white polka dots, a royal shade of purple, and our personal favorite: black patent leather. Shop the range, here.
Opening Ceremony x The Linda Lindas
You might remember The Linda Lindas as the all-girl punk band that went viral with their hit "Racist, Sexist Boy." Now, Bela Salazar, Eloise Wong, Lucia de la Garza, and Mila de la Garza are making their move into the fashion sphere with a three-piece, limited-edition collaboration with Opening Ceremony. OC co-creator Humberto Leon shot the campaign, which depicts the four band members as Godzilla-size barbarellas taking over their hometown of Los Angeles, wearing the t-shirts, crewnecks, and varsity jackets on offer. (The design pulls inspiration from The Linda Lindas's signature "kitty liner" eye makeup, which Leon and makeup artist Valerie Vonprisk interpreted especially for this collaboration.) Shop the whole capsule, here.
Birkenstock x Manolo Blahnik
If one were to draw a spectrum of shoes, starting with the most comfortable and ending with the most glamorous, it's safe to say that Birkenstocks and Manolo Blahniks would be on opposite ends. Now, they're meeting in the middle, with a two-part capsule collection that was announced today. While we've seen plenty of high fashion Birkenstock collaborations over the years, from Valentino to Proenza Schouler, but this one feels particularly delightful, given Manolos' mythical perch in the stiletto pantheon.
The legendary shoe designer and his neice, Kristina Blahnik, who is his company's CEO, are both longtime Birkenstock fans: "Birkenstocks have been in my wardrobe since the very beginning (of time!!)" Blahnik wrote in a statement. "Fusing the Manolo Blahnik aesthetic with the everyday comfort of Birkenstocks is simply wonderful!" The first batch of shoes, which includes Arizona and Boston styles in black leather and jewel-tone velvet fastened with crystal buckles, will be available on the Birkenstock website and in Manolo Blahnik boutiques on March 24th. A second group of designs will debut in June.
Marni x Veja
Sneakerheads and Marni-philes may find new common ground in this latest fashion collaboration. The luxury brand, known for its unorthodox and playful approach to fashion, is collaborating with the cult-favorite sneaker brand, Veja, on two covetable pairs of shoes. Veja's classic V10, and their newly introduced high-top V15 get the Marni treatment—a dose of its free-spirited aesthetic, expressed through a colorful scribble motif. Veja, a Brazilian-made brand, brings their attention to production standards to the collab, with REACH-compliant leathers and recycled polyester laces. The soles are composed of 31 percent Amazonian rubber, 22 percent rice waste, and 12 percent recycled rubber. Both styles are available for pre-order on veja-store.com and marni.com and, from March 11th, available in retailers and stores.
Burberry x Supreme
A Supreme collaboration is always a moment, and the brand's new capsule collection with Burberry is no exception. Starting on March 10 in the U.S., U.K., and Europe, and March 12 for all other international markets, the pieces—which include a shearling-collar puffer jacket, rugby top, hoodie, jeans, t-shirt, and skateboard—will again be causing chaos not just at Supreme stores, but also at Burberry outposts across the globe: The house is exclusively carrying additional items such as a funnel-neck jacket, jogging pants, and silk pajamas. You better set your alarm clock: Blink twice and they'll no doubt have all sold out. (Hot tip: You can avoid the IRL hysteria by shopping at burberry.com.)
Louis Vuitton's LV Handle Soft Trunk Bag
Last year, the late Louis Vuitton menswear designer Virgil Abloh created a capsule collection for the French maison alongside the NBA. Backpacks studded with the dual NBA and LV logos, duffle bags adorned with basketball net details, and bold sunglasses highlighted the capsule, which seemed player-ready. But one piece emerged as an MVP: the LV Handle Soft Trunk bag, which Abloh liked so much, he designed it especially for following Vuitton spring 2022 fashion show. Now, the bag is a part of Louis Vuitton's permanent collection—you can shop the genderless accessory and all its iterations on the brand's website now.
Yeezy Gap Engineered by Balenciaga
Thanks to Balenciaga's creative director Demna (formerly known as Demna Gvasalia) and the rapper Ye (formerly known as Kanye West), goths can for once feel welcome at Gap. It turns out that the light-wash denim ensemble Ye previewed at his Donda 2 performance on the eve of Yeezy Gap Engineered by Balenciaga's release is the only one of the eight styles that isn't entirely black. If that's up your alley, you better get moving: It's only a matter of time before the mononymous duo's largely monochromatic homage to utilitarian design sells out on yeezygap.com and farfetch.com. (The wait for shipping is already up to eight weeks.)
Khaite x Elhanati
Every fashion girl's favorite brand, Khaite, has given us something new to covet this season. Dipping its toes into the jewelry waters, the brand is collaborating with the fine jeweler Elhanati, known for its unique, organic, and minimalistic gold shapes. The collection, which consists of two belts, a barrette, and a pair of earrings, is the perfect marriage of the two brands, which both drew on their signature styles for inspiration—thus combining utility and adornment. The six-piece, limited-edition offering will be available on both khaite.com and elhanati.com.
Neiman Marcus x Dolce & Gabbana Super Bowl
With the Super Bowl being held in Los Angeles this year you can bet that every Hollywood star from the A-list to the Real Housewives will be turning out in their finest sporty designer looks. Enter Dolce & Gabbana's "Play Your Game" collection created exclusively for Neiman Marcus and inspired by all things football. Featuring a palette of royal blues and bold oranges, the capsule offers something for both Bengals and Rams fans—or those who really just care about the halftime show.
Eckhaus Latta x Moose Knuckles
After a buzzy collaboration with Telfar, Canadian outerwear brand Moose Knuckles has now hooked up with one of Brooklyn's other buzziest young labels: Eckhaus Latta. The ten-piece collection by design duo Mike Eckhaus and Zoe Latta features quilted jackets and coats perfect for colder and wet weather—but the pants and windbreakers, which feature numerous portions attached by zippers, seem perfect for transitional dressing. Why not zip off your winter pants into a pair of short-shorts perfect for a summer day in the park? With prices ranges from $390 to $925, the collection goes on sale Thursday, February 3rd on the Moose Knuckles website and at Saks Fifth Avenue and Ssense.
Fendi x Sarah Jessica Parker And Just Like That Baguette
Sarah Jessica Parker immortalized the Fendi baguette style purse as early as 1999, when, in season three, Carrie Bradshaw and Samantha Jones travel to a seedy apartment complex in the San Fernando Valley to purchase some faux versions of the "It" bag. In that very same season, Carrie tells a robber who demands her bag, "It's a baguette." Twenty-two years after that episode aired, Fendi re-released the purple sequined bag featured in the episode. And to celebrate to success of the new HBO Max reboot And Just Like That, Fendi has teamed up with Parker to design a custom pink sequin baguette, which Carrie wore on the latest episode of the new series. The Baguette, made with fuchsia paillettes and Bordeaux leather straps, will be available as a limited-edition style on Fendi.com beginning mid February.
Carolina Herrera for Paperless Post
Carolina Herrera has been a name synonymous with elegant bridal style for decades. Now, the house's Creative Director, Wes Gordon, is taking that association into the digital world, with a collection of invitations and correspondence cards for Paperless Post. The designs incorporate motifs directly from the runway, from bold, graphic florals to delicate embossed lace—meaning you could, theoretically, tease your wedding day look with your Save the Date card (or just set the tone for a garden party with an envelope lined with tulips). "Our gowns speak to the modern individual, and Paperless Post elegantly marries modern technology with a commitment to design," Gordon says of the collaboration. "We know that everyone will love the playful, beautiful, and colorful invitations that represent the celebration of love in a way only Herrera knows how to do." The collection is live on the Paperless Post site today. Here's to a summer full of "I dos" ahead!
Courtesy of Paperless Post
Courtesy of Paperless Post
Louis Vuitton x "Nike Air Force 1" by Virgil Abloh
Before his untimely passing in November, Virgil Abloh unveiled a special collaboration with Nike and its classic Air Force 1s for Louis Vuitton's Spring-Summer 2022 Men's Collection. Starting January 26th, 200 limited-edition pairs of the instant collector's item will be available at auction at Sotheby's. Bidding starts at $2000 with each pair being sold with a Louis Vuitton Pilot case and all proceeds going to Abloh's "Post-Modern" Scholarship Fund which supports Black fashion students. Abloh himself was involved in the initial planning of the auction which runs through February 8th. For more information visit sothebys.com.
Valentino Does Low-Impact Low Tops
Valentino, the Italian fashion house synonymous with polished luxury, is breaking new ground. Two of their fan-favorite sneaker styles, the Open and Rockstud Untitled, have been reimagined using more sustainable materials and techniques. The upper is cut from a corn-based leather alternative, the laces woven from recycled polyester, the soles flecked with recycled rubber, and those iconic cuboid studs molded from recycled nylon. Even the shoeboxes and dust bags are made from fully recycled paper and cotton. The shoes are part of the brand's Spring 2022 collection as well as a tentpole for their new initiative, Valentino Open for a Change, which prioritizes transparency about materials and supply chain, as well as analysis of the long-term environmental impact of the products they produce. The limited edition capsule, which includes black, white and green styles for men and a white style with rainbow rock studs for women, is now available in Valentino boutiques as well as on their website.
Ana Khouri x The Row
I have never really liked the phrase "wearable art." It covers all manner of sin, from the over-designed to the overpriced. However, a designer with a truly artful eye can create items that elevate the aesthetic of the wearer, organically melding the worlds of fashion and art. Ana Khouri falls into the latter category. A favorite jeweler of the fashion world (I see her earrings on the coolest editors and "It" girls all over town), Khouri, who studied sculpture prior to working in jewelry, is based in New York but originally hails from Brazil. After spending time during the pandemic in her home country and becoming reacquainted with its unique, natural materials—rosewood, crystal, and rose quartz—she felt compelled to incorporate them into high jewelry edition pieces. Her first foray resulted in 17 one-of-a-kind works, sold at Sotheby's alongside the Macklowe exhibition in 2021.
This month, Khouri launches an expanded (albeit still very exclusive) continuation of this project at The Row. The pieces, which include Khouri's signature ear cuffs along with thick sculptural rings and a delicately stunning choker, are all limited-edition, with between one and 10 of each style available. The jewelry will be sold, beginning January 7th, at The Row boutiques in New York, Los Angeles, and London.
The diamond Charlotte necklace and crystal diamond Phillipa ring.
Prada x Adidas Re-Nylon
Pradidas, Pradi Dassler—whatever cheeky name you'd like to give it, Prada's collaboration with Adidas is on the way, and it's filled with accessories that merge the sports label's signature three stripes and luxury brand's iconic metal triangle emblem. In a lookbook released last week, Adidas and Prada showed a whole new range of bags, including a duffle and backpack that appears to be a fanny pack seated on top of a large travel case. A merging, indeed.
The six bags that will release through Prada and Adidas' Re-Nylon collaboration.
This article was originally published on