Gabrielle Union Wore One of Gianni Versace's Most Famous Designs to the NAACP Awards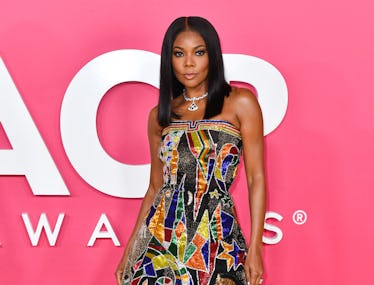 Aaron J. Thornton/Getty Images
Over 25 years after his death, Gianni Versace's legacy continues to thrive. In fact, hardly a red carpet goes by without an attendee arriving in a look from Gianni's era. It was no surprise, then, when both of the major red carpets over the weekend each featured a Gianni-designed Versace moment, and both were quickly placed in the best dressed of their respective event.
Of course, there was Jenna Ortega, who attended the SAG Awards on Sunday night in a black, asymmetric gown from Versace's fall/winter 1994 presentation, but we're here today to discuss Gabrielle Union. On Saturday night, the actress attended the NAACP Image Awards in the "Circus" gown, a graphic, hand-beaded creation from Gianni's 1989 couture collection. According to 1st Dibs, following the show, a Saudi Princess bought a custom version of the dress for $300,000, and the resulting piece weighs over 15 pounds.
(It should be noted that Zendaya, too, wore a gorgeous Versace gown to the NAACP Image awards—proving the immense staying power of the brand in general—though her's was from 2002, and thus, Donatella's era).
But back to the Circus dress, because it really is a work of art, featuring depictions of stars, horses, lettering, and much more in bright blue, yellow, red, orange, green, and black beading. She paired the gown with sleek, straight hair, a Bulgari necklace, and black, pointed-toe Jimmy Choo heels featuring an ankle strap encrusted with crystals.
Of course, the Union-Wades love a high fashion couples matching moment, and Union's husband, Dwyane Wade, joined her at the event in Atelier Versace as well, wearing an all-black suit, featuring the brand's Medusa emblem on the left lapel.
And while they should have won an award for their red carpet dressing, the couple was actually honored with the evening's President's Award, presented "in recognition of special achievement and distinguished public service," according to the NAACP. When the two took the stage, they used the platform to speak about LGBTQIA rights, with Wade beginning their acceptance speech by speaking directly to his daughter, Zaya Wade, who came out publicly as transgender in 2020.
"I want to take this moment to publicly speak to our daughter Zaya," Wade said. "Zaya, as your father, all I've wanted to do was get it right. I've sat back and watched how gracefully you've taken on the public scrutiny. And even though it's not easy, I watched you walk out of that house every morning as yourself. I admire how you've handled the ignorance in our world...Zaya, you've made me a better human just simply by being who you were born to be, our baby girl, Zaya Wade."
Union then stepped in, putting out a call to action and asking, "Will we fight for some, or will we fight for all of our people?" She continued by naming "a couple hard truths," saying, "the intersection of black rights and the rights of the LGBTQIA, trans, and gender nonconforming people continues to be rough...Even as we demand equality at the top of our lungs, we consistently fail to extend our advocacy to protect some of our most vulnerable among us."
"Black trans people are being targeted, terrorized, and hunted in this country every day, everywhere, and there's rarely whisper about it," she said. "We honestly don't approach this work as activists or leaders as much as we do this as parents. Parents who love our children and will do whatever the hell we can to keep them seen and secure and safe...So we are humble and hopeful for the future. We are hopeful that we may witness a real shift in the fight for justice. The moment the movement makes room for everyone."