How Alton Mason Went from Dancing with P. Diddy to Modeling for Gucci
If there's one male model you need to know now, it's Alton Mason.
---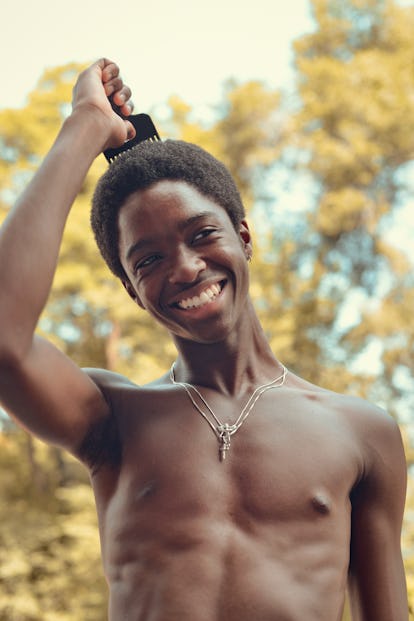 Photo by Alex Hodor-Lee for W Magazine.
The 20-year-old Gucci model Alton Mason arrived to 1 World Trade Center this summer in what he described as a "chill" outfit. It consisted of a white t-shirt and jeans, yes, but said jeans were dramatic bell-bottoms by the New York designer, Matthew Adams Dolan paired with a black Gucci belt, and he further accessorized the look with pointy leather boots from a vintage store in Paris's Pigalle neighborhood, plus a leather harness bag from an army fatigue store. If this is what chill looks like, then we want to know more about what isn't.
For starters, there is absolutely nothing chill about the trajectory of Mason's career, which began when he was discovered on Instagram as a teenager living in Los Angeles and cast in Kanye West's Yeezy Season 3 show at Madison Square Garden. Two years later, he walked in Gucci's Fall 2017 show, and was later featured in the brand's first all-black Pre-Fall 2017 campaign, in which he shows off his dancing talents in a blue floral suit and 'queercore' loafers. He's now a Gucci runway regular, but also made a few appearances at New York Fashion Week: Men's this season at Carlos Campos and Boss. In sum, Mason has been getting so much work these days that he hasn't seen his apartment in Los Angeles in six months.
Traveling doesn't bother Mason, however, because he's lived in eleven different countries to date. Growing up, his father played professional basketball overseas, and as a result he's lived everywhere from Belgium to Greece to Bosnia. At the age of 17, Mason moved away from home in Arizona to pursue dancing and acting at the American Musical Dramatic Arts Academy in Los Angeles, and the rest is history.
The boundless ease with which Alton Mason approaches and absorbs new people, places, and ultimately fashion-related things is what makes him who he is today. He can be seen romping around the world with his fellow Gucci model girlfriend, Nicole Atieno, as well as his grew of next-generation stars like Dilone, Duckie Thot, and Keiron Caynes. Mason's personal style, of course, also reflects his eclectic way of life, and adheres to no time, place, or gender, at any given moment. Maybe this is, in fact, what it means to be chill in 2017. Get to know everything about Mason, below.
Who were some of your idols growing up? Michael Jackson, Prince, James Brown, Naomi Campbell, Michael Jordan, and my dad.
Did you always want to model? Dance was my first love, but I wanted to do everything. There were so many people who inspired me in different fields, and I felt like, 'If he can do it, why I can do it?' I want to tackle everything, but one thing I want to indulge in right now is acting. I see myself in that world.
You were first discovered as a model on Instagram, correct? I was in L.A. and I was dancing for Laurieann Gibson, who is my godmother. We were doing stuff for Bad Boy and the VMAs and all this crazy stuff. So then I got scouted through Instagram, and I thought it was a joke. But then my agent contacted me through email and I saw all the confidentiality stuff and I knew it was real. I went to my mom about it—my mom used to model—and she supported me all the way.
Were you performing at the VMAs? How far did the dancing thing go? It went really far. I was assisting with choreography and I got to perform on the BET Awards with Diddy and Lil Kim and Jadakiss and Mase. If you look back at the "Finna Get Loose" performance, I was right there in the front dancing. It was so much fun, oh my God. My head was shaved and I was wearing a suit.
Are you listening to any music right now that you love? I'm always listening to Erykah Badu, Sade, and Michael Jackson, but I love Rihanna. I love Rihanna. I want to marry her.
And what are your favorite movies? Juice, The Wood, and Friday.
What was your first big modeling experience? I think it would have to be doing Yeezy Season 3 at Madison Square Garden. Naomi Campbell was there; Young Thug was there. I had so much fun and Kanye [West] is one of my favorite artists. We exchanged words. Not many, but it was enough. It was crazy. I was standing in front of Young Thug, which was really funny. You should have seen him at the fitting… Hearing the music for the first time was also a lot of fun. I also met Grace Bol and Amilna Estevao—two of my girls.
And then Gucci happened! When Gucci happened, I got on my knees and started praying. It's such a phenomenal brand and such a classic label. I was so grateful to be a part of it.
What do you like about Gucci and what Alessandro Michele has done with the brand? He basically built a time machine, and then through all his creatives into it, and brought them back. The clothes have this '70s vintage flair, but they're also so futuristic. His color theory is also so amazing. I love his brand and his team's brain. When we're on set, it also doesn't really fell like work; it feels like creativity.
Have you interacted with Alessandro Michele at all? He has these custom, bedazzled, crystal shoes. They're the 'Queercore' ones, but he has diamonds on his. I was like, 'Alessandro, when can I get a pair!'
How would you describe your personal style, and how did it develop? I've been traveling the world my whole life, and I've taken inspiration from each city. I lived in 11 different countries as a kid, because my dad played basketball overseas. He always kept me in the flyest stuff, like Jordan's and Nautica and Ralph Lauren. I think my style today is just timeless, really; I can hop into any period. Since I have a theater background, I was always around costumes, so I've added that to my everyday style. Like, who am I going to be today?
This interview has been edited and condensed.
Gucci's Fall 2017 Collection Will Be the Only Good Thing Left After the Apocalypse
Photo by Jason Lloyd-Evans
Photo by Jason Lloyd-Evans
Photo by Jason Lloyd-Evans
Photo by Jason Lloyd-Evans
Photo by Jason Lloyd-Evans
Photo by Jason Lloyd-Evans
Photo by Jason Lloyd-Evans
Photo by Jason Lloyd-Evans
Photo by Jason Lloyd-Evans
Photo by Jason Lloyd-Evans
Photo by Jason Lloyd-Evans
Photo by Jason Lloyd-Evans
Photo by Jason Lloyd-Evans
Photo by Jason Lloyd-Evans
Photo by Jason Lloyd-Evans
Photo by Jason Lloyd-Evans
Photo by Jason Lloyd-Evans
Photo by Jason Lloyd-Evans
Photo by Jason Lloyd-Evans
Photo by Jason Lloyd-Evans
Photo by Jason Lloyd-Evans
Photo by Jason Lloyd-Evans
Photo by Jason Lloyd-Evans
Photo by Jason Lloyd-Evans
Photo by Jason Lloyd-Evans
Photo by Jason Lloyd-Evans
Photo by Jason Lloyd-Evans
Photo by Jason Lloyd-Evans
Photo by Jason Lloyd-Evans
Photo by Jason Lloyd-Evans
Petra Collins Dreams of Sleeping in a Room That Is One Giant Bed, With Rihanna If Possible