Amal and George Clooney Could Reportedly Be Godparents to Prince Harry and Meghan Markle's Baby
They've become close with Prince Harry and Meghan Markle in recent months.
---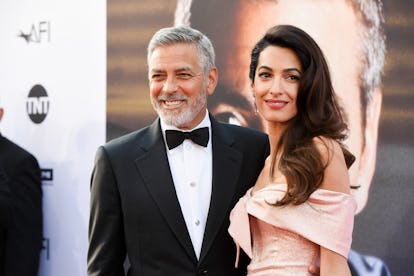 Presley Ann/Patrick McMullan via Getty Images
Sorry, Will and Kate—it looks like Meghan Markle and Prince Harry have a different couple in mind to be the godparents of their firstborn. As if this royal baby couldn't get any luckier, the child may just have the coolest godparents to ever exist: According to a source from The Daily Mail, Amal and George Clooney are the top contenders for the baby's godparents.
The source, who is reportedly close to both the royal family and the Clooneys, told the site, "Amal and Meghan have been close for years, and Harry and George have become buddies because of that. They're much closer than the headlines let on."
The publication also spoke to Clooney's cousin Ben Breslin, who said that the actor would make a "wonderful" godfather to the royal couple's baby. "I'm all for it. He'd make a wonderful godfather, he'd make a wonderful just about anything—he's a good guy," Breslin added. Still another insider told the site that Clooney considers himself a "shoo-in" for the position.
Lest you think the Clooneys' potential appointment will only serve to increase the alleged ongoing drama between Harry and William, bear in mind that Will and Kate also opted to make close friends, rather than any family members, the godparents of their three children. Essentially, if she and Harry actually do choose the Clooneys for the job, it'll mark one of the few royal traditions Meghan isn't breaking.
When you think about it, it's not actually that surprising that George and Amal are in the running for the royal responsibility: Not only was the famous couple in attendance at the royal wedding, but they also reportedly vacationed with Meghan and Harry at the Clooneys' house in Lake Como, Italy, in August. Plus, they've got plenty of parenting experience under their belts already, thanks to their one-year-old twins Ella and Alexander.
And before Meghan had officially joined the royal family, Amal was there to help make the duchess's transition across the pond a little easier. "Meghan and Amal have known each other for a while [and share] many interests," a source told People earlier this year. "Amal has been helping Meghan settle into London life,"the insider continued. "It was a very natural friendship from day one."
Related: George Clooney Reveals His Cinematic Crush