Kate Middleton Says Meghan Markle's Pregnancy Is "Really Special," Maybe Shuts Down Rumors of a Feud
And seemingly shuts down rumors of their feud in the process.
---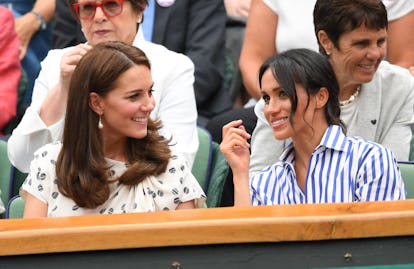 Karwai Tang/Getty Images
Fans of the royal fab four can now breathe a little easier: Kate Middleton may have just subtly put to rest those rumors of an ongoing schism between her and Prince William, and Prince Harry and Meghan Markle. On Wednesday, while visiting Leicester University with William, Kate stopped to chat with well-wishers outside the school, and made a rare comment about her sister-in-law. When asked by a fan if she was excited about Meghan's pregnancy, as seen in a video the asker shared on Instagram, the Duchess of Cambridge said, "Absolutely. It's such a special time to have little kiddies. And a cousin for George and Charlotte, as well, and Louis. It'll be really special."
This marks the first time that Kate has addressed her niece- or nephew-to-be since the palace released a statement congratulating Meghan and Harry on their new addition, the news of which they apparently shared with the family at Princess Eugenie's wedding in October. "The Queen, Duke of Edinburgh, Prince of Wales, Duchess of Cornwall, and Duke and Duchess of Cambridge are delighted for the couple and were able to congratulate them on Friday at the wedding in person," the statement read.
Kate's kind words about Meghan and Harry seemingly contradicts the wave of recent reports that a rift has formed between the young royals. As one source explained it to Vanity Fair this week, the feud is mainly between William and Harry. "Kate and Meghan are very different people and they don't have a lot in common, but they have made an effort to get along," the insider said. "Any issues are between the brothers." Another source suggested that the fight has arisen in part from the way Harry perceived his brother's treatment of his new wife: "Harry felt William wasn't rolling out the red carpet for Meghan and told him so. They had a bit of a fall-out, which was only resolved when Charles stepped in and asked William to make an effort. That's when the Cambridges invited the Sussexes to spend Christmas with them," the source said.
All this alleged tension has reportedly inspired Harry and Meghan to pack up and leave Kensington Palace in favor of a quieter, older-brother-free existence just outside of London. The palace has confirmed that the newlyweds will move into Frogmore Cottage, on the grounds of their wedding venue Windsor Castle, sometime in early 2019; Queen Elizabeth II bestowed the royal residence upon her grandson and his new wife after they tied the knot in May. Whether the separation between William and Harry is only physical, or emotional as well, Kate's enthusiasm for Meghan's pregnancy certainly seems to imply that the brothers will put aside their differences for the sake of their kids.
Related: Meghan Markle and Kate Middleton Wore Color-Coordinated Outfits for Royal Outings Across London