Ask the Astro Poets: How Do You Help Someone Who Loves to Suffer?
Twitter's favorite astrologers weigh in on Capricorns' martyr complex.
---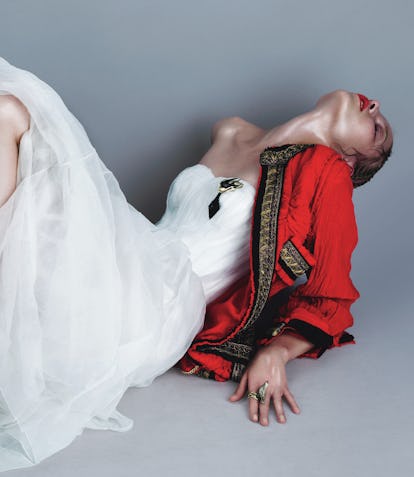 Photographer: Mert Alas and Marcus Piggott Stylist: Alex White
Ask the Astro Poets is the monthly advice column by W's resident astrologers, Alex Dimitrov (Sagittarius) and Dorothea Lasky (Aries). At the halfway point of every month, they take a breather from writing poetry and horoscopes, and take your questions about love, career, even the big existential questions in life. From matchmaking and compatibility, to friendship, professional, and dating advice, the poets of the stars are here to guide you through any challenge:
Dear Astro Poets,
I have befriended and dated many Capricorns in my life and they all have something in common: they love to suffer. As a hedonistic Taurus, this is something I simply don't understand. Ignoring red flags, staying in bad situations for the "security," feeling guilty about everything, overcommitting. Most of them are straight-up sadomasochists. Is there anything I can do to convince them that they don't necessarily "deserve" bad things? How can I cheer up these Debbie Downers through tough times? Or, a better question: how do you help someone who hates to be helped?
Love,
A Hedonistic Taurus
Dear Hedonistic Taurus,
Helping and giving advice to Capricorns? That's a tall order. But since it's Capricorn season I'll try to answer your question. I'm going to be very honest and—full disclosure—tell you that Capricorns are not my most compatible friends or lovers. But that's a Sagittarius thing. For me, there's just not enough mystery to many of them. Which leads me to your very astute observations. Yes, they're practical and diligent. They'll stay in it until the end (even if it hurts), and security is one of their main goals. Though I haven't known too many Capricorns that ignore red flags. They're just too smart and too resourceful for that.
So why are Capricorns always living like martyrs? Well, first of all, they have a lot of pride. They are convinced nothing will kill them and that no battle is too big. Capricorns actually love a battle. Anything that will prove how resilient and tough they are is going to get their interest. Suffering is something they accept as coming with that territory. And while they can endure it, and do, they're always reminding you of that. I can't tell you how many Capricorns I've had to mute on Twitter because they're constantly complaining, performing their suffering, while really, using it as an opportunity to boast about their accomplishments. Honestly Capricorns, this is life. Not a campaign for best actor in a horror film. Chill out.
Celebrity Capricorns: See Photographs of Sienna Miller, Bradley Cooper, Kate Moss and Other Stars With the Same Astrological Sign
Photo of Mary J. Blige by Inez Van Lamsweerde Inez and Vinoodh Matadin for W Magazine.

VAN LAMSWEERDE INEZ & MATADIN VINOODH
Photo of Kate Moss by Mert Alas and Marcus Piggott for W Magazine.

Mert Alas and Marcus Piggott
Photo of Ellen DeGeneres by Michael Thompson for W Magazine, March 2007.
Photo of Jared Leto by Inez Van Lamsweerde and Vinoodh Matadin for W Magazine.

VAN LAMSWEERDE INEZ & MATADIN VINOODH
Photo of Cynthia Erivo by The Eastern Conference for W Magazine, September 2018.
American actor, Denzel Washington, born December 28th. Photo of Denzel Washington by Dan Winters for W Magazine.

Winters Dan
Photo of Harmony Korine by Andreas Laszlo Konrath for W Magazine.

ANDREAS LASZLO KONRATH
Photo of Jim Carrey by Caitlin Cronenberg for W Magazine, September 2017.
Photo of Ralph Fiennes by Ari Marcopoulos for W Magazine.

Ari Marcopoulos
Helping a Capricorn chill out is so hard. They are the worst at vacations. So don't take them on one. All they'll do is remind you of the things they have to finish when they get back, or the things they're working on (while vacationing!). I really think we should legalize weed immediately and everywhere as a way to help Capricorns. (Or maybe they should all move to Colorado or Maine.) I say all this with love. I want them to prosper and to let me live. That's the thing about Capricorns—not only are they their own taskmasters, but they love being taskmasters for others. Unsolicited ones, too. And for you as a Taurus, that's a big no. Every Taurus is their own boss. Everyone knows that.
The truth is, life would feel very boring to Capricorns if there wasn't a Herculean task or a hoop they had to jump through. They are incredible planners and in their resourcefulness is where they find real pleasure. I know that as a Taurus. you're horrified by this. Of course, you'd much rather sit down with a $500 bottle of wine and reminisce about your past lovers. But that's just not the Capricorn way. They have work to do. They might, honestly, be the ones who save us all. Good luck to them trying to tell me what to do though.
Always a Sagittarius,
Alex
Dear Astro Poets,
I'm a Scorpio sun with Pisces in moon and rising. I have struggled with relationships over the past three years, always going out with people who tell me that I'm an amazing person but they're "just not in the right place" to have a relationship with me. When I meet someone I often find myself diving in, emotionally and sexually, starting from the first date. I'm very honest with my partners and want to grow with them through life (that's a relationship after all, right?) and I tell them about my feelings quite earnestly. I tend to think about them for months, even years, after things end, with no sense of regret but a looming melancholy for having lost them. Do you have any guidance for a very lonely Scorpio who just wants an honest relationship?
Yours, A Confused Scorpio
Celebrity Couples Before They Were Couples, From Justin Bieber and Hailey Baldwin to J.Lo and A-Rod
Yes, even before they were engaged, Hailey Baldwin and Justin Bieber have had remarkably similar hair. The pair has, after all, as they've repeatedly stated, been longtime friends, as evidenced here in this photo of them with Hailey's dad, Stephen Baldwin, on the red carpet of the Times Square premiere of Bieber's 3D film Never Say Never in 2011.

New York Daily News Archive/Getty Images
Before showcasing their love for each other via many tattoos and Pete-emblazoned sweatshirts, Ariana Grande and Pete Davidson, who of course are now engaged, first met when Grande appeared at Davidson's workplace, Saturday Night Live, and made a joke about them smoking crack.

Courtesy of NBC/Getty Images
At the time of this meeting Lopez was with Marc Anthony, but it's only fitting given that more than a decade later, J.Lo would move on from her then-husband to the much more fittingly named A-Rod, both seen here at a Yankees game in 2005. Their relationship started off with a bang late last year, when they had to evacuate the restaurant during their first date.

Mike Ehrmann/Getty Images
Before Instagram, their family's platform of choice, was even invented, John Legend and Chrissy Teigen met when it came time for Legend to film the music video for his 2006 song "Stereo," which starred a nearly naked (and at times animated) Teigen.

Courtesy of Vevo
Feast your eyes upon Kim Kardashian with bangs—as well as her sister Kourtney and, of course, Kanye West, at a get-together all the way back in 2008. The pair looks a world away from the Kimye they are today—and even the Kimye they were when they first began, seeing as early on, Kanye transformed Kim's grin into tears by throwing away 250 pairs of her bangs-era shoes.

Michael Bezjian/Getty Images
Back in 1991, there was no Victoria Beckham. Instead, there was a Victoria Adams, aka Posh Spice, who hung out with David Beckham and Elton John on red carpets, before marrying the soccer star later that decade, in 1999.

Dave Benett/Getty Images
Long before they married in 2015, Mila Kunis and Ashton Kutcher were red carpet pals and costars on That '70s Show, beginning when Kutcher was 20 and Kunis was just 14.

Ron Galella/Getty Images
Pete and Ariana's union is a bit less surprising when you consider that back in 2002, the power couple-to-be Jay-Z and Beyoncé Knowles also stood side by side on SNL's stage. (Technically, they began dating a bit earlier, when Beyoncé was 19, but they had a phone-only relationship for the first year and a half.)

NBC/Getty Images
Ellen DeGeneres and Portia de Rossi are perhaps one of the only couples who can say their relationship began backstage at the VH1 Awards, which is exactly where they first met in 2004. Making it official, though, took a bit of waiting: They didn't marry until 2010, after the California Supreme Court ruled that the ban on same-sex marriage was unconstitutional (and after de Rossi had split up with the director Francesca Gregorini, whom she'd been dating when she and DeGeneres first met.)

Jeff Kravitz/Getty Images
The Olsen twins may be the first to catch your eye, but this photo primarily documents the early, 2005-era spark between Penélope Cruz and Javier Bardem, who'd go on to marry in 2010.

J. Vespa
In 2007, Salma Hayek announced that she was both pregnant and engaged to the French billionaire and Kering CEO François-Henri Pinault. They wed on Valentine's Day in 2009—and again that April, this time in Venice—and Hayek hasn't stopped making Fashion Week front row appearances since.

Bertrand Rindoff Petroff/Getty Images
Ryan Reynolds was still married to Scarlett Johansson when he and his Green Lantern costar Blake Lively appeared at Comic-Con in 2010. Two years later, a then-divorced Reynolds in turn made things official with Lively, who, in addition to giving birth to two children, has made a point to troll him ever since.

Kevin Winter
Back when she was still making a name for herself as Buffy the Vampire Slayer, in 1997, Sarah Michelle Gellar starred in first-ever major movie: I Know What You Did Last Summer—and just so happened to meet Freddie Prinze Jr., her then-costar who, in 2002, would go on to become her husband.

Mirek Towski/Getty Images
Nick Jonas and Priyanka Chopra, one of this year's most surprising couples, came to be after they met at the 2017 Met Gala, which saw Ralph Lauren, whose designs they each wore, pair them up. Fast forward to just over a year later, and suddenly they've become attached at the hip. They've wasted no time with their relationship, which they struck up less than two months ago; both Jonas and Chopra has already met the other's family.

Mike Coppola/Getty Images
Dear Beautiful Scorpio,
Thank you so much for your very thoughtful question! Of course, I would assume no less from someone with your watery chart, but I appreciate nonetheless the heart-filled and earnest way you have approached writing us.
Let me start off by saying that you are a very special person. I've known a few people with your astrological make-up and they've all been extremely psychic, fair, and kind. I'll put an emphasis here on the psychic part as a Pisces moon blending into a Scorpio sun is going to bring you some crazy kinds of intuition, and you tend to know what's going on, in very deeps ways, in most situations you're in. As you continue along your life journey, it's important to remember this power that you have—to see into the past, present, and future simultaneously—as it is a gift which makes you a real asset in any relationship, let alone a romantic one.
But part of the burden of this deep empathy is that you do tend to bring out your partners' "issues" into the space of your interactions with them. When people are with you, they feel a sense that they are truly seen. Although this is a dream for many, for others it can bring out things about themselves they may not want to see for too long. I am sure you are a wonderful person to reminisce with and to bring up a whole host of past memories, both painful and joyful. But I could see some of your partners not being ready for this and needing to walk away from the intensity. As they say, it's their loss! But truly, it really is their loss to not be ready. Personally, I believe emotional intensity is quite literally what makes the world go around.
Scorpio Season Is All About Frank Ocean, Demi Moore, and Björk
Tilda Swinton, born November 5th, photographed by Tim Walker for W Magazine, September 2011.

Tim Walker
Kiernan Shipka, born November 10th, photographed by Jackie Nickerson for W Magazine, May 2019.

Jackie Nickerson
Frank Ocean, born October 28th, photographed by Tim Walker for W Magazine, July 2019.

Tim Walker
Maggie Gyllenhaal, born November 16th, photographed by Alasdair McLellan for W Magazine, Volume IV.

Alasdair McLellan
Shailene Woodley, born November 15th, photographed by Tim Walker for W Magazine, February 2015.

Tim Walker
Joaquin Phoenix, born October 28th, photographed by Richard Burbridge for W Magazine, February 2014.

Richard Burbridge
Björk, born November 21st, photographed by Tim Walker for W Magazine, November 2017.

Tim Walker
Drake, born October 24th, photographed by Caitlin Cronenberg with artwork by KAWS for W Magazine, August 2018.

Caitlin Cronenberg and KAWS
Chloë Sevigny, born November 18th, photographed by Anthony Maule for W Magazine, January 2012.

Anthony Maule
Sam Rockwell, born November 5th, photographed by Juergen Teller for W Magazine, Volume I 2018.

Juergen Teller
Amandla Stenberg, born October 23rd, photographed by Mario Sorrenti for W Magazine, October 2017.

Mario Sorrenti
Tracee Ellis Ross, born October 29th, photographed by Mario Sorrenti for W Magazine, October 2017.

Mario Sorrenti
Leonardo DiCaprio, born November 11th, photographed by Mario Sorrenti for W Magazine, February 2012.

Mario Sorrenti
Jodie Foster, born November 19th, photographed by Mario Sorrenti for W Magazine, October 2016.

Mario Sorrenti
Willow Smith, born October 31st, photographed by Willy Vanderperre for W Magazine, April 2016.

Willy Vanderperre
Adam Driver, born November 19th, photographed by Craig McDean for W Magazine, February 2017.

Craig McDean
Anne Hathaway, born November 12th, photographed by Mario Sorrenti for W Magazine, October 2008.

Mario Sorrenti
Emma Stone, born November 6th, photographed by Juergen Teller for W Magazine, February 2013.

Juergen Teller
Julia Roberts, born October 28th, photographed by Mario Sorrenti for W Magazine, October 2012.
Matthew McConaughey, born November 4th, photographed by Craig McDean for W Magazine, February 2017.

Craig McDean
Thandie Newton, born November 6th, photographed by Mona Kuhn for W Magazine, August 2016.

Mona Kuhn
Demi Moore, born November 11th, photographed by Mert and Marcus for W Magazine, December 2009.

Mert and Marcus
Ethan Hawke, born November 6th, photographed by Mario Sorrenti for W Magazine, October 2016.

Mario Sorrenti
Winona Ryder, born October 29th, photographed by Mario Sorrenti for W Magazine, October 2017.

Mario Sorrenti
Katy Perry, born October 25th, photographed by Mario Sorrenti for W Magazine, November 2013.

Mario Sorrenti
Gerard Butler, born November 13th, photographed by Steven Klein for W Magazine, April 2010.

Steven Klein
Rachel McAdams, born November 17th, photographed by Sebastian Kim for W Magazine, June 2011.

Sebastian Kim
Penn Badgley, born November 1st, photographed by Jackie Nickerson for W Magazine, May 2019.

Jackie Nickerson
Kendall Jenner, born November 3rd, photographed by Alasdair McLellan for W Magazine, October 2017.

Alasdair McLellan
Ryan Gosling, born November 12th, photographed by Paul Jasmin for W Magazine, November 2005.

Paul Jasmin
A lot of people who don't know astrology see Scorpios as loners. But of course if you know anything about the signs, you know that Scorpios just want exactly what you say: an "honest relationship." And they aren't going to settle until they find it. The good news is that Scorpios always get what they want, because they're determined, hardworking, and steadfast. It's easy to say this, but I do think that these trial relationships are just that. It's time to move forward with a sense of the immense empathetic strengths you bring to your lovers and to find the right partner(s) who want exactly the same thing. An easy answer is to look for a Pisces or a Virgo, as these two signs (the Pisces more so) won't be scared of seeing the truth about themselves.
Another thing to think about when you find a new person is making intense memories with them. Sometimes there's a tendency in a relationship, especially when it's new, to drudge up the past or plan for the future and to neglect the present. When you find your special person, concentrate on everything new. If they know what's good for them, this connection will last for eternity. And if it's the right person—which eventually it will be—I know you will do your best to keep them with you past eternity too! Eternal love is a good thing.
Sending you luck and love,
Dorothea
Related: The Astro Poets Predict What Your 2019 Will Look Like