How French Model and Actress Aymeline Valade Always Looks "Effortless but Expensive"
The It girl reveals her style tips.
---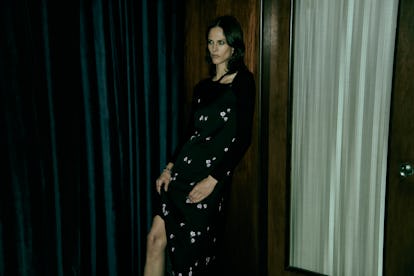 When you think of the fabled "French girl style," names like Brigitte Bardot and Françoise Hardy may immediately jump to mind. But if you are looking for their modern-day contemporary, no one has redefined that effortless je ne sais quoi quite like Aymeline Valade. Upon entering the modeling world more than a decade ago, Valade quickly became a fashion icon in her own right thanks to her penchant for sleek menswear and perfectly tailored basics. So it is no surprise that Equipment, itself a stellar example of effortless French style, recruited Valade to front its Fall 2018 campaign, which was photographed by Chris Colls and styled by Camille Bidault-Waddington. Here, the model and actress talks about shooting the campaign, as well as shares the secrets behind her very enviable style.
What was it like shooting this campaign?
It was great to meet Sarah Rutson and Brett Ramey [chief brand officer and SVP of brand creative and communications for Equipment]. Sarah is a very inspirational woman that I admire—I would be happy to be a woman like her, empowered and elegant at the same time. Brett has this beautiful energy that gives you a lot of positive feelings and a singular vision, creating something raw and rock 'n' roll, which is rare in our environment, where everything is hip-hop. The team they created for the campaign was amazing. Chris Colls is a wonderful photographer that always makes girls looks beautiful, strong, and authentic. Camille Bidault-Waddington was the stylist and created a clever interpretation of the collection while also choosing the right accessories to enhance the powerful character that I had to represent.
What are your favorite '70s trends?
A very open, fluid, and silky shirt—it gives you an effortless but expensive allure and nice feeling when you are in movement. You feel like the breeze is blowing toward you, giving you a natural bliss; very romantic and almost lyrical.
Describe your style in three words:
Minimalist, traditional-modern, raw.
What is your go-to outfit for a day off?
I love to wear a large trouser with a shirt—kind of Yohji Yamamoto structure but with colors, so it gives me the right range of movement to feel free but still elegant by the specific construction of the clothes. I like to choose special combinations of colors to improve my mood. I finish my look with the only type of shoes that I wear in my daily life, which work with everything—a white pair of slip-on Vans. They are the only shoes that really represent my spirit.
Who is your ultimate style icon?
I don't really have a style icon; I admire humankind in general. I'm always picking up style tricks everywhere on the street—from any and everybody, that I make my own, knowing the reference they themselves picked. I prefer their reinterpretation that is less literal and more easygoing for real life.
Best fashion advice you ever received:
That was my dad's advice to always show wrist and ankle because it naturally brings refinement and gives life to the look so you don't look like a block.
Most prized possession in your closet:
My collection of bags, even though I don't wear bags in my daily life, but I love to have one when I'm doing public appearances. A bag is a special accessory for me; they are like a functional art piece. I wear them for special occasions, to bring more depth to my look, which helps the connotation of my character.
First major fashion purchase:
When I was 15 years old, I bought my first high heels. They were a pair of Christian Lacroix gold Salome heels. I needed to purchase indestructible shoes for my dance class, where I practiced many different kinds of styles, from ballet and tap dance to cabaret. I even had the chance to learn French cancan. Funny fact: I still have them.
What was the last thing you purchased?
My Rip Curl G-bomb cheeky wet suit pant was a great purchase because there is soft silicone sewed on, so I can tell it will never move and will always stay on my butt when I ride the wave.
Currently on your shopping wish list:
Some Oliver Peoples Gregory Peck sunglasses; just a dream, but I'm looking for a specific color that is so hard to find.
Friend whose style you most admire:
Zachary Handley is a friend of mine and a young photographer; we have a similar style, but he always finds special pieces with unique details.
Best fashion tip picked up on set:
Pat McGrath's way of doing makeup; she's the one that showed me how to use highlights and how to do your makeup in two seconds with only using your fingers.
What was your style like as a teenager?
The same as today but less sophisticated. Through the years I have refined the details and became more specific on shapes and the way they fall or association and use of colors, but everything fundamental was there already. Also, I became more feminine with modeling and started to add jewelry.
Biggest fashion regret?
When I was 15 years old, I thought that I could carry off wearing caterpillar overalls and red-velvet Doc Martens, but my proportions just made me look like a clown. I found that out only when I got to school.
Where are you favorite places to shop?
I usually shop during the sales on Rue du Faubourg, Saint Honore, Avenue Montaigne, and Rue de Grenelle at all the big brands for the special pieces. Otherwise I go to American vintage stores or Zara to get my basics.
Favorite red-carpet outfit you've ever worn:
It was this year at Cannes Film Festival in my Saint Laurent black gown. A very iconic look remembering painting from the 15th century versus '50s Hollywood glam.
Favorite fashion moment from pop culture:
Michael Jackson's History tour in 1996. Any of his outfits were worn just perfectly, strong and never seen before.
Song to listen to when getting ready:
Moderat's "New Error" is the most efficient track to pull you up and give you confidence and energy before going out.
Related: When Moses Sumney Isn't Wearing Black, He Usually Regrets It