Cara Delevingne Is Now Trolling Everyone Who Assumes She's Dating Every Woman She's Spotted With
The model's finally found some fun in having to repeatedly explain her sexual fluidity for years, which Ashley Benson happily joined in on.
---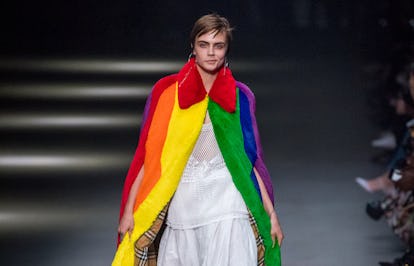 Samir Hussein/Getty Images
Three years ago, Cara Delevingne let the world in on the fact that she's not only attracted to cisgender men, which of course has also meant that for the past three years, she's been plagued with having to explain her sexual fluidity time and time again—all while dealing with the rumors that she's dating practically ever woman she's ever been seen with since.
Two months ago, for example, Delevingne and Paris Jackson dominated headlines when, after repeatedly hanging out, as newfound BFFs are wont to do, the pair was spotted casually kissing—which, by the way, is not to say that they're in a relationship. (Whether as BFFs or flings, they're still hanging out these days; they partied together in New York, for example, earlier this month.)
As of last Friday, though, Paris seems to have been forgotten; that's when Delevingne—gasp!—hung out with another of her friends, the Pretty Little Liars actress Ashley Benson. At this point, it seems that Delevingne and even the women who spend time in her company have come to fully expect that engaging in such a casual activity will spark a flood of romantic rumors. While she and Benson didn't exactly draw attention when they hung out earlier this month, this time, they really turned heads: after stopping at a restaurant and bar in lower Manhattan, they made a short jaunt around the block to continue their night at the Soho Grand Hotel—which still turned out to be long enough for paparazzi to zoom in on their matching backpacks. (Oh, and on the fact that they were, at least at one point, holding hands, which naturally sent their respective fans into a frenzy.)
The very next day, though, they took things back into their own hands—and definitely seemed to find delight in doing so. As it turns out, there's an upside to all this for Delevingne: the opportunity to troll those who obsessively follow her every move. That's exactly what she and Benson did this weekend by adding more confusion to the mix, to which they then added their friend Chloé Caillet, a DJ. On Saturday, Caillet Instagrammed a photo of herself with the pair in which she was apparently playfully flirting with both of them. She posed with Benson's arm around her neck, but appeared to make it all about Delevingne, who was, um, wearing a unicorn horn in the photo, by captioning it "found a unicorn." (Benson later commented on it with a broken heart emoji.)
Since we're already diving deep here, for the record, Benson also commented "beauty kween" on a photo of Caillet a couple of days earlier, which Caillet responded to with a couple of blue heart emojis. (In case you're dying for more details, the DJ has been friends with Delevingne for at least the past year, and also hung out in New York with their mutual friend Adwoa Aboah last month.)
As for Delevingne and Benson, it looks like they're still hanging out. After posting her own photo of the trio, yesterday, Benson posted an Instagram of herself on a balcony, along with a largely obscured Delevingne, who fans nonetheless quickly noticed. (A few excerpts from their flood of comments: "oohhh u got cara over there," "Cashley!" and "LESBICONA.") Never mind that the snapshot definitely doesn't seem to capture a romantic rooftop getaway, given that another person was there to take their picture, and another commenter made no mention of any flirtations when she said that she was sitting next to them at the time.
Meanwhile, in other questionable celesbian rumors, Delevingne is now also getting wrapped up in Rita Ora's official welcome into the must-be-dating-every-woman-she-hangs-with club, which began earlier this month when Ora said that she's "had romantic relationships with women and men throughout [her] life" after releasing her somewhat controversial single "Girls." Now, The Sun is attempting to advance the story by claiming that the song is in fact all about Ora's relationship with Delevingne, whom Ora apparently openly cited as her muse for the song while recording it.
Between apparent references to the model's tattoo of a lion and their past hangs in Malibu, the lyrics do seem to point towards Cara. Still, the time in which they were "practically inseparable" was quite a few years ago: The Sun's gallery of photos of the pair only stretches up to 2015, and it was back in 2013 when Ora gave an interview saying "She's officially mine. She's, like, untouchable. I've taken her off the market. We call each other 'wifey.'" (She also went on to say that because of said wifey, which she defined as someone who's "like your other half," she had "no time for the opposite sex at the moment.")
Meanwhile, Delevingne seems to be doing her best to stay out of that mess; she recently defended Ora amidst the backlash of criticism that the song "belittles" the LGBTQ+ community. Apparently, she's wisely chosen to keep the trolling to herself—and, of course, whichever woman she next happens to be spotted with.
Related: Cara Delevingne Sets the Record Straight on Her Sexual Fluidity
Cara Delevingne's Style Evolution, From It-Brit To Leading Lady
A very blonde and very baby-faced Cara Delevingne made an appearance at the Robert Cavalli 40-year celebration at Paris Fashion Week in September 2010. Photo by Getty Images.
Later that year, Delevingne rocked the model-off-duty look with a crisp white bibbed shirt and black jeans for a part in London, England, November 2010. Photo by Nick Harvey/WireImage.
Delevingne made her Met Gala debut at the 2011 event for "Alexander McQueen: Savage Beauty" in a Burberry gown with fellow model Douglas Booth. Photo by Getty Images.
At the following year's Met Gala for "Schiaparelli and Prada: Impossible Conversations," Delevingne walked the red carpet with Jourdan Dunn in Burberry yet again, a relatively understated look for the budding style star. Photo by Getty Images.
For the 2012 amfAR gala at Cannes, Delevingne wore a forest green Burberry Prorsum gown, inaugurating her color phase. (It didn't last long.) Photo by Getty Images.
Delevingne's Emilio Pucci hints at her penchant for a plunging neckline, but with a bit more color than her later style choices.
Cara Delevingne at the MAC and Carine Roitfeld party 'Le Bal' in Paris, France, October 2012. Photo by Getty Images.
Delevingne was dubbed Model of the Year at the British Fashion Awards in 2012, an accolade she accepted in a metallic green Burberry shift. Photo by Getty Images.
At the 2013 Met Gala for "Punk: From Chaos to Couture," Delevingne threw it back to her gala debut two years prior in a similar, but more daring, Burberry design. Maturing hand-in-hand with Christopher Bailey. Photo by Getty Images.
Delevingne again selects Burberry–this time for her Cannes debut, appearing at the opening ceremony and The Great Gatsby premiere in May 2013. Photo by Getty Images.
In a rare diversion from her usual look, Delevingne eschews Burberry in favor of Stella McCartney (she also arrived as part of the designer's squad), making the pantsuit look work for her. Photo by Getty Images.
Delevingne's embellished Roberto Cavalli gown wasn't even the highlight of her look for the 2014 De Grisogono party at the Cannes Film Festival — instead, it was the De Grisogono monkey necklace she wore slung over her back. Photo by Getty Images.
From model to movie star — Delevingne was spotted on the Paper Towns press circuit in a Dion Lee minidress with Saint Laurent sandals, and a superhero-esque shade of eyeshadow (perhaps foreshadowing her Suicide Squad casting to come).
Cara Delevingne at the Australian premiere of Paper Towns in Sydney, Australia, July 2015. Photo by Getty Images.
And from Burberry girl to Saint Laurent — at the New York premiere of Paper Towns, Delevingne opted for a shimmery Saint Laurent look, sticking with the minidresses that served her well over the course of the press tour. Photo by Getty Images.
British It girls, unite. Delevingne hasn't cut ties with Burberry by any means; she and Kate Moss appeared at the house's Spring 2015 show together. Photo by Getty Images.
Delevingne is a woman of many hats, moving fluidly back and forth between the fashion and film worlds (and, more than occasionally, mixing the two). She wore a feathered Burberry mini for the premiere of Pan in London, England, September 2015. Photo by Getty Images.
Then, of course, there's her long-standing muse-ship with Karl Lagerfeld; she oozed Chanel couture at the fashion house's Spring 2016 presentation. Photo by Getty Images.
Delevingne recently joined the #BalmainArmy, wearing one of Olivier Rousteing's body-con jumpsuits for the MTV Movie Awards in Burbank, California, April 2016. Photo by Getty Images.
Cara Delevingne attends the Chanel show as part of the Paris Fashion Week Womenswear Fall/Winter 2017/2018 on March 7, 2017 in Paris, France.

Getty
Cara Delevingne arrives at the Glamour Women Of The Year 2016 at NeueHouse Hollywood on November 14, 2016 in Los Angeles, California.

Getty
Cara Delevingne wearing Burberry at the Burberry September 2016 show during London Fashion Week SS17 at Makers House on September 19, 2016 in London, England.

Getty
Cara Delevingne attends Magnum party during the 70th annual Cannes Film Festival at Magnum Beach on May 18, 2017 in Cannes, France.

Getty
Cara Delevingne attends a dinner hosted by Doutzen Kroes and Lucy Yeomans in honour of Save the Elephants at The Orangery on June 12, 2017 in London, England.

Getty
Cara Delevingne attends "Rei Kawakubo/Comme des Garcons: Art Of The In-Between" Costume Institute Gala at Metropolitan Museum of Art on May 1, 2017 in New York City.

Getty
Cara Delevingne attends the 2017 MTV Movie and TV Awards at The Shrine Auditorium on May 7, 2017 in Los Angeles, California.

Getty
Cara Delevingne attends the Chanel Haute Couture Fall/Winter 2017-2018 show as part of Haute Couture Paris Fashion Week on July 4, 2017 in Paris, France.

Getty
Cara Delevingne attends the premiere of EuropaCorp and STX Entertainment's "Valerian and The City of a Thousand Planets" at TCL Chinese Theatre on July 17, 2017 in Hollywood, California.

Getty
Cara Delevingne attends Valerian and the City of a Thousand Planets Paris Premiere at La Cite Du Cinema on July 25, 2017 in Saint-Denis, France.

Getty
Cara Delevingne attends the "Valerian And The City Of A Thousand Planets" European Premiere at Cineworld Leicester Square on July 24, 2017 in London, England.

Getty
Cara Delevingne attends the "Valerian And The City Of A Thousand Planets" Mexico City premiere at Parque Toreo on August 2, 2017 in Mexico City, Mexico.

Getty