Maisie Williams and Sophie Turner Are Not Very Impressed by Donald Trump's Game of Thrones Meme
Trump is basically aligning himself with the Night King, we suppose?
---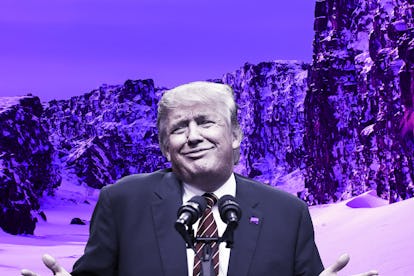 Photos by Getty Images; edited by Katherine Cusumano
On Friday, Donald Trump made a meme. It wasn't quite as high in production value as the surreal short film he made for the summit with North Korean leader Kim Jong-un, but it was striking for a different reason:the amount of attention it was given by the cast of Game of Thrones.
That's because Trump's meme was a riff on a Game of Thrones poster. In the image, Trump strides toward the camera, the background a gray-green blur with a hint of red toward the bottom. Inked over the top in the Game of Thrones type font is "Sanctions are coming," a reference to the series's ubiquitous catchphrase, "Winter is coming." The original phrase refers to the impending invasion by the undead army of White Walkers and the Night King—which some have interpreted as an analogy for the impending climate apocalypse. But Trump doesn't believe in the climate apocalypse! Instead, he was referring to his plan to reinstate sanctions against Iran, previously lifted by the Obama administration. If we follow the parallel he's trying to illustrate, that makes Trump the Night King, the one bringing about winter—or sanctions. It's okay, the politics of Game of Thrones are complicated; a lot of us don't understand, anyways.
The cast is not going to let this one slide. First, Maisie Williams, who plays Arya Stark (the real winner of the series) on the show, retweeted the post, writing, "Not today." Then Sophie Turner, who plays her sister Sansa (and who is Williams's real-life best friend), responded quite simply, "Ew." The HBO Twitter account didn't bother to link to Trump's original tweet, but the allusion was clear when the company posted, "How do you say trademark misuse in Dothraki?" ("Misuse" in more than one sense, given Trump's fundamental misunderstanding of how and why winter is coming.)
The network also issued an official statement: "We were not aware of this messaging," it wrote in a communication to multiple outlets, "and would prefer our trademark not be misappropriated for political purposes." It's quite a way to announce a potentially paradigm-shifting policy change. It would almost be funny if it weren't so bleak.
Related: Game Of Thrones Prequel Casts Josh Whitehouse — Here's Everything Else to Know About the Upcoming Series