An Unreal Recap of Kanye West's Oval Office Face-Off With Donald Trump
From Kanye giving the world his phone passcode to Ivanka looking the happiest she's ever been.
---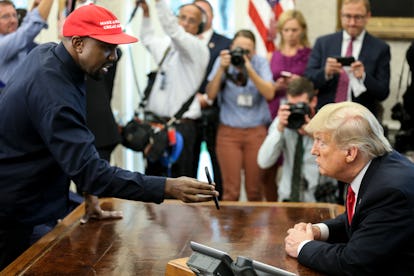 Getty Images
On Thursday, six months after he declared that he and his "brother," Donald Trump, "are both dragon energy," Kanye West sat down in the Oval Office and informed the President that there was "good energy in here." That energy definitely changed over the course of the next 20 or so minutes, which brought a series of moments that still managed to shock, even though a meeting between two of the most explosive personalities in America was guaranteed to be eventful from the start.
Having met and "discussed life" with West at Trump Tower in late 2016, and recently met with his wife Kim Kardashian, Trump now apparently feel comfortable enough to introduce West as a "friend of mine for a long time," which he did to a room full of photographers, who were joined by Ivanka Trump, Jared Kushner, and West's special guest, former NFL star Jim Brown. (Meanwhile, Kid Rock was off somewhere else in the White House, wiling away time until he could witness Trump sign the copyright reform bill The Music Modernization Act into law.)
In what should come as no surprise, the planned discussion, which the White House press secretary Sarah Huckabee Sanders described as covering "manufacturing resurgence in America, prison reform, how to prevent gang violence, and what can be done to reduce violence in Chicago," did not transpire. Indeed, there wasn't even a discussion: Trump maintained a stunningly long silence as West embarked on a nearly 10-minute monologue, which covered everything from North Korea to his past diagnosis with bipolar disorder and sleep deprivation to Chicago's murder rate. (And temporarily gave Trump full permission to not think about the fact that the country is currently being ravaged by Hurricane Michael.)
The surreal series of events may have taken some by surprise, but, just like Brett Kavanaugh's hearing, Trump found them deserving of a glowing review. "I tell you what—that was pretty impressive. That was quite something," Trump said when West finally ran out of steam. Around 10 minutes later, things came to a close with West rising up to give a seated Trump a hug, during which he repeatedly said "I love this guy," and Trump repeatedly said "That's very nice." Rather than sit through the rather painful, lengthy video of the full proceedings, catch up on the highlights, here.
Kanye reportedly rolled up with some Yeezy swag.
According to TMZ, it wasn't just West who rolled up to the White House around noon in a black SUV, but also some of his team members, who made their way to the security gate toting West's peace offerings—aka "boxes of Yeezy swag."
Trump maintained a potentially record-breaking period of silence.
For seemingly the first time in his life, the same man who interrupted Hillary Clinton more than 50 times during a presidential debate gave his full permission for one of his fellow human beings to speak. (Though it's worth noting that almost immediately after he ceded it, there was no chance West would be returning the platform.)
Kanye explained his love for his MAGA hat.
Even West's friends have apparently tried to scare him into not parading around the slogan Make America Great Again hat, but nevertheless, he's soldiered on. That's because the hat, he explained, "gives [him] power in a way," and even makes him "feel like Superman." He then brought Hillary Clinton into the picture by reflecting on how he he "didn't have a lot of male energy" in his home growing up with separated parents, and is now, of course, "married to a family where, you know, there's not a lot of male energy." Whereas Clinton's "I'm With Her" message didn't resonate with West, he found a fatherly figure in Trump, who he said made him feel like his favorite superhero. "You made a Superman cape for me," he told the President, who responded with a straight-faced nod.
Curse words made two surprise cameos.
West's rant, which was broadcast lived, happened to include the words "bulls—" and "motherf—er." (He used the former when praising "no bulls—" "American industry guys" like Trump and Ralph Lauren, and the latter when observing to the room at large—and referring to himself in third person—that Trump "might not expect to have a crazy motherf—er like Kanye West support him."
The entire world now knows Kanye's phone passcode.
It's composed of entirely zeroes—or, as one Twitter user put it, "the amount of hours he's spent doing research on any of the things he's opening his mouth about."
Kanye "brought a GIF" to show Trump.
You can't blame West for carelessly broadcasting his passcode: He became suddenly wrapped up in a fit of passion when it came time for him to show Trump and Kushner the GIF that illustrated the "iPlane 1," a hydrogen-powered airplane he believes should replace Air Force One. (In case you're wondering where he stands on the GIF debate, he pronounced the word with a hard "G.")
Jared Kushner briefly came to life.
In his excitement over the GIF, West apparently hadn't noticed that Jared Kushner and Ivanka Trump hadn't been nearly as engaged as he was. Kushner's dead eyes definitely came back to life, though, when West suddenly took his phone back from the President and thrust it into his face, enthusing, "Look at this, Jared," as he once again showed off the GIF.
Kanye instructed reporters to treat him like a "fine wine."
Reporters were apparently only allotted a single question, as West made clear when ABC's Jonathan Karl exceeded his apparent limit. "Now we're going to go to another question. I answered your questions," he said." I don't answer questions in simple sound bytes. You are tasting a fine wine. It has multiple notes to it. You better play 4D chess with me like it's Minority Report. It ain't that simple. It's complex."
Kanye repeatedly slammed his fists on Trump's desk.
Thereby sending along a similar message to the President—particularly when doubling down on his very controversial opinion that the 13th Amendment should be abolished. (This time around, his argument included the fact that 13 is an unlucky number, and the question, "We don't have 13 floors, do we?")
In turn, Trump doled out accolades, calling Kanye a "smart cookie."
Ahead of their meeting this afternoon, Trump made an appearance on Fox & Friends to say that West "is a very different kind of a guy, and I say that in a positive way"—so positive, in fact, that he then described him as a "genius." (He also threw Kardashian a bone, adding: "His wife, Kim, is terrific.") He kept the compliments coming when they finally met up in the Oval Office, though they mostly came after West's monologue, which didn't exactly allow Trump to speak.
By the sound of it, though, Trump would be happy to welcome West on board as his spokesperson. "He can speak for me any time he wants. He's a smart cookie. He gets it," Trump said. Prompted by a reporter, he also said that West, who's repeatedly made references to running for President, "could very well be" candidate material. (To which West, a true brother, very sweetly added, "only after 2024.")
Meanwhile, Ivanka silently underwent a full-blown transformation.
The images speak for themselves. Here's Ivanka pre-dragon energy:
And post-dragon energy:
The love fest came to an end with some Caprese salad.
Rather than bonding over their shared appreciation for McDonald's, Trump and West lunched on sautéed asparagus, grilled chicken, and fingerling potatoes—a very refined repast for a very one-of-a-kind afternoon.
Related: Celebrities Have Had It With Kanye West's Pro-Trump Antics