Georgina Chapman Could Receive $20 Million in Divorce Settlement With Harvey Weinstein
She will also get primary custody of their two children.
---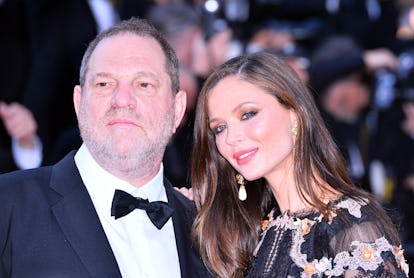 Mustafa Yalcin/Anadolu Agency/Getty Images
While Harvey Weinstein is exiled to Scottsdale, Arizona, (where he was welcomed with a slap to the face) following a short stint in sex rehab, Georgina Chapman is collecting her divorce settlement. The two parties reportedly came to an agreement, with ink drying on the papers just yesterday, and now the terms have come to light: Chapman will receive roughly $15 to 20 million and primary custody of their two children, ages 7 and 4, per People. Though a settlement has reportedly been reached, the two parties have not filed in court and are still working out the details of the division of their marital assets.
Last year, TMZ got a hold of the couple's prenuptial agreement, which was signed in December of 2007. According to those documents, if Chapman had left without contesting, she would have received $400,000 for each year they've been married (the two just hit their 10-year anniversary last month). In marital assets, she would have received $250,000 a year for the first five years of marriage and $700,000 per year for the next five. The agreement also included a monthly "housing allowance" of $25,000 per month of the marriage and spousal support total of $4 million. The total uncontested calculation would have been $11.75 million, but it seems Chapman was able to argue for more. Weinstein's total net worth is reportedly more than $250 million while Chapman reportedly has a net worth of $20 million of her own, largely due to her clothing line, Marchesa.
Chapman initially supported Weinstein in the days after accusations of sexual misconduct were published in The New York Times and The New Yorker, but then later announced the two would separate. She said in a statement, "My heart breaks for all the women who have suffered tremendous pain because of these unforgivable actions. I have chosen to leave my husband."
Related: Georgina Chapman is 'Very Sad' But 'Well' According to Alyssa Milano