Hailey Baldwin Gets "Immediate Anxiety" From Negative Instagram Comments About Her Relationship With Justin Bieber
Negative comments about her and Justin Bieber give her "immediate anxiety."
---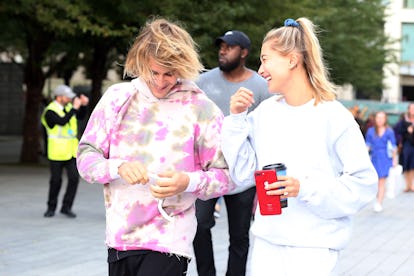 Getty Images
There's a very good reason why you may have noticed a Hailey Baldwin-sized absence from your Instagram feed in the last few weeks. In a lengthy, multi-slide post on her Instagram Story on Saturday afternoon, the model explained that she takes regular breaks from the social media platform in order to protect her mental health from mean comments about her work and her marriage to Justin Bieber.
"Being off of Instagram is the best thing ever. Whenever I take breaks from it I feel so much better, so much happy as a person.. the second I come back on I get immediate anxiety, I get sad and I get worked up," she wrote, then clarified that, while Instagram is an "incredible tool" for connecting people, "the negativity screams so loud."
"It's hard to focus on your well being and mental health when each time you open Instagram someone is tearing apart your job, or your relationship or essentially any of the things in your life that are positive," Baldwin continued. "I just don't believe we're called to live a life where we're so easily caught up in strangers opinions on something they have NOTHING to do with. We need to take a step back and realize we need to express more love and encouragement to one another instead of consistently tearing people down and judging."
She concluded, "I won't let people make me feel like I'm doing something wrong by enjoying my life and being happy. This world has enough hatred, hurt and pain as it is, the last thing we need is more negativity, hate and division."
Baldwin's husband, too, has spoken out about the negative impact social media usage can have on mental health. Earlier this year, apropos of nothing, Bieber took to—where else?—Instagram to expose the dangers of Instagram. "Hey world that glamorous lifestyle you see portrayed by famous people on Instagram don't be fooled thinking their life is better than yours I can promise you it's not!" he wrote in a screenshot of his Notes app.
Bieber also gave some insight into his relationship with Baldwin in another, more recent post, which he shared the day after they hosted Thanksgiving dinner for both of their families. "Relationships are hard and love isn't always easy but thank you Jesus for showing me how!" he wrote. "Every day is a learning process, trying to be more like him, patient, kind, selfless, boy I got a long way! But gods grace is sufficient !"
Related: Hailey Baldwin and Justin Bieber Spent Their First Thanksgiving as a Married Couple Celebrating Her Birthday