Diane Kruger's Stylist Reveals What to Wear This Holiday Season
Stylist Micaela Erlanger explains how to translate some of her best red carpet looks into your own wardrobe.
---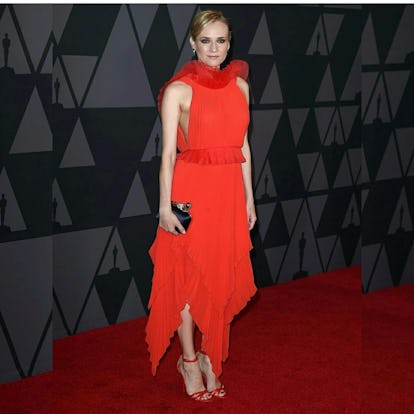 Dressing for the holiday season can be tricky, and even the most experienced of clothes-wearers may find themselves asking a lot of questions. How many sequins is too many sequins? When is an ugly sweater too ugly? Where and when do you break out the velvet? Luckily, top celebrity stylist Micaela Erlanger is here to break it down. Erlanger is no stranger to festive dressing, counting Meryl Streep, Diane Kruger, Lupito Nyong'o, Michelle Dockery, and Ana de Armas among her very famous client base. Here, the stylist explains how to do easy holiday dressing, which of her red carpet looks you can interpret into your own wardrobe, and what every woman should have her in closet this winter.
What would you say is ultimate holiday party look this year?
I'm really loving this short tuxedo outfit I have, and a vintage, lurex baby doll dress.
What should people avoid when it comes to holiday dressing?
Over-accessorizing! Choose a focal point and you will have more of an impact.
What are some easy styling tips for a last minute, yet festive look?
The easiest thing is to add a heel and a statement earring to add a little glamour to any look.
What should every woman have in her closet this winter?
How can women translate some great red carpet looks or trends for holiday dressing?
Try wearing a tuxedo instead of cocktail dress. Menswear-inspired looks are actually great for the holidays.
What red carpet look that you've styled can women take inspiration from for holiday parties?
Anything red of course! I love the red Givenchy dress Diane Kruger wore to the Governor Awards just last month. Also, you can't go wrong with sequins. I love the gold Prada dress Vanessa Kirby just wore to the world premiere of The Crown. Clothing for the red carpet should be wearable. My motto is, "runway to the real way." In terms of holiday dressing, think about well-placed sparkle, luxe fabrics, and statement accessories, you don't need much else!
What fashion trends are you most excited about this season?
Sequins. It's gonna be a sparkly red carpet this year.
What is on your fashion wish list for the holidays?
I don't need anything material to be honest, but could really use a chic and relaxing vacation!
Related: How Ana de Armas Went from Acting in Cuba to Starring Alongside Ryan Gosling in Blade Runner 2049
Diane Kruger Doesn't Know What it Means to Be a Muse