Issa Rae Opens Up About Those Rumors About Her and Drake, Insecure Season Three, And Why She Really Wants To Meet Bruno Mars
Ahead of the NAACP Image Awards, the Insecure actress give an inside peek into her getting ready process, which involves jamming to Drake, of course.
---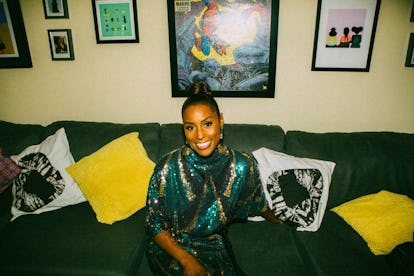 Alexandra Gavillet
On Monday afternoon of a long holiday weekend celebrating Martin Luther King Jr. Day, Issa Rae was halfway through what is colloquially known as "glam," getting her hair and makeup done for that evening's NAACP Image Awards. Cozying up in a robe and slippers, her makeup halfway done, the actress remarked on the occasion. "It feels like a fun, happy, celebratory day," she said. "It's not lost on me that it falls on MLK day, but usually, that day is just one of celebration, thankfulness, camaraderie, and that's what the NAACP Image Awards represents to me, because they're the only award show that consistently honors achievements by people of color, without a doubt."
Without a doubt, as well, is Rae's well deserved recognition. At 33-years-old, she's the first African-American woman to create and star in a premium cable show, after turning what was initially a popular Youtube web series, "The Misadventures of Awkward Black Girl," into a New York Times bestselling memoir of the same name and the successful HBO series Insecure. And throughout it all, she's founded Issa Rae Productions, which, among other things, promotes content created by people of color.
At the ceremony, Rae was up for Outstanding Actress in a Comedy Series, Outstanding Writing in a Comedy Series, and Entertainer of the Year, while the show itself was nominated for Outstanding Comedy Series and her costars, Yvonne Orji and Jay Ellis, for Outstanding Supporting Actress and Actor in a Comedy Series, respectively. In the end, Ellis would be the only one to go home with a trophy.
But win or lose, Rae was simply happy to be nominated, she had said hours earlier in her home, and it felt sincere: "I genuinely do not care if we win or not, it's about seeing people and being like, 'Oh, I love what you do.'"
At the Golden Globes, where she was nominated for Best Actress in a Musical or Comedy TV Series for the second consecutive year, she was "excited to meet the She's Gotta Have It folks… I love DeWanda Wise, but I didn't get to see her there," she said of the star of the Spike Lee-helmed Netflix show. "I got to see the guy who plays Greer." The excitement of potential run-ins for tonight was palpable, as well "There's just so many good shows. I'm so excited for Lena Waithe…the Queen Sugar people…"
"And musicians," she continued, her eyes lighting up. "One of my best friends looks just like Bruno Mars, who may come. He's nominated for Entertainer of the Year, so my goal for tonight is to get a picture of the two of them together. He doesn't know about my plans, but it's gonna happen."
She was in high spirits, though a bit tired, after a weekend of celebrating her birthday with friends in Malibu. "I accidentally rented the house where we shot our first season finale of Insecure, and I didn't recognize it until I pulled up. Like, 'Oh, this looks familiar, oops.' And then that just ended up being dope. People thought I did it on purpose."
And the celebrating kept going, when friends showed up about an hour later to join her as guests to the award show. "I'm almost exhausted, but I know I'm gonna turn up regardless, because my friends are gonna be here," she said before their arrival. "I'm in a very chill vibe right now, and then when the drinks start flowing, I'll be there. I'll be 100 percent."
Working with stylist Jason Rembert, she decided on a striking, sequined Marc Jacobs dress for the occasion."It's colorful and sparkly and reminds me of vintage '80s fly, like I could be on Dynasty or some shit," she said with her familiar, contagious laugh.
She chose the dress back in December, she revealed. "Jason had me trying on a bunch of different outfits [for award season] early on. We're great working with each other to establish a look and a vibe."
Her makeup artist, Joanna Simkin, created a bold, turquoise cat-eye look to match the dress, while hairstylist Felicia Leatherwood slicked her hair back into a twisted updo. As they dolled her up, music blasted in the background, playing a mix that included Drake—who recently made headlines that claimed that Rae had turned him down at a Golden Globes after party. In turn, Rae tweeted an alternate headline in response: "*Obsessed Fan Who Dedicated Entire Season to Artist Continues to Shamelessly Fangirl When She Sees Him at Party Later."
"I was like, 'They were trying to play him,'" she said of the incident. "People had a vendetta—it just didn't go down like that at all."
When she's not at an award ceremony or after party, Rae is in the writer's room working on season three of Insecure. "We're trying a bunch of different things," she shared. "Different ways to tell stories. One of the things that we say in the room is we don't want people to feel like they know what our show is. You know, watching the third season, you don't want people to be like, 'Oh I know what that show is gonna be,' and just making sure that we subvert expectations while still remaining true to the grounded-ness of the series."
"I'm looking most forward to finishing it," she continued. "We're in that stage where we want to be able to tell good stories and right now it just feels like we're in that middle place that we find ourselves in every season, so as soon as we overcome that and have the 'Aha, I got you' moment, then I'll be excited. But we shoot in like two months, so we better hurry up."
She's also working on three other shows: Him Or Her, by writer Travon Free ("basically the dating experiences of a bisexual Black man"), which she's executively producing for HBO, alongside an untitled project with "The Turner House" author Angela Flournoy, a "historical fiction" about a Black family in the '90s in Los Angeles; and personally, she's co-writing a teen drama titled Sweet Life set in Windsor Hills, "the Black Beverly Hills." "That's the only one I'm actively writing outside of Insecure," she said of the latter.
Whew. So, what keeps her going with all the work on her plate? "The opportunity to do so," she continued. "I'll keep going until somebody is like, 'Bitch, stop nobody cares, shut up'. And even then, I'd try a way to slip in and give other people platforms, which I'm still actively trying to do now. So as long as people continue to give me a chance, I'm going to continue to create just because I love it so much."
Related: Issa Rae is Developing Two More HBO Series
Millie Bobby Brown Does Her Best Karaoke Version of Bruno Mars' "Just the Way You Are"