Ivanka Trump Backs Time's Up, Forgets She's Part of the Problem
Let's list all the hypocrisies here.
---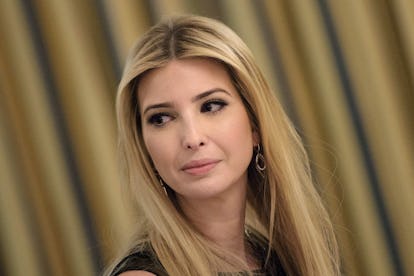 BRENDAN SMIALOWSKI
The Golden Globes took place on Sunday night, and by Monday morning, Oprah Winfrey's perfect speech had taken over the internet—the hashtag #Oprah2020 was trending to the point that a White House spokesperson was forced to comment on her possible candidacy, saying they "welcome the challenge."
Somehow, though, it took Ivanka Trump until around 10 p.m. on Monday night to tweet that she had "just [seen] @Oprah's empowering & inspiring speech at last night's #GoldenGlobes." She then ended her tone-deaf tweet with: "Let's all come together, women & men, & say #TIMESUP!"
Time's Up isn't just the reason that the red carpet was a sea of black on Sunday night. It's also a movement to end sexual assault, harassment, and inequality in the workplace—or, in other words, issues that Ivanka's father, President Donald Trump, has only amplified since he took office. The full video which Ivanka retweeted highlighted Winfrey's words "I want all of the girls watching here now to know, that a new day is on the horizon"—the line that seemed to resonate the most, and which in fact echoed Hillary Clinton's most famous line in her concession speech: "To all of the little girls who are watching this, never doubt that you are valuable and powerful and deserving of every chance and opportunity in the world to pursue and achieve your own dreams."
The words resonate in part because Trump's election marked a tacit acceptance of mistreatment of women: It proved that a man whom more than a dozen women have accused of sexual assault and harassment, and who has a long history of making lewd, sexist public comments about women, could not only continue living his life without impunity, but become president.
Ivanka, who's had an active role in his office and made a point of supporting his administration, is part of the Donald Trump problem. Hardly surprising, then, that the internet was not having it with her out-of-nowhere tweet: It got nearly 20,000 replies within 12 hours (with only around 3,000 retweets), many of which seem to be directly calling out Ivanka's hypocrisy, like this tweet listing the names of women who've said Trump has sexually harassed or assaulted them.
Let's not forget the fact that when asked how he'd react if Ivanka were sexually harassed at work, Trump simply said he "would like to think she would find another career or find another company." In any case, though, it's not just Ivanka's continued backing of her father that makes her support of an anti-harassment and anti-inequality initiative hypocritical. Last April, Ivanka told Gayle King she'd changed her mind about joining the Trump administration because she'd realized she "could help my father and, ultimately, the country." Naturally, King asked her how she how she planned on doing that, to which she replied: "I'll continue the advocacy work that I was doing in the private sector—advocating for the economic empowerment of women."
But ever since then, Ivanka has in fact done the opposite: For example, she's backed the administration's decision not to implement Barack Obama's plan to gather data to assist in closing the persistent gender pay gap in America. (For the record, the wage gap has reportedly more than tripled at the White House since Trump took office, and Ivanka herself "voluntarily" does not receive a salary.) And that also means there won't be data-gathering on how the wage gap is closing more rapidly for white women than women of color—another contradiction of Winfrey's speech, which calls out America's history of racism, in particular the recent death of Recy Taylor, a black woman whom six white men abducted and raped in the '40s without impunity.
Moreover, Winfrey seemed to aim her words directly at Ivanka's father by calling for support for the "insatiable dedication to uncovering the absolute truth that keeps us from turning a blind eye to corruption and to injustice" and describing the press as "under siege," which makes Ivanka's tweet of support that much more inexplicable. If she and Winfrey both really do end up running for President, there are definitely some interesting debates in store for 2020.
Related: Ivanka Trump Loves to Talk About the Wage Gap, But Doesn't Do a Thing About It
"I Will Not Be Silent": Hollywood's Biggest Names Pledge to Speak Their Minds: