Jason Wu On His First Fragrance, And the Future of a Full-Fledged Jason Wu Beauty Brand
The designer shares the story behind his first fragrance, and why you're not fully dressed until you've donned a scent.
---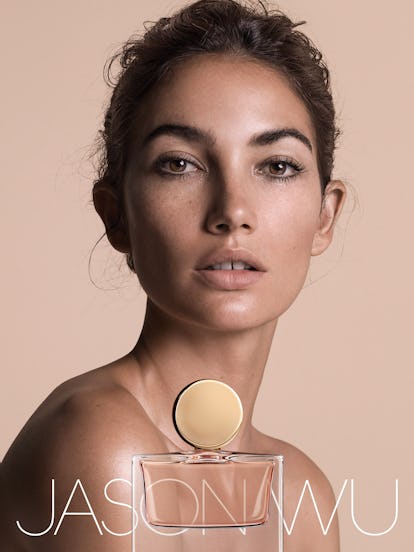 Even back in 2006, when New York City-based fashion designer Jason Wu got his first big break in the pages of W, he was dreaming about creating a fragrance. "I love fragrance. I've wanted to make once since I started 10 years ago," says Wu of his eponymous freshly picked jasmine bouquet that calls warm childhood memories to mind, and smells as unabashedly chic as the leading ladies that he dresses. "We designed the whole thing from scratch." Find out what when into the soft pink juice, why Wu is a beauty guy, and more, here.
You have established a very specific, refined, but cool woman as the Jason Wu girl. How did you figure out who she was when you were starting out?
I've always been very much into the 40s, and 50s is my favorite era because, it's such a golden era of fashion. I've always been so infatuated by designers like from Charles James, Yves Saint Laurent, to Cristóbal Balenciaga. I really looked up to them growing up, and that kind of just stuck with me. It's something that I keep going back to every time as inspiration. So I think that's how I arrived at an aesthetic that is very refined and very sophisticated. I apply myself to that aesthetic, and I mix that inspiration often with things that I see every day or things I see, you know, when I'm traveling.
That was such an interesting time because women were refined, but by virtue of the war, they were also super strong.
They also were so dressed. I love the idea that everybody was so dressed. When I watched the movies, the movie stars, particularly people like Marlene Dietrich, really inspire me. So, yes, I've always been a huge fan of that aesthetic and that era. I love the idea of getting dressed because sometimes when you get dressed, the feeling you get is incredible. I'm always casual but when I get dressed up, I feel really great, and I think that's really the power of fashion—that you can transform the way you feel with just an outfit.
It's magical. Did you feel that the dress that Michelle Obama wore to the Inauguration Ball in 2008 was a game changer?
My first big moment… I mean very publicly I guess many would say it was when I dressed Michelle Obama, but for me personally, my first big fashion moment happened two years earlier, when I was in the W "Summer Camp" story with I think 20 international designers, and it really was a story that it still is super memorable. Bruce Weber shot all of this when we were all kids. I had not heard of most people on the call sheet at that time, and it's really interesting to see where everyone is now. That was such a big moment for me when I was featured because it was just my third collection, I think, and to be in an editorial of that magnitude was really incredible for me. No one's done a story like that since really, in that the whole issue was really about that.
And now you are doing your own fragrance. How did this come to be?
This has been my dream project. I mean, literally my dream project for years, and I'm really happy that it happened. And I think this is the perfect time in so many ways because after 10 years in business I think I've gotten to know myself completely, and you know now that I'm in my 30s I feel much surer of myself than when I started, so that's a good time to launch a fragrance, because it's not something you update all the time. It's something that should become an icon for the fashion house, and so it's definitely a very significant moment for me both personally and professionally.
It's romantic, but it's soft, and it just has that perfect balance.
It has that perfect balance, and I love the process. Anyone who knows me knows that when I walk into a room, I always think it smells like this, or it smells like that. I'm very, very sensitive, and so I do think that the way something smells or someone can inform how you feel about a place or a person. It also triggers memories when you smell something that reminds you of a place or one of your favorite memories, and so that's why I think it's so powerful and that's why I find scent to be so infatuating. The science of creating the juice was, to me, like one of the best things I've ever done.
How does creating a fragrance differ from designing a dress?
I had to smell over 300 raw ingredients at Firmenich and I had to identify my favorites. So it's like gathering a lot of inspiration images and editing them down to what works together; we narrowed down the group of scents that I gravitated towards, and I had a clear preference for light white florals, so the three main ingredients became jasmine sambac, peony, and lily of the valley. They're also three of the most beautiful flowers. Jasmine is something that reminds me of when I was a little boy growing up in Taiwan—there was jasmine in my neighbor's yard, and we used to pick them and use them as room scents.
How did the bottle design come to be?
I asked my friend, Andre Mellone, to design the bottle. I wanted somebody that's not done a perfume bottle to do the bottle because I wanted a different perspective, and Andre has such a great eye for architecture and art and objects. He has such a refined, sophisticated eye and I thought he was just going to be the perfect person to do it. We were looking at a Peter Perry sculpture, mixed with these [vintage] decanters that we both loved to buy…. For us, it was really important that the glass is very thick, that we have a thick, big wall of glass all the way around the fragrance, and that took a lot of engineering. Andre went to Parma, Italy to oversee all the production, and we completely fire-polished the whole bottle so there were no wavy lines. You look at a lot of very nice glassware that is completely clear, and that was kind of our goal.
What do you want to do next in the beauty space? I know you did the collaboration with Caudalie and Lancôme. You're a beauty guy…
I'm a beauty guy. I'm all the way a beauty guy. I've done so many beauty collaborations because I'm just obsessed.I do think it's something that translates with my aesthetic so well, and that I really have a feel and passion for it. I hope this fragrance is the first of many and hopefully the start of Jason Wu, the beauty brand. I think it's going to be a very significant move for us, and my goal is to look at this as the launch of, really, Jason Wu Beauty. It's something that I just genuinely really love.
Gisele Bündchen's Waves, Lily Aldridge's Smokey Eyes, And More of the Best Beauty Moments of The Week
Actress Emma Roberts proves how to perfectly pair pink sunglasses with a matte pink lip.

@emmaroberts
Victoria's Secret Angel Alessandra Ambrosio soaks up the Bora Bora sun wearing a chic hat and natural waves.

@alessandraambrosio
Actress Gabrielle Union is all about the voluminous curls with a hint of blush on the cheekbones.

@gabunion
Model Hilary Rhoda wears a perfect summer flush with a light contour on the cheekbones with a natural pink lip.

@hilaryhrhoda
Model Cara Delevingne wears her tousled platinum pixie with luminous skin and a chic pair of sunglasses.

@chanelofficial
Model Lily Aldridge is all about the natural hues wearing a subtle taupe smokey eye with a nude matte lip.

@lilyaldridge
Actress Lupita Nyong'o wears her long braids with a glossy, fuchsia lip and luminous skin.

@lupitanyongo
Model Barbara Palvin's poolside beauty look is all about tousled natural waves with a subtle smokey eye.

@realbarbarapalvin
Actress Priyanka Chopra pairs her sleek waves with a satin burgundy lip and chic, oversized sunglasses.

@priyankachopra
Rocking her signature look, model Gisele Bündchen radiates with luminous skin and tousled beachy waves.

@gisele
What was your own first fragrance?
I had the Geoffrey Beene Grey Flannel. That's kind of why I'm so obsessed with the color grey.
Would you ever venture into men's fragrances?
I would love to do something unisex at some point. For my first fragrance I wanted it to be very, very feminine, because that is the very essence of the Jason Wu brand and fashion house, but as we develop further I do think something unisex feels so new and now.
Related: Jessica Chastain Speaks Out About Female Stereotypes in Hollywood, and Why All Women Are "Strong Women"
Model Beauty Secrets, Straight From the Source