Jennifer Garner and Ben Affleck Seem Ambivalent About the Whole Divorce Thing
They are still married…and they might stay that way.
---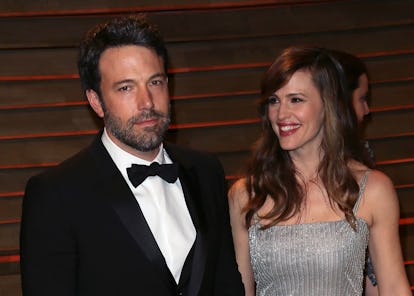 David Livingston/Getty Images
Last March, the few and faithful remaining Bennifer stans were rewarded with a tantalizing rumor: Jennifer Garner and Ben Affleck were thought to have called off their divorce. The couple announced their separation in 2015, after 10 years of marriage—in fact, just a day after their 10th anniversary—and officially filed for divorce in 2016. But the following year, it still hadn't been finalized, and there was a buzz that they might reconcile. These hopes were swiftly dashed, though: Affleck moved out of their shared home in May 2017, and, shortly after, he and Lindsay Shookus made their public debut as a couple.
Yet in spite of Affleck's new relationship—one that has endured despite 2018 seeing some of the most crushing celebrity breakups and a particularly nasty turn in the Brangelina divorce—and the three years they've had to grow accustomed to life apart, Affleck and Garner still have not signed the papers. They're technically still married. And the Blast, the more recently established heir to TMZ, acquired court documents in which a judge warned the couple that if they didn't finalize the divorce soon, their filing risked being revoked. And then, they'd be stuck together.
"If you fail to take the appropriate steps in your case, the court may dismiss your case for delay in prosecution," the judge wrote, per the Blast. (As Jezebel translated, this "means 'get it the f— together.'")
It seems Affleck and Garner are a little ambivalent about the whole divorce thing, but, hey, who knows: Maybe they're just too busy. After all, Affleck has been occupied by the McDonald's Monopoly drama, a new Batman, and a move into a new Los Angeles bachelor pad; meanwhile, Garner has been busy kayaking with her daughter Violet in Sweden, farming baby food, and also having an entire career renaissance. So, please, forgive them if signing some measly court papers is at the bottom of the agenda.