Kaia Gerber Found a Way to Get Her Tattoo Fix During Quarantine
"Struggling" without her favorite pastime, the model endeavored to give herself a stick-and-poke.
---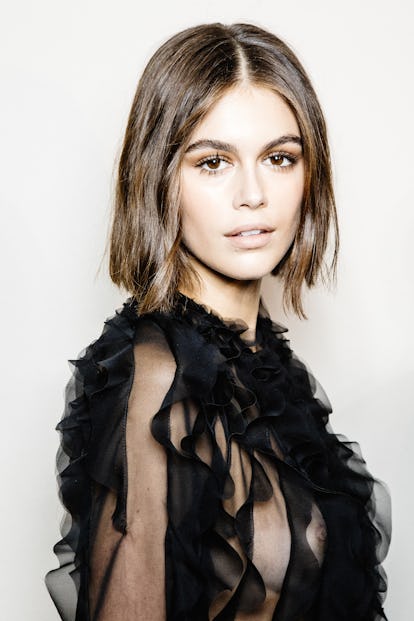 Rosdiana Ciaravolo/Getty Images
Until this past February, Presley Gerber was the only member of his family who stayed out of the spotlight. All that changed when the model, whose parents are Rande Gerber and Cindy Crawford, got a tattoo of the word "misunderstood" on his face (and compared the criticism to discrimination against being transgender). The 20-year-old has kept them coming ever since, adding everything from his area code on his chest to a gun on his torso.
Meanwhile, his younger sister, fellow model Kaia Gerber, has carried on with her own tattoo obsession much more quietly. She's gotten more than 10 since 2018, but stuck to teensy black line motifs that take up nowhere near as much real estate. (Suffice it to say, she did not get any couple tattoos with her ex Pete Davidson; like Presley, he has quite the exuberant taste.)
Kaia's tattoos are subtle, but prominent among her priorities. They're also much trickier to pursue during quarantine than her trendier activities, like fostering a dog and cutting her hair. "I've been struggling because one of my favorite pastimes was going and getting tattoos, and nobody's been able to do that," the 18-year-old told Glamour on Thursday. So, she took matters into her own hands. "In the meantime, I gave myself a stick-and-poke, which I do not recommend."
For those unfamiliar with the DIY process, a stick-and-poke is exactly what it sounds like. Instead of using electricity, one simply sterilizes a needle, and repeatedly sticks and pokes it into the top layer of their skin with ink. It takes a bit longer than traditional tattooing, and the ink is more likely to fade. But it's easy and less likely to irritate the skin, making it popular among everyone from modern-day Black Flag fans to ancient Egyptians.
Gerber, on the other hand, was not impressed. "I think I have a newfound appreciation for tattoo artists," she said. "It's not easy." she said. So, she kept it simple, making for her most minimal tat to date. "I didn't get too ambitious. I gave myself a dot, just so I could be like, 'All right, I got a tattoo this month, I'm cool.'" And unlike other celebs, she didn't make a mistake.
Related: The Only 5 Quarantine Hair Trends That Are Possible
A Guide to All Your Favorite Models's Tattoos, from Paris Jackson's New Ink to Kate Moss's £1 Million Tramp Stamp