Kanye West Has Been "Harassing" Kim Kardashian for More Kids
Kanye West started campaigning for seven children just two months after the birth of Chicago.
---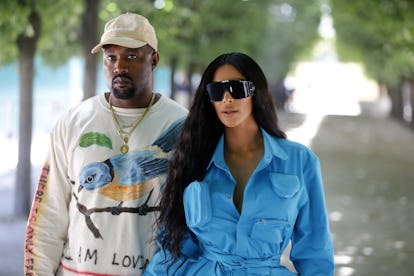 Chesnot/WireImage
The Kardashian-West brood has been steadily expanding since the birth of North West in 2013—most recently, the couple welcomed their third child, Chicago West, back in January. But for Kanye West, apparently, this isn't enough: He wants to achieve the milestone of seven children. Seven, as Justin Bieber pointed out in July, is the number of spiritual perfection.
On the most recent episode of Keeping Up With the Kardashians, Kim Kardashian revealed that Kanye has been "harassing" her for more kids—seven, to be precise. "He's stuck on seven," Kim told Larsa Pippen, to which Pippen responded, tartly, that Kanye should simply call his next album Seven and "lighten up on the kids situation."
But Kanye's desire for more kids is not new: In 2016, shortly after the birth of Saint, Kanye again began pestering Kim to consider adding another to their ranks. "I was so set on my two kids and how happy I was with my life the way that it is, but Kanye has been mentioning it every single day for the past 10 days," she said on Khloé Kardashian's short-lived series Kocktails with Khloé. "I'm like, why is he doing this to me?"
Kim has a few pretty fair reasons to be resistant to having more children, not the least of which is the health issues that previously plagued her during pregnancy, leading her to opt for a surrogate for Chicago. Kim has suffered from preeclampsia and placenta accreta—both conditions that can be fatal for mothers. In an open letter on her website in 2015, she described pregnancy as "the worst experience of my life."
"I don't enjoy one moment of it and I don't understand people who do," she continued. "Maybe it's the swelling, the backaches, or just the complete mindf–k of how your body expands and nothing fits."
Plus, as she said in the recent Keeping Up With the Kardashians episode, she's resistant to bringing more kids into the world as it is now: "I've been kind of hesitant about having more kids just because it literally keeps me up at night, thinking about how my kids will survive in a crazy world like this," she said. Kim brought North to the March for Our Lives rally in the same episode—placing it around March, just two months after Chicago was born—and subsequently tweeted to encourage her followers to vote in the midterms. So just add the size of their family to the list of things Kim and Kanye apparently disagree on.
Related: Kim Kardashian's Tiny Chanel Bikini Continues Her Revival Tour of '90s Runway Controversies
Kim Kardashian's Best Halloween Costumes Through the Years
Kim Kardashian at the Pur Jeans Halloween Bash in Los Angeles on October 31, 2008.

Mark Sullivan/Getty Images
Kris Jenner and Kim Kardashian, dressed as Superwoman, at Kim's Halloween party, hosted by PAMA in Los Angeles on October 30, 2008.

Getty Images
Kim Kardashian dressed as a cheetah for Halloween on October 31, 2010.

Getty Images
Kim Kardashian at Heidi Klum's Halloween party in New York City on October 31, 2010.

Michael Loccisano/Getty Images
Kim Kardashian dressed as Poison Ivy at the Midori Green Halloween costume party in New York City on October 29, 2011.

Dave Kotinsky/Getty Images
Kim Kardashian as Catwoman at her Halloween party in Miami Beach on October 31, 2012.

Alexander Tamargo/Getty Images
Kim Kardashian as a mermaid at the second annual Midori Green Halloween Party in New York City on October 27, 2012.

Michael Stewart/Getty Images
Kim Kardashian dressed as a skeleton for Halloween on October 31, 2014.

Courtesy of @kimkardashian
Kim Kardashian dressed as Anna Wintour for Halloween on October 31, 2014.

Courtesy of @kimkardashian
Kim Kardashian and Jonathan Cheban dressed as Sonny and Cher at the Casamigos Halloween Party in Los Angeles on October 27, 2017.

Neilson Barnard/Getty Images
Kim Kardashian dressed as the pop star Selena for Halloween on October 31, 2017.

Courtesy of @kimkardashian
Kourtney Kardashian and Kim Kardashian dressed as Michael Jackson and Madonna at the 1991 Academy Awards for Halloween on October 31, 2017.

Getty Images
This year also saw Kardashian join the fleet of her sisters dressed as Victoria's Secret Angels.

Courtesy of @kimkardashian
Kim Kardashian dressed as Pamela Anderson circa 1999—and didn't shy from telling off the youngins who didn't recognize her.

Courtesy of @kkwarmy