Behold: The 2018 Kardashians Christmas Card, With All the Kardashian Offspring
Dream Kardashian—unlike Kris and Kendall—somehow managed to make the cut.
---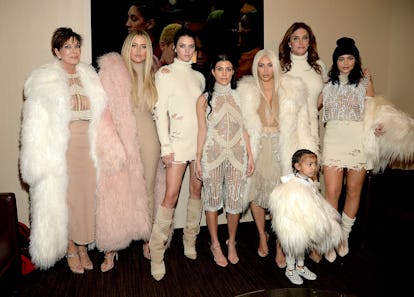 Kevin Mazur/Getty Images
It's Christmas Eve, which, for the past decade or so, has been forced to share the date with another holiday: the long-awaited release of the Kardashians' annual Christmas card. Thanks to their spawn, it's been quite a whirlwind year for the fam: Kylie Jenner's secret baby, Stormi Webster, and Khloé Kardashian's own newborn, True Thompson, have joined their ranks, making it only appropriate that this year's edition is practically filled to far edges of the frame with children.
Thanks to their strength in numbers, even moms Kim Kardashian, Kylie Jenner, Kourtney Kardashian, and Khloé Kardashian couldn't outshine their nine, scene-stealing tots. According to Kim, Kendall Jenner's absence is owing to the fact that she and their mom, Kris Jenner, "rushed to a meeting after [the shoot] so this this what we have! As many of us as possible!"—not because the 23-year-old is the self-described only one in her family without children. Waiting until "the last minute to do a card" led to a few other absences: Kanye West, was apparently "in and out of town" at the time, though apparently he didn't count when Kim "realized we were all together," at which point they had "all of [their] kids come meet" them. (Along with, of course, their family photographer, who goes by @pierresnaps.)
It should be noted that Kim deigned to allow Kourtney Kardashian in the picture, along with her nine-year-old Mason, six-year-old Penelope, and four-year-old Reign, who even broke the all-white dress code with a bit of beige. As mentioned, it's been an eventful year; 2018 saw Kim not only declare Kourtney the "least exciting to look at" member of the family, but also call her "a freak" and—gasp!—venture forth the idea that her older sis may be "the new Rob." (Aside from the jabs, the shoot also marked a scheduling accomplishment for Kourtney, who's currently off in Cabo with her kids and her ex Scott Disick—and Sofia Richie, Disick's 21-year-old girlfriend.)
The real scene-stealer, though, was undoubtedly Dream Kardashian, the two-year-old daughter of (absent) Rob Kardashian and Blac Chyna. (Previously neglected by her aunts, she's only recently been welcomed into the family's notoriously over-the-top celebrations.) But it's the holidays, after all, so let's put the drama aside. There's a plenty of material here to study if you're looking to take a break from your own family, like the fact that North West, looking grown up as ever standing next to Kim with a head of immaculately straightened hair, is somehow only five years old.
Related: Kourtney Kardashian, Scott Disick, and Sofia Richie, Truly Modern Family, Are Vacationing in Cabo Together
A Definitive Ranking of Kardashian Christmas Cards, From Least Kardashian to Most Kardashian
Mispelling of Khloe's name aside, this card is most definitely the least Kardashian thanks to one notable exception: as if Kris Jenner would ever miss a photo opp nowadays.
While this was years before Kim was running around with Karl Lagerfeld and Riccardo Tisci, you can still see the pain in her eyes over having to wear ill-fitting, matching motorcycle jackets with the male-heavy Jenner clan.
A Kardashian never misses the chance for a full-scale, glam-squad heavy photoshoot. The fact that they skipped a prime opportunity for the 2009 holiday card in favor of an outtake from Khloe's wedding is very off-brand.
As everyone who has caught a glimpse of Keeping Up With the Kardashians or paged through an Us Weekly in the past decade knows, this family is not without some serious drama. The party-themed, all smiles 2012 card is just a little too happy.

Courtesy of Celebuzz
Another all-white card, but at least this one comes with some angst (Hi, Khloe) and tense smiles that nod to some underlying drama. Bonus points for a tiny baby Kendall Jenner and an appearance from Santa.
Here we have some high glamour Kardashians, as we've come to know and love—at least, until the Yeezy athleisure movement came in full-force. The fact that Kim's shade of red is just slightly off from the rest of the clan is a great easter egg.
The 2013 David LaChapelle-lensed card was a tipping point for the family, as they went from "delightfully zany" to just "full-on insane." There are just so many things to look at here—which, truly, could be said about the family in general.
A distinct departure from the bonkers previous card, once Kim and Kourtney started building their own brood, they let the kid's take center stage in the family's holiday card. A cute thought, but if rumors are too be true, the concept might be a little too crowded come next year.
You want drama? Glamour? Welcome to the 2010 Kardashian family card. This was the first year to let each sister's individual style stand out, a nod at many fashion empires to come.
2011, however, was the card to end all cards. Case in point? It was in 3-freaking-D. Your Christmas card could never. But hey, what are Kardashians if not ahead of their time?