Kim Kardashian West Tries (and Fails) to Clarify Her Comments About Kourtney Kardashian Being the "Least Exciting to Look At"
She fired back after Kim Kardashian West reiterated that she's "the most boring."
---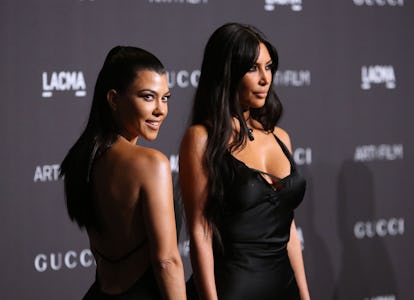 Jesse Grant/Getty Images
In the premiere episode of Season 15 of Keeping Up With the Kardashians, which aired in early August, Kim Kardashian West butted heads with Kourtney Kardashian over the scheduling of the family's Christmas card photo shoot, culminating in an unforgettable moment in which a frustrated Kardashian West turned to sister Khloé Kardashian and mom Kris Jenner and quipped, "She's the least exciting to look at."
Though things were pretty rocky between the sisters for a while, both after the events actually took place and after the episode containing them aired, they appear to be back on good terms and ready to force a laugh at that old tension. In a preview of the next episode of KUWTK, Kim and Kourtney address Kim's comment, which sparked mixed reactions on social media, many of which defended Kourtney from the perceived emotional abuse of her family members. "People hate Kim from her comment on the show," Kourtney, sounding vindicated, tells Scott Disick in the clip. "Thanks for posting," a sarcastic Kim replies.
At this point, KKW makes a valiant yet poorly thought-out attempt to mitigate her original utterance. "We got into a fight. I said you're the least exciting to look at," she says—so far so good—then adds, "What I meant is, you're the most boring." Oh.
When Kourtney starts to fight back by quoting one of her many brave defenders on Twitter, Scott jumps in. "That's your sister! You've said bad things about her too," he says. "You call her a porn star every time I talk to you." Kourtney neither confirms nor denies this claim, but refers to a less supportive tweet suggesting she "thank Kim for [her] career." "I was gonna write back and say if it wasn't for my personality and being funny, then our show wouldn't exist!" she says, to which Kim and Scott, wisely, abstain from responding.
KUWTK fans will have to wait until the new episode airs this Sunday to find out whether the sisters hash out another of Kim's savage comments about her older sister, one which dragged their reclusive brother into the fray. In the fourth episode of the season (well after they'd attended a barely helpful "sisters therapy" session), Kim told Khloé that Kourtney was a "freak" for wanting to spend Christmas away from the rest of the family. "Do you think it's, like, a cry for help? A cry for attention? Is she the new Rob? She drives me so crazy. I just don't even know what to do. No one understands us like us," she said.
Hopefully, Kourtney can use some of her self-proclaimed humor to laugh that off too.
Related: How the Kardashians Celebrate Thanksgiving
How the Kardashians Celebrate Thanksgiving
"I'm on gravy duty, and I'm loving it," Kim Kardashian told reporters on the day before Thanksgiving in 2011, which she spent doling out a portion of the 80 gallons of gravy that the L.A. Mission served the homeless.

Tommaso Boddi/Getty Images.
Fret not if you're having trouble reading this menu from the Kardashians' Thanksgiving in 2013: Other than the fact that there's a total of seven desserts, including "Kris's famous Lemon Cake," the only line you really need to pay attention is "Khloé's famous Macaroni and Cheese," spelled out in Apple Chancery.

Courtesy of @krisjenner
The next year came with a visual of Khloé Kardashian's "famous" mac and cheese, which was overshadowed by her fascinating poor photography skills.

Courtesy of @khloekardashian
Luckily, Khloé seemed to have taken a crash course in food photography by the next year, when she shared snapshots of more meals she'd cooked up in "Koko's Kitchen."

Courtesy of @khloekardashian
Khloé shared a picture of the setting for her first Thanksgiving at her house, rather than at her mom's, with a caption that read, among other things, "manifest beauty in your life."

Courtesy of @khloekardashian
It may have been taken just three years ago, but this one's a real throwback: The 2015 edition of the Kardashian-Jenner Thanksgiving saw the "blended family," as Kylie Jenner put it in the caption of the photo above, come fully together, with nearly everyone's then-partner present—including Kylie's now ex Tyga, and Kourtney Kardashian's then recent ex, Scott Disick. Not only did Kanye also show up to Khloé's house, but so did his big ole grin.

Courtesy of @kyliejenner
The family member with perhaps the most significant presence that year was baby Reign Disick, who spent at least part of his first Thanksgiving in the arms of his mom, Kourtney.

Courtesy of @kourtneykardash
The desserts served at Khloé's, as lusted over by her sister Kourtney on Instagram.

Courtesy of @kourtneykardash
No longer exactly the baby of the family, Kylie hosted her first Thanksgiving in 2016, decorating her home in Calabasas in white and gold, including hundreds of roses.

Courtesy of Kylie Jenner's Snapchat
The evening was a Jenner affair, amid what was otherwise a less than bright time for the family. (Kanye had just been hospitalized, only a month after Kim's infamous robbery in Paris.)

Courtesy of @caitlynjenner
Kim and Kanye may not have been there, but Kylie's then boyfriend, Tyga, did manage to come through, wearing an appropriately autumnal flannel for the occasion.

Courtesy of Kylie Jenner's Snapchat
While pregnant, Kylie once again took up the hosting duties for last year's Thanksgiving, this time with a hint of a Valentine's Day theme.

Courtesy of Kylie Jenner's Snapchat
Ahead of their stint on Family Feud, the Kardashian-Jenners played a game or two of Taboo.

Courtesy of Kylie Jenner's Snapchat
Behold: what Kendall Jenner ate for Thanksgiving in 2017. (According to her Snapchat, anyway.)

Courtesy of Kendall Jenner's Snapchat
Leave it to Kim, pictured here with her mom and her grandma M.J., to dress for Thanksgiving as if she were in a Yeezy campaign. (Without, of course, any hint of bloating.)

Courtesy of @kimkardashian
For dessert, Kylie served autumnal doughnuts and turkey-shaped Rice Krispie treats, among other goodies.

Courtesy of Kylie Jenner's Snapchat
Having handed over the responsibilities to Kylie, Kris was able to spend some of the night hanging loose.

Courtesy of Kylie Jenner's Snapchat
Twenty eighteen brought an adventure to the great outdoors, which no one seemed to enjoy more than Kanye.

Courtesy of @kendalljenner
Thanks to her father's prior athletic commitments, True Thompson was forced to spend her first-ever Thanksgiving in Cleveland. Her mom, Khloé Kardashian, made up for it by bathing their corner of Ohio in millennial pink.

Courtesy of @khloekardashian
Back in Calabasas, Kourtney Kardashian, Scott Disick, and co. also kept it (relatively) monochrome in green.

Courtesy of @kourtneykardash
Meanwhile, Kris Jenner coordinated with herself—in $8,000 worth of Versace, no less.

Courtesy of @kourtneykardash