Dream Kardashian's Second Birthday Party Marked Some Rare Acknowledgment From Her Aunts
Kim, Khloé, Kourtney, and Kylie all came through with some fairy-themed festivities.
---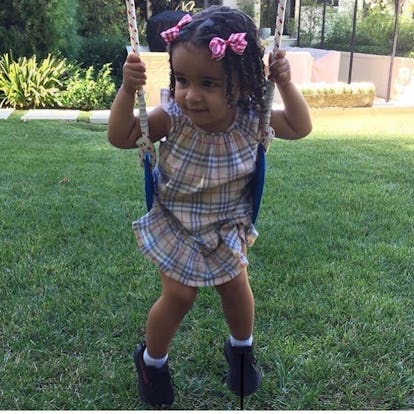 Courtesy of @blacchyna
Dream Kardashian has never gotten as much attention as her "kousins," but on Wednesday, her aunts came through for her second birthday, welcoming her into their family tradition of over-the-top celebrations with some fairy-themed festivities, putting her on par with her fellow youngins North West and Penelope Disick. Though much of the family has had to evacuate their homes in the wake of the deadly fires still raging through California, they managed to find space for a teepee of sorts decorated with balloons, butterflies, and green ivy, along with some cushions.
Dream wore a pale blue tutu and a flower crown for the occasion, matching the adult "fairies" the family apparently hired. (The rest were invited to match them, too, thanks to a wall studded with pairs of wings for the guests looking to "grab [their] wings and fly.") Naturally, Kim, Khloé, Kourtney, and Kylie documented it all on their Instagram Stories. (Kris and Kendall Jenner did not appear to be in attendance.)
There was also a moss- and flower-covered buffet of desserts like chocolates, donuts, candied pretzel rods, and a blue birthday cake, though Dream chose to snack on a Powerpuff Girls popsicle. Keeping with the blue theme, she was also apparently gifted a glittery blue "luxury kids car."
Kardashian may only be 2, but she's already lived quite the life: Her parents, Blac Chyna and Rob Kardashian, have spent the year since they broke off their engagement engaging in a very ugly public feud, which culminated with Rob posting nude photos of Chyna without her permission, along with allegations of drug use and infidelity. He also recently made the request to lower his child-support payments, which he previously agreed to be $20,000 per month. (His financial struggles have reportedly forced him to not only sell off half of his sock company to his mom, Kris Jenner, but also move in with her.) Rob's Instagram has remained deactivated ever since his vengeful posts; according to court documents, he reportedly said that Chyna's request for a restraining order against him still prohibits him from posting certain content online, which could have something to do with why he didn't acknowledge Dream's birthday on his still up-and-running Twitter account.
Chyna's Instagram, on the other hand, remains perfectly active, and she joined Dream's aunts in sharing birthday tributes to their her daughter with her nearly 15 million followers, wishing her "happiness and peace."
Related: Rob Kardashian Has Lost Full Control of His Sock Company
A Guide to the Many, Many New Celebrity Babies of 2018 (So Far)