Kim Kardashian Really Doesn't Want Kendall Jenner to Own a Gun
The model contemplated purchasing a gun for her home following a number of stalkers and robberies.
---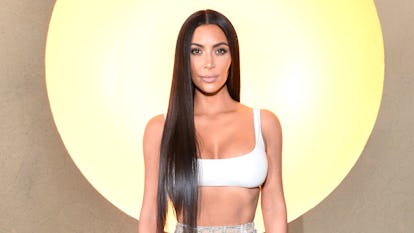 Stefanie Keenan/Getty Images
While Keeping Up With the Kardashians traditionally involves an hour of family dynamics and formulated hijinks, as the family's status in pop culture has risen, so has the show's propensity to tackle Real Stories. This season, the sisters have visited Planned Parenthood, a food bank, and a homeless shelter in attempts of bringing light to socially relevant issues. In this week's episode, the show took on gun control, as Kendall Jenner and Khloe Kardashian both contemplated purchasing weapons for their homes.
While the show has previously dealt with the issue, with Kim visiting the nonprofit organization Everytown for Gun Safety a few seasons back, this episode seemed personal, as Jenner explained her recent traumas involving stalkers and break-ins. "I literally once a week have a stalker. Maybe more—twice a week," she told Khloe during a shopping excursion. "Someone shows up at my house every single day. They just wait outside my house for me and my security guards don't let me leave."
The model continued in her talking head confessional, saying, "My house was robbed, maybe, eight months ago. I was home with a couple of my friends, and every single piece of jewelry was stolen. There were a lot of sentimental things that I had, that it sucks that you can't get things back. I think in the last year, the conversation of safety has really changed in my family, ever since Kim's situation in Paris and my robbery and my stalkers. It is a scary world."
Kim, however, was not on board with the plan. "That's what you have security for," she said when Jenner shared her potential plans. "I'm not comfortable with it. I wouldn't want my kids around it. I wouldn't want sleepovers going on with the kids and I know there is a gun."
Not one to immediately to heed to her older sister's advice, Jenner and Khloe headed to a shooting range to learn how to properly handle a gun. "For Kendall and I, it is something that we feel like we need to do in order to sleep better at night. I think Kim will respect it more if she sees later how much work and effort and responsibility we put into this," Khloe said, ultimately dubbing the shooting range experience "so educational."
But more educational, it turns out, was a phone call the sisters had with Taylor Maxwell, deputy communication director at Everytown For Gun Safety. "It was a lot of numbers and scary and dark and overwhelming to think about," Khloe said. "We have come to the conclusion that we don't want guns in our own homes.. Mass shooting after mass shooting is happening, and it is so terrifying and so depressing, and I think the answer is not to add more guns into the world. I know we are only two people, but anything makes a difference at this point."
Related: Kris Jenner Finally Opens Up About Her Daughters Pregnancies: "It's Like a Faucet That We Turned On and Won't Turn Off"
Here Are the Real Heroes of the Kardashian Jenner Family Empire