Kim Kardashian's Latest KKW Beauty Product Took Ten Years To Make
Kim Kardashian and longtime makeup artist Mario Dedivanovic join forces for a highly anticipated makeup collaboration.
---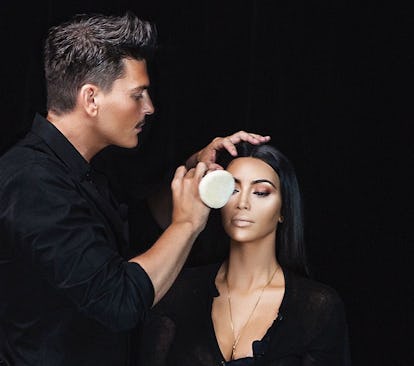 @makeupbymario
Continuing her reign in the beauty world, Kim Kardashian took to Instagram yesterday to unveil a sneak peak of her upcoming project, and it's everything beauty fans have been waiting for. While it's hard to believe that Kardashian and her KKW Beauty brand are still relatively new to the makeup world, having only launched in June 2017, it's no surprise that the reality TV star and her long time makeup artist, Mario Dedivanovic (and frequent Snapchat co-star) are finally joining forces.
Unveiling to her to 106 million follower fanbase, Kardashian shared a quick glimpse into the longtime duo's highly anticipated eyeshadow palette filled with glamorous shades of pearly matte and shimmery hues of white, silver, and dark grey, packaged in a chic black and white template. Continuing on to share her exciting news, Kardashian also revealed that the collaboration has been in the works for over a decade, sharing,"After 10 years of working together, my collab with @MakeupByMario will be launching and we can't wait to share it with you!"
While both Kardashian and Dedivanovic have had equally wild success in their own right with their own personal beauty ventures, the duo's longtime collaboration already has the beauty world buzzing. Since the iconic pair have a longtime history of successful launches like Dedivanovic's Anastasia Beverly Hills collaboration and Kardashian's KKW Beauty brand that made a $14.4 million in sales in just five minutes, and the latest launch to her beauty empire, KKW Crystal Gardenia fragrance making an overwhelming $10 million dollars in one day, we have no doubt that the latest Kardashian beauty additions will be a hit. And while the beauty mogul has not released any further information regarding release dates and if there are more exclusive products to the collaboration, it's safe to say that this is beginning of the Kardashian and Dedivanovic beauty takeover.
[#article: /articles/5a4eaf7acc1a9819b723b8a1]||||||