Man Proves That, Actually, Stealing a $1 Million Painting in Broad Daylight Is Pretty Easy
Allow him to demonstrate on CCTV.
---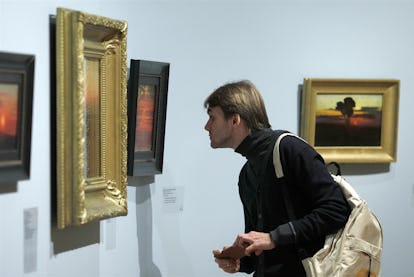 Mikhail Japaridze/Getty Images
With 2018 in the past, it's time for a whole new year of art-related drama, which officially kicked off over the weekend in Russia when a man mistaken for a gallery employee stopped by an exhibition of the Russian landscape painter Arkhip Kuindzhi, on view at Tretyakov Gallery in Moscow. Keeping things casual as if he were any ole visitor, he then simply stepped over one of the viewing perimeters, lifted one of the show's 120-plus paintings off the wall, and strolled across the gallery, toting it as if it were a briefcase. Having acquired his new accessory, he then brought right along with him when made his way out onto the street—all in broad daylight and, according to the CCTV footage, without causing a stir or even breaking a sweat.
You may not have heard of Kuindzhi, but he's rather well known in Russia, particularly as one of the prominent members of the group of Russian Realist painters known as the Wanderers. It's no small matter, then, that the thief decided to claim one of his works as his own. Still, he could have done even more damage: while Kuidzhi's paintings have previously sold for more than $3 million, his pick—a 1908 painting titled Ai-Petri. Crimea, featuring a mountain on the Crimean Peninsula and on loan from the St. Petersburg's Russian Museum—was worth a mere $1 million (plus some change).
What's more, he wasn't entirely selfless, waiting until less than a month before the exhibition is set to close, and thereby sharing it with the public for four months. It might even be possible that he's an avid fan of Kuindzhi's, seeing as he made his move on what would have been the artist's 177th birthday—and ultimately abandoned the painting, which, thanks to a tip-off, was discovered at a building site outside of Moscow the next morning, without apparently sustaining any damages. (The police have since arrested a 31-year-old suspect who's so far maintained that's he's innocent—and that he can't exactly remember where he was on the Sunday in question.)
Indeed, all things taken to account, it's the gallery that seems to be the one taking the heat at the moment. It's embarrassing enough for a gallery to lack sensors and alarms, but all the more so for Tretyakov Gallery, seeing as it was only last year that the institution suffered another security mishap from an arguably even bolder visitor: one brandishing a metal pole. By the time he was finished, the object of his discontent—a famed (and, to some Russian nationalists, controversial) 19th-century painting of Russia's first tsar and his dying son—had been "seriously damaged" and torn no less than three times. Rather than outfit the gallery with more alarms, however, the gallery apparently decided its best bet at preventing future visitors from picking up one of its security poles and breaking an artwork's protective glass was to review sale of alcohol, seeing as the suspect later admitted that he had been drinking vodka before embarking on his attack.)
This latest incident, however, seems to have driven the risk home: an official from Russia's Ministry of Culture promised that the gallery is now taking steps to outfit each and every of its paintings with alarms. Still, history is already repeating itself: the gallery has already become the latest subject of last year's Banksy self-destructing art stunt memes.
Related: A Divorced Billionaire Just Realized the Picasso Painting His Wife Left Him Is Fake
The Best Memes of Banksy's Self-Destructing Art Stunt
A rather more to-the-point illustration of Banksy's move to shred Girl With Balloon.

Courtesy of @clic_claque
The DYI T-shirt version of Banksy's self-destructing stunt.

Courtesy of @sianlloydweather
Courtesy of @interiorphotography
McDonald's is practically the apotheosis of Banksy's targets—and, thanks to the Austrian ad agency DDB Vienna, the winner of the best corporate take on his move.

@ddbworldwide, courtesy of @advrtzr
The Mona Lisa—the most renowned "piece of art history"—getting the Banksy treatment.

Courtesy of @drift.r
An art-world follow-up to the terrifying manicure that circulated this past February, depicting Kylie Jenner's first photo of her daughter, Stormi Webster.

Courtesy of @ees8w3ww
What does Zac Efron have to do with all of this? Who knows, but here he is in a very Photoshopped shredded Banksy crop top.

Courtesy of @knellfabiania
Accompanying the tweet of this image was the caption, "As the gavel went down on the Senate confirmation vote, an alarm started going off, and the Constitution began to shred itself."

Courtesy of @exador23
Did you know that "Tyra Banks" is an anagram of "Banksy art"? While you contemplate the idea that the supermodel in fact holds the key to the artist's mysterious identity, allow yourself the pleasure of looking back on her most infamous moment on America's Next Top Model: "Be quiet, Tiffany."

Courtesy of @tyrafams
When life gives you potatoes, make like Banksy.

Courtesy of @faisal2811
How much of the world felt this past week tuning in to a Make America Great Again–hat–wearing Kanye West's unreal face-off with Donald Trump in the Oval Office.

Courtesy of @rontronik
In another country where politics can often resemble a reality TV show—as of this past September, Vladimir Putin literally became the star of what is essentially Keeping Up With the Kremlin—the Constitution of the Russian Federation also went through the shredder, IRL in St. Petersburg.

Courtesy of @edine_
And in other news of political turmoil, an image of Brazil's flag meeting its demise began to circulate following what one political correspondent described as the "mourning Bolsonaro's resounding first round triumph," aka the first electoral go-ahead of the country's openly sexist and homophobic presidential candidate Jair Bolsonaro.

Courtesy of @tomphillipsin
On a much lighter note, off in New Jersey, one dog owner did her best to turn her pet Leo's trimmings into a "million-dollar haircut."

Courtesy of @jenniferfuchs
In case you're still in the market for a Halloween costume—and your partner is willing to go out in public dressed as a paper shredder.

Courtesy of @alirosemeow
As if the dystopian feel of Edvard Munch's The Scream weren't already palpable.

Courtesy of @drift.r
A friendly reminder that even before it self-destructed, the sale of the spray-paint work marked an all-time auction high for a work solely by Banksy

Courtesy of @_emilyobrien