Kylie Jenner's House Is Now Overflowing With Red Roses, Thanks to Travis Scott
He filled Kylie Jenner's house with red roses.
---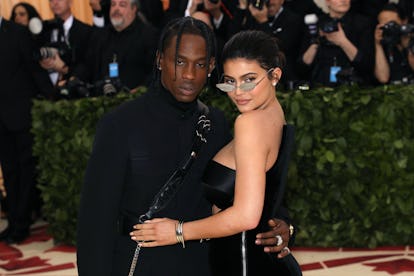 Taylor Hill/Getty Images
Years after Kanye West first raised the standard for flower gifting by filling Kim Kardashian's home with buckets, archways, and entire walls of roses on a semi-regular basis, his protégé Travis Scott has stepped things up even further. On Tuesday, Kylie Jenner posted photos and videos of the flowers her boyfriend had given her, and suffice it to say, they put the last grocery store bouquet you received to complete and utter shame.
As seen in Jenner's documentation of the jaw-dropping arrangement, Scott appears to have filled at least the entire first floor of her Hidden Hills house with red roses. The flowers line the walls, stand on clusters of clear pillars, and cover every available inch of shelf and table space. Several of the bouquets on the floor are also surrounded by lit candles in tall glass votives, making the entire scene even more romantic. In one video on her Instagram Story, Jenner walks slowly up the staircase—each step lined with even more roses—as Scott's "Hell of a Night" plays and she carries a sleeping Stormi Webster in her arms. "Hell of a way to end the night," she captioned another video on her feed, referencing Scott's track, which, incidentally, she recently revealed is her favorite of his entire discography.
Jenner's friends and family were equally impressed. "JESUS," Kendall Jenner commented on her sister's post, while Jordyn Woods simply added a crying emoji. "Someone is INLOVE," family friend Khadijah Haqq wrote, while the hairstylist Jen Atkin commented, "Teach me Kylie. Teach me."
This isn't Scott's first foray into showering his girlfriend with over-the-top floral installations. Less than a month ago, in mid-October, Jenner showed off a collection of ceramic bowls and vases filled with pink and white roses and surrounded by piles of even more flower petals. "Just because flowers are the best kind??? thank u hubby," she captioned a video of what was, apparently, Scott's practice run ahead of the more recent floral masterpiece. The rapper seems to have taken Jenner's proclamation to heart, since this week's houseful of red roses also appears to be a "just because" gift: Neither Kylie nor Stormi's birthday is anytime soon, and his anniversary with the Kylie Cosmetics mogul is likely sometime in April, since their first date took place during Coachella in 2017. At this rate, when there actually is a special occasion to celebrate, Scott will need a whole extra house to contain all the bouquets he'll inevitably be gifting. Or, you know, he could just give her another $1.4 million Ferrari LaFerrari.
Related: Kylie Jenner and Travis Scott Are a Theme Park Couple