Kylie Jenner Shared A Scary Revelation During A Rare Appearance on Keeping Up With the Kardashians
On Sunday evening's episode, Kylie Jenner shared that one of her employees was caught taking photos of her in her home.
---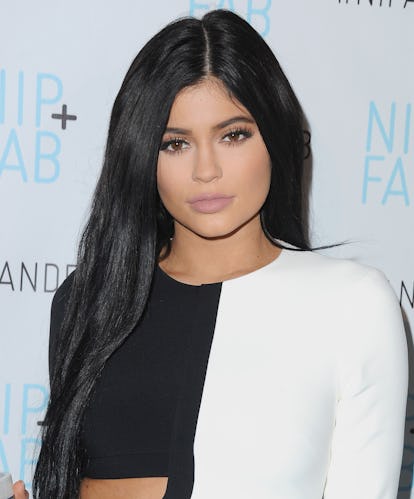 Getty Images
Just because most of America is partaking in a leisurely three day weekend doesn't mean that the Kardashians are taking a night off. Quite the opposite, in fact. Rather than skip a new episode of Keeping Up With the Kardashians on Sunday evening, the famous family instead capitalized on the extra day of the weekend, airing not one, but two episodes this week, heralding the double feature as a "two part event," and teasing that it is not to be missed.
Of course, it's all but a giant wink to camera, as a good majority of the world is still waiting with somewhat bated breath to find out if Kylie Jenner is actually pregnant, as has been reported for months (enough time for a baby to fully gestate, apparently, as it was widely rumored on Friday afternoon that Jenner had gone into labor). So, did Sunday evening's finally confirm what we've been talking about for months.
What do you think? Rather than a pregnancy reveal, we got sixty minutes of Kris Jenner being handcuffed to a mime and Kourtney Kardashian debating whether or not she should go on a trip to Egypt. But it wasn't a fully Kylie-less episode. While the youngest sister has been widely absent from this season of the reality show (hmm, wonder why?), she phoned in this week with a frantic call to mom Kris about an employee taking photos of her while in her home home.
"Something crazy is happening," Kylie said. "You know that girl who works for me? So I'm sitting in the kitchen talking to Vic and I look over and the girl who works for me is taking photos of me."
Perhaps trying to take photographic evidence of an alleged baby bump? Hmm.
"I really feel bad for Kylie," Kris shared upon receiving the call. "There's always somebody that is trying to exploit a certain situation, and to have somebody in her own home trying to snap pictures that they shouldn't be snapping is really, really stressful. You want to be able to trust the people you surround yourself with, but we really have to be on alert at all times. And that is extremely upsetting."
The issue never gets brought up again—though Kris does ponder arresting the offender—and that is Kylie's only appearance, in-person or via phone, all episode. But part two of the two night event is still to come, and it looks like this one will actually have a pregnancy reveal—albeit, the previously confirmed one of older sister Khloe. But, hey, take what you can get.
Related: Kylie Jenner Is Keeping Her Pregnancy a Secret Because She's Lived Her Life Publicly