Kylie Jenner, Master of Many Looks, Now Has Pink Hair—Here's How to Get the Look, Courtesy of Her Hair Stylist
This one's here to stay — hopefully.
---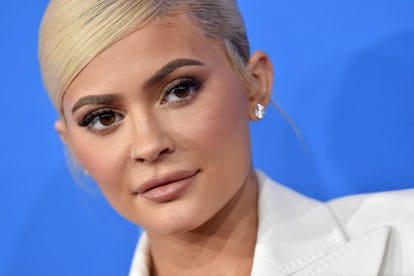 Axelle/Bauer-Griffin/Getty Images
Kylie Jenner is notoriously fond of wigs—remember when she arrived at Coachella with at least three in tow?—but it looks like she's finally found a trendy color she likes enough to keep. The reality-TV star's latest Instagram posts show her partaking in the summer's celeb-driven pink-hair trend, and lo and behold, it's not a wig.
The unexpected transformation comes courtesy of celebrity stylist (and longtime Kardashian favorite Chris Appleton, who said in an email that he took Jenner's hair from blonde to "gorgeous barbie pink." Appleton also broke down the exact steps for replicating the shade (one you won't find anywhere in stores).
Instead, Appleton revealed, he mixed two Lime Crime pinks—Kawaii and Bunny—and then lightened it with Lime Crime's diluter. To get the nice, balanced saturation of Jenner's new locks, he made sure to distribute the color evenly throughout. The trick is to section off your hair in quarters (front to back, then side to side) before proceeding in 1-inch-wide strands using an applicator brush and going from root to tip. An extra step of "massaging" each strand to its full length with your fingers ensures you won't miss a spot.
Wait 45 minutes, and then, Appleton advised, you should rinse it off—no shampoo needed and conditioner optional. (Appleton says he used Color Wow's Color Security Conditioner.) But your job here isn't done. The hairstylist finished off his email with two tips for keeping your hard work intact: You should throw in some Olaplex throughout to rejuvenate your hair after all that processing, and maintain it with Color Wow's Kale Cocktail, a leave-in treatment that Appleton said "reinforce[s] the bonds of the hair." "This is really important to keep the hair in the best condition after a major transformation," he said. The finishing touch is a layer of Color Wow's Dream Coat for the gloss.
Jenner isn't the only celeb who's found going pink worth at least a semipermanent commitment: Over the summer, a whole crop of celebs, from Elle Fanning to Zayn Malik to even Kylie's big sis Kim Kardashian, made it one of the biggest hair trends of the year.