Are Kylie Jenner and Travis Scott Married? Even Kim Kardashian Doesn't Know
Are they "hubby" and "wifey" for real?
---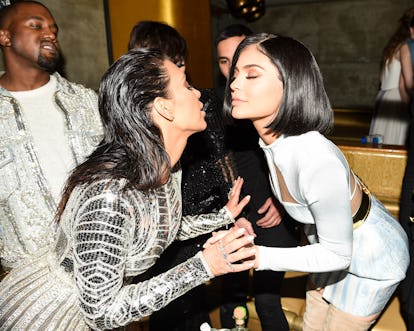 Photo by BFA.
On Sunday night, a blessed meeting of minds occurred: Kim Kardashian appeared on Busy Philipps's talk show, Busy Tonight. At this momentous summit, they curled up on Philipps's talk-show-cum-therapy couch and discussed, among other things, Kim's brief dalliance with ecstasy—which she admits is slightly shocking, given that she famously doesn't drink or smoke—and their families—including Kardashian's daughter North and sister Kylie Jenner.
"Are they married or what?" Philipps asked pointedly of Jenner and Travis Scott. She pulled up a photo Jenner had posted to her Instagram Stories of the two of them from their July GQ cover shoot, with an emoji ring hovering over their heads. "They call each other husband and wife; I think it's cute. I don't need a piece of paper, but everybody wants to know."
Turns out, Kardashian herself would probably qualify to be included among "everybody." "I honestly don't know," Kardashian said, prompting a kind of laughter from Philipps that would best be described as something like a "howl." "They're the cutest, and I think they're so in love and they have the cutest little family, but I," Kardashian said, and paused. "I would say, like, no, they're just being cute and posting that, but they posted it a few times, so I am going to ask in our group chat today when we leave here."
"S–t, I wish you'd asked before," Philipps replied. Jenner and Scott have taken to referring to each other as "hubby" and "wifey"; most recently, Jenner posted a preview of what's under her Christmas tree to her Instagram stories—two gifts, tagged "daddy" and "wifey," presumably "from Stormi" to Scott and from Scott to Jenner. So maybe it's for real—but maybe it's just a convenient shorthand for a relationship that's long since transcended "boyfriend" and "girlfriend." Will we find out? Stay tuned for the next Kim Kardashian et al. micro-update! Kylie Jenner and the Kardashian family, in the meantime, would like to remind everyone that they are real people with real families.
Related: Every Time Kylie Jenner and Stormi Webster Have Worn Matching Outfits