Lottie Moss Has a New Clothing Line That Would Be Perfect for Brigitte Bardot, If She Went to Coachella
The 20-year-old model has designed a new line, Lottie Moss Collection, which will be sold exclusively at PacSun.
---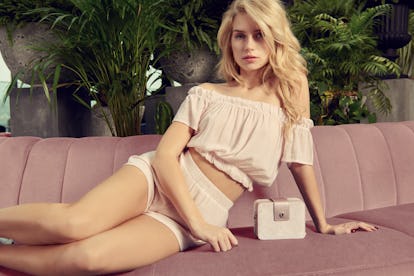 With spring comes a few certainties: birds chirping, warmer temperatures, and, yes, Coachella. And now that February is behind us, it's time to start thinking about that storied annual event, where VIPs and commoners mingle over shared interests of live music and wild daytime parties. Already starting to stress about what pair of jorts to don for the occasion? Don't fret: Lottie Moss—the 20-year-old model and half sister to patron saint of festival dressing, Kate Moss—has created a new line of pieces just waiting for a sweltering weekend in the desert.
The Lottie Moss Collection, which is available exclusively at PacSun, features a range of summer-y basics in keeping with Moss's personal style: cropped, off-the-shoulder blouses, floral sundresses, and easy separates. Moss, a London native, will soon be able to put them to great effect herself, as she relocates to Los Angeles this month. Here, the model breaks down how the line started, and talks about her big move.
How did this collection come to be? I was approached by a manufacturer who was really interested in creating something with me. Designing clothes is a huge passion of mine, so I was obviously so excited about that. I wanted to tell everyone right away, but I couldn't. Since then it has been a year of planning and meetings and things like that. And here we are.
What was your jumping-off point for inspiration? I wanted a mix of Los Angeles and London, in terms of patterns and things like that. My friends were a huge part of it as well. I showed them all the initial designs and kept asking, "Do you like it?" Everything in the collection is something that I would wear and that I really like.
What was the hardest part about designing the collection? Your style is not always going to be like other people's. I had a vision, and sent mood boards to show what I wanted it to look like. What we've created is so close that when I saw it for the first time, I was like, "This is it. This is our collection." I can't even remember what was on the mood board now. It had a lot of L.A. things, lots of whites and pastel colors. There were people like Gigi Hadid—that very L.A. girl. L.A. is a huge inspiration for me.
Gigi had her line with Tommy Hilfiger, and your half sister Kate Moss has designed for Topshop. Did you ever ask anyone for advice? Not really, no. I wanted it to be completely me. I wanted it to be my ideas. Then, at the end of the day, if it doesn't work, it doesn't matter, because at least it's me.
You've also said that Brigitte Bardot was an inspiration for the collection. Have you always looked up to her style? Yeah. There are some old film things like that [in the collection]. I love Marilyn Monroe and Audrey Hepburn. Brigitte Bardot, I just love her style and that she was quite curvy. I love that sort of style—I think [the collection] is quite a retro and L.A. brand.
And you're moving to L.A. soon. How are you feeling about it? I'm really nervous. I haven't packed anything yet. I'm stressing, but it should be fine. I was feeling a bit like a hamster in a wheel, and with this collection coming out in the U.S., it made sense to go over and help it there. The collection is very summer-y, and I wanted to shoot more influencers in my collection, and I couldn't really do that in the snow [in London]. I feel like I can get a lot more done there. I'm in this weird place in my life where I need to remove myself and do something a bit different.
How does your own style change when you are in California vs. London? A lot less layers. I become a little more preppy and cute. In London, a lot of the time I dress in black and boots and jackets and things like that. In L.A., I'm a bit more casual, I wear florals, whereas in London I'm a bit more grungy.
This collection is very music-festival friendly—are you going to Coachella this year? I am. I went last year and had such a good time. I saw The XX which was really great. And the parties are really fun. I met so many people there last year that I'm still friends with now… I'm hoping to get my brand out there this year and to get people to wear it.
Who are you looking forward to seeing this year? I actually don't even know who is performing. Is that really bad? I haven't even looked.
Beyoncé is performing. That's so cool. That will be really fun to see. I've never seen her live, actually.
How far out do you start planning your outfits for festivals? When I'm in England, it is really hard because obviously the weather is not always great, so you have to coordinate with, like, a leather jacket. But at Coachella, you don't really have to worry. I'll probably need two solid days where I'm like, Right, what am I going to wear?
What else do you have coming up after the big move? This collection is a huge focus of mine. I want to shoot a lot of people in it, and I'm just hoping to get some really cool content for my brand. Also I can continue modeling out there as well, and it is a very short flight to New York.
Would you consider acting now that you are so close to Hollywood? You know, I don't know. At the moment, I am going to focus on this. I'm still so young that I'll never say never to anything.
Related: Lottie Moss, Kate Moss's Half Sister, Takes in Her Very First Marc Jacobs Show
Kate Moss's Favorite Birthday Was a Nod to David Bowie