Golden Globes 2018: How To Get Margot Robbie's Red Carpet Waves
Celebrity hairstylist Bryce Scarlett shares breaks down how to achieve the ultimate red carpet beach wave.
---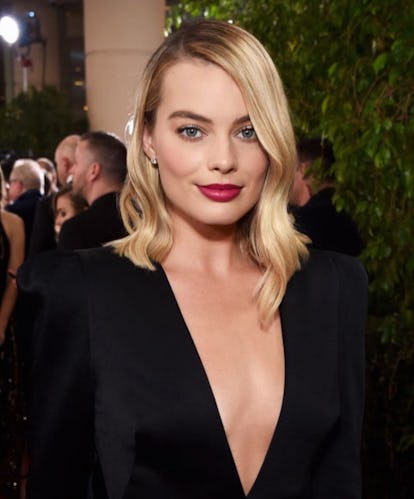 @brycescarlett
On Sunday night, Hollywood's elite gathered to celebrate the 75th Annual Golden Globes. The fashion theme of the evening circled around statement-making black gowns, with A-listers accenting the powerful look with understated, yet polished beauty. And for Golden Globe nominated actress Margot Robbie, sleek, shiny waves and berry lip were the perfect compliment to her all black, satin floral embellished Gucci gown. Sharing how to achieve Robbie's signature red carpet waves, hairstylist Bryce Scarlett exclusively breaks down for W his best hair care tips, techniques and more.
How do you prep the hair before a red carpet event?
When it comes to Margot's hair, I like to work with it clean and wet and use Moroccanoil Treatment Light to prep the hair before styling. She has soft, blonde hair, so I like to start fresh most of the time.
What is your go-to red carpet style?
My go-to red carpet style is understated and simple. Making sure the clothes and the person are doing the talking and the hair is complimenting both.
What are your best techniques for sleek, non-frizzy waves?
Starting with a good base is important. I always begin with the Moroccanoil Treatment on wet hair before a blowout. It makes the hair more manageable and nourishes the hair before styling. Moroccanoil Luminous Hairspray is what I go to the most, and the Moroccanoil Luminous Hairspray Medium gives you shine. Anytime anything is described as sleek, that's the first product I think of.
Margot's red carpet style always manages to stay fresh and modern—and most importantly wearable. What was your inspiration for the look tonight?
Margot's dress is very glamorous, and we wanted to give her a look that was sculpted but also, very sleek and sharp to keep it modern, like a modern take on a Grace Kelly shape. We aimed for an end that is very sleek combined with a look that didn't have too much volume.
What styles do you hope to see on the red carpet this year?
I enjoy seeing people wear hair that looks styled. I'm looking forward to seeing more and more hairstyles, a little less with the natural texture and beach-y-ness. I love it. but it's exciting right now to see early '90s supermodel references, like old Chrissy Turlington, and flippy hairstyles.
[#article: /articles/59dcd2cc2281962e94e523f3]||||||