Mary-Kate and Ashley Olsen Arrive to the 2018 Met Gala Together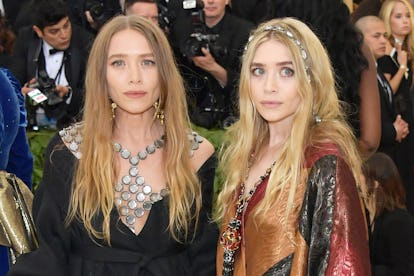 Neilson Barnard/Getty Images
It's 2018, and the world seems to have finally accepted that Mary-Kate and Ashley Olsen will not appear together on Fuller House. But one event they wouldn't dare forgo making a coordinated appearance at? That would be the 2018 Met Gala, where the Olsen twins arrived together in a pair of chic and billowy dresses that did not seem to take this year's theme, "Heavenly Bodies: Fashion and the Catholic Imagination," into consideration. At least in an on-the-nose sort of way.
Though neither twin seemed to have stuck to this year's holy theme, both certainly looked ethereal in their own right. Mary-Kate sported a black, open-necked wrap dress, topping off the look with a statement necklace, while Ashley opted for a warm-toned, multicolor wrap dress with elongated bell sleeves, complete with a jeweled headpiece and a beaded pendant necklace.
The Row founders taking the Met Gala red carpet together seems to have become a tradition of sorts. Since 2014, the designers have opted to walk the red carpet as a pair, Vogue notes, wearing a slew of notably off-theme yet effortlessly chic ensembles that fit well with their signature bohemian style. Makes sense considering that these are the same Olsens who gave out crystals at their New York Fashion Week show.
But despite their penchant for going rogue on the red carpet when it comes to theme, the Olsens have managed to pull off several iconic looks. Who could forget their 2005 debut at the event celebrating "The House of Chanel," when both sported flowy frocks, eye-catching necklaces, and natural curls. Fast forward to 2014 and their dramatic black gowns for the "Charles James: Beyond Fashion" celebration, their long-sleeved sheaths in 2016's "Manus x Machina"–themed bash, and their lacy looks from last year—it's clear that this duo has mastered the art of eliciting a red carpet double take. And if we've learned anything from these Met Gala mainstays, it's that sisters sticking together is always in style.
The pair did stick to theme in another way, however. The designed the nun-inspired look Saoirse Ronan wore to the event for their label The Row.
Related: Getting Ready For the Met Gala with Amber Valletta, Who Originated the Idea of Going For It on the Met Red Carpet
Met Gala 2018: See What Celebrities Wore on the Red Carpet
Rihanna at the 2018 Met Gala. Photograph by Benedict Evans for W Magazine.

Benedict Evans
Cardi B at the 2018 Met Gala. Photograph by Benedict Evans for W Magazine.

Benedict Evans
Lily Collins at the 2018 Met Gala. Photograph by Benedict Evans for W Magazine.

Benedict Evans
Donald Glover at the 2018 Met Gala. Photograph by Benedict Evans for W Magazine.

Benedict Evans
Selena Gomez at the 2018 Met Gala. Photograph by Benedict Evans for W Magazine.

Benedict Evans
Katherine Langford at the 2018 Met Gala. Photograph by Benedict Evans for W Magazine.

Benedict Evans
Jasmine Sanders at the 2018 Met Gala. Photograph by Benedict Evans for W Magazine.

Benedict Evans
Rosie Huntington Whiteley at the 2018 Met Gala. Photograph by Benedict Evans for W Magazine.

Benedict Evans
Kate Upton at the 2018 Met Gala. Photograph by Benedict Evans for W Magazine.

Benedict Evans
Winnie Harlow at the 2018 Met Gala. Photograph by Benedict Evans for W Magazine.

Benedict Evans
Alek Wek at the 2018 Met Gala. Photograph by Benedict Evans for W Magazine.

Benedict Evans
Zendaya at the 2018 Met Gala. Photograph by Benedict Evans for W Magazine.

Benedict Evans
Priyanka Chopra at the 2018 Met Gala. Photograph by Benedict Evans for W Magazine.

Benedict Evans
Migos at the 2018 Met Gala. Photograph by Benedict Evans for W Magazine.

Benedict Evans
George and Amal Clooney at the 2018 Met Gala. Photograph by Benedict Evans for W Magazine.

Benedict Evans
Lena Waithe at the 2018 Met Gala. Photograph by Benedict Evans for W Magazine.

Benedict Evans
Ariana Grande at the 2018 Met Gala. Photograph by Benedict Evans for W Magazine.

Benedict Evans
Kim Kardashian at the 2018 Met Gala. Photograph by Benedict Evans for W Magazine.

Benedict Evans
Travis Scott and Kylie Jenner at the 2018 Met Gala. Photograph by Benedict Evans for W Magazine.

Benedict Evans
Blake Lively at the 2018 Met Gala. Photograph by Benedict Evans for W Magazine.

Benedict Evans
Bella Hadid at the 2018 Met Gala. Photograph by Benedict Evans for W Magazine.

Benedict Evans
SZA at the 2018 Met Gala. Photograph by Benedict Evans for W Magazine.

Benedict Evans
Kendall Jenner at the 2018 Met Gala. Photograph by Benedict Evans for W Magazine.

Benedict Evans
Janelle Monae at the 2018 Met Gala. Photograph by Benedict Evans for W Magazine.

Benedict Evans
Emily Ratajkowski at the 2018 Met Gala. Photograph by Benedict Evans for W Magazine.

Benedict Evans
Daniel Kaluuya at the 2018 Met Gala. Photograph by Benedict Evans for W Magazine.

Benedict Evans
Gigi Hadid at the 2018 Met Gala. Photograph by Benedict Evans for W Magazine.

Benedict Evans
Katy Perry at the 2018 Met Gala. Photograph by Benedict Evans for W Magazine.

Benedict Evans
Paris Jackson at the 2018 Met Gala. Photograph by Benedict Evans for W Magazine.

Benedict Evans
Madonne and Nicki Minaj at the 2018 Met Gala. Photograph by Benedict Evans for W Magazine.

Benedict Evans