Are Designers Actually Opening Up to the Idea of Dressing Melania Trump?
Wardrobe boxes have lately been filling the lobby of Trump Tower—depending on who you ask.
---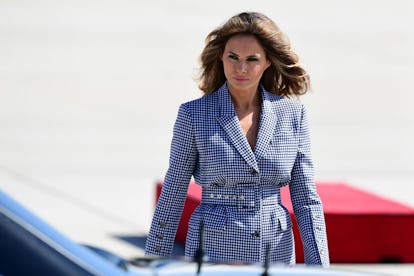 Emmanuel Dunand/Getty Images
Michelle Obama may have had a history of supporting up-and-coming designers—to the point that their resulting fame came to be known as the "Michelle Obama Effect"—but from the very start of President Donald Trump's term, some of the industry's biggest designers have taken a public stance against dressing First Lady Melania Trump, making for a roster that includes Tom Ford, Marc Jacobs, Sophie Theallet, Humberto Leon, Phillip Lim, Derek Lam, and Zac Posen.
Still, Melania has found her ways: She admittedly looked impeccable in each of the five countries she visited on Trump's first international tour last week, which for the most part found her decked out in Dolce & Gabbana—to the tune of dozens heart emojis from Stefano Gabbana. (Even the Washington Post's fashion critic Robin Givhan had to concede that Melania's floral coat, which clocked in at over $50,000, was "beautiful.")
The success of the former model's first string of high-profile, high fashion public appearances, plus the hope of a Melania Trump Effect as designers, like the rest of us, prepare to potentially lose their health care, unfortunately makes it a little more understandable that they might be beginning to soften their stance of putting the first lady on their blacklist. Indeed, the lobby of Trump Tower—where Melania is still resolutely based, far from the unwanted hands of her husband—is now "brimming with wardrobe boxes delivered for Melania" most days, according to an anonymous source in Page Six. "Once she tries on the outfits and decides what she will keep, the boxes come back downstairs."
The lack of any information on the source would suggest, at least to the President, who's said as much multiple times in the last week, after news came out of his son-in-law Jared Kushner meeting secretly with a Putin ally, the likelihood of "fake news." But the article also turns to another source in the form of Phillip Bloch, a stylist and oft quoted "friend of the family" who offered a simple reason for the reported shift: "Fashion people are fickle and fake," he said.
"There is a softening, a melting," he added. "They are starting to see she is a beautiful woman who is married to the president, and it is an honor to dress her."
From Melania Trump to Jacqueline Kennedy, a History of First Ladies' Inauguration Day Style
First Lady Mamie Eisenhower, 1957

Getty Images
Bloch, who once had a mind to dress Michelle Obama, not to mention vote for Hillary, was one of the original headline-happy Hollywood stylists in the '90s, dressing a dozen celebrities, including Salma Hayek, Jada Pinkett Smith, Sandra Bullock, and Jennifer Lopez for the 1997 Academy Awards. In fact, he appears to have worked so closely with the latter that, as he told E! News, the first time he spotted a tan Melania with blonde highlights, at a Luca Luca fashion show, he asked himself, "Is that Jennifer Lopez with Donald Trump?"
Clearly, though, Bloch has gotten the two straight since, much to his own fame's benefit: A section of his website is devoted to reposting in full all of the articles he has served as a source, which lately have been entirely on the Trumps's style; he's appeared as a sartorial authority on the family in six stories on Melania's style in as many days in the past week. (He's also spoken for the First Lady on a personal level: "This life wasn't her dream. It was Donald's. Truthfully, it's a lot to cope with," he told Us Weekly when it reported that she was "miserable" as First Lady back in February.)
But Bloch's pedigree is in fact most apparent in his relationship with Tiffany Trump, whom he dressed, along with Marla Maples, for Trump's inauguration. "This is not about politics. This is a girl who loves her dad and my job is making dreams come true. I create princesses and fashion stars and that is my goal," Block told CNN in January; indeed, Maples has even called him Tiffany's "fashion fairy godmother."
That, plus the fact that Tiffany has since showed up at the New York Fashion Week show of Taoray Wang, the designer Bloch outfitted her in—interestingly enough, many of her favorite designers seem to be international, including the Iranian-American Simin Taghdiri—certainly adds to Bloch's credibility. But as for the anonymous source, as any former fashion intern would know, especially in glossy establishments like Trump Tower, samples, even in the smaller form of garment bags or, say, bags for shoes, are almost always required to be delivered up through a freight or service elevator, rather than through the main lobby. Either the boxes, it seems, are imaginary, or Melania is simply looking to show off her goods.
Related: Melania Trump Might Actually Wield More Power in the White House Than Anyone Thought
See 80-Plus Fashion Celebrities Stand Up for Human Rights: