Melania Trump's Sister, Ines Knauss, Might Have Been Giving Her Fashion Advice This Whole Time
What's a first lady to do when designers refuse to dress her?
---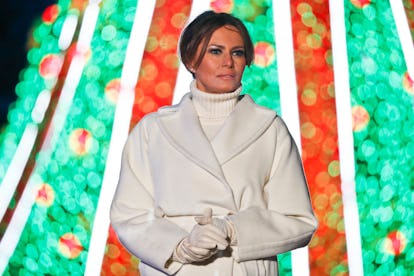 Paul Morigi
While Melania Trump has made it clear that she would prefer that Americans focus on what she does, not what she wears, her fashion sense is regularly a topic of conversation thanks to her many, many questionable sartorial decisions.
So what's a first lady to do when designers refuse to dress her? Well, in typical Trump fashion, she is keeping any disputes about her wardrobe for the day in the family. In addition to receiving help from Hervé Pierre, who reportedly shops anonymously for her, Melania Trump's sister, Ines Knauss, may have been offering her style advice this whole time.
Trump, who famously does not reside year-round in the White House like the first ladies before her, remains stowed away at Trump Tower in midtown Manhattan when she's not in Washington, D.C., showing off her holiday decorations. It is there where she reportedly receives clothes that she has requested from the various stylists who are not afraid of being associated with the Trump name. Page Six reports, "Once or twice a month, the first lady quietly comes to New York, and has her sister come over to give advice as she tries on outfits."
Knauss apparently lives in the neighborhood (at another Trump building, of course), making it easy for her to serve as style counsel for her younger sister on a regular basis. While Knauss mostly stays out of the spotlight, she does have an eye for fashion, which she reportedly studied in the past. In the early 1990s, Knauss lived in Milan while her sister modeled, moving to New York with her when Melania signed with Paolo Zampolli's modeling agency. If it weren't for Zampolli, the first lady never would have met her future husband.
Trump has, of course, mentioned her sister before. She's even shared Knauss's sketches on social media, such as this piece called "art of gossip."
Knauss herself has recently joined the world of social media, often sharing photographs on Facebook of her sister during her modeling days.
Recently, there was a bit of a digital discrepancy between the real Knauss and a poser sharing photos of the first lady's sister on Instagram under Knauss's name. In May 2018, Ines Knauss took to Facebook to address the imposter. "It's all good—only wish to know/ WHO is posting in my name ??," she shared. She then created her own Instagram account, where she clarified that the real Ines Knauss would be posting throwback photos of the young Knauss sisters as children in Slovenia.
But although the two sisters have a close relationship, it may not be the case that Knauss is bestowing sisterly advice at Trump Tower every month. A spokesperson for Trump told Page Six that despite reports that Knauss offers Melania style advice, it is Trump herself who makes her own sartorial decisions. "Mrs. Trump and her sister are very close, but she is not who helps her with styling her wardrobe," the spokeswoman said. "At the end of the day, it is Mrs. Trump who decides what she will wear."
Related: Twitter Really Reacted to Melania Trump's Chilling Red Christmas Decorations