So Naomie Harris, Kate Moss, and a New Orleans Brass Band Walk Into a Miu Miu Campaign
Mahershala Ali may have landed Calvin Klein, but his Oscar-nominated Moonlight costar got the supermodel treatment for her own high fashion campaign.
---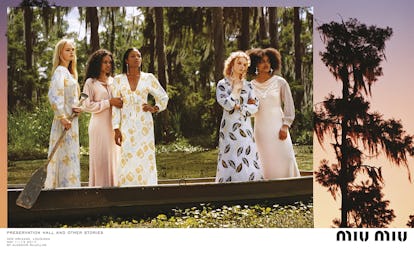 Miu Miu
Earlier this year, shortly after Moonlight won Best Picture at the Academy Awards, the film's stars Mahershala Ali, Ashton Sanders, Trevante Rhodes, and Alex Hibbert landed themselves another top honor: They starred in Calvin Klein's first celebrity underwear campaign under the helm of newfound creative director Raf Simons. Now, just as the long-lived hype surrounding the Barry Jenkins-directed film is finally dying down, it's fellow (and equally chiseled) star Naomie Harris's turn to steal the show and get the fashion treatment: Miu Miu unveiled on Wednesday that Harris stars alongside none other than Kate Moss in its illustrious new Fall 2017 campaign.
Moss isn't the only star to steal the spotlight from Rhodes and Ali's abs. Harris, a James Bond alumnus who was nominated for a Best Supporting Actress Academy Award for her role in Moonlight, despite the fact that she filmed in just three days, can be found decked out in pastel pink faux fur and jewels alongside the models Adwoa and Kesewa Aboah, as well as Jean Campbell, and Missy Rayder.
Oh, and there's also a brass band that appears in the shoot, too. The crew did, after all, shoot in New Orleans, staying far away from the plantation homes favored in Sofia Coppola's The Beguiled and Beyoncé's Lemonade in favor of landmarks like the storied jazz venue Preservation Hall and, fuzzy hats and boots, less than breathable wearable plastic, feather-adorned dresses, and over-the-top furs be damned, the Spanish moss-draped Mississippi bayou. Thanks to Alasdair McLellan's collaged photos, the indoor and outdoor scenes can be seen simultaneously, though at the risk with the latter that you might start sweating.
Related: Oscar Nominee Naomie Harris on Her Intense, Decades-Spanning Role in , Filmed in Just Three Days, Filmed in Just Three Days
Kate Moss on How Photographers "Always Ask" Her to Take Her Clothes Off: