The Next Generation of Fashion Designers Prove that New York Is Still Magical
With brands like Proenza Schouler, Rodarte, Altuzarra, and Thom Browne showing in Paris, a new generation of New York fashion designers are shining bright.
---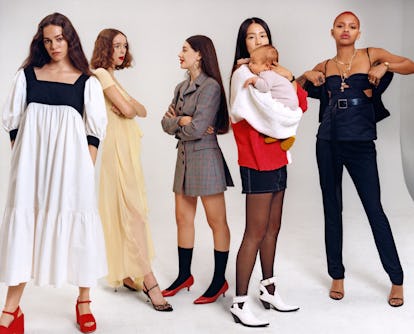 Photograph by Oliver Hadlee Pearch; Styled by Sara Moonves; Hair by Didier Malige; Makeup by Emi Kaneko for chanel at Bryant Artists; Manicures by Alicia Torello for chanel at The Wall Group; Models: Slick Woods and Olivia Forte at The Lions; Hailey Gates, Sasha Alcocer, maia Ruth Lee, Nima Lee-Sutherland; retouching by ana barreira at aly studio; Produced by Kalena Yiaueki at North Six; Photography Assistants: Jeff Pearson, Eduardo Silva, Matt Baffa; Fashion Assistants: Allia Alliata, diamond Buchanan; Production Assistants: Mat Silwa, Matt Asti, Jorge Dorinsville; Special thanks to Vivid Kid, Lemons & Olives, Ludlow Studios
It's uncertain whether Helmut Lang, who is now making art on Long Island, would have approved of the show presented in his name during New York Fashion Week last September—a collection featuring deconstructed bra tops and an assortment of leather bondage looks. But with a throng of kids outside, and a curated mix of art and music notables like Diplo, Cardi B, Klaus Biesenbach, and Collier Schorr inside, the show was arguably the event of the week. Shayne Oliver, the subversive impresario behind Hood by Air, unleashed his one-time capsule collection for the newly revamped brand, which has struggled for relevance since Lang's departure, in 2005. And while the formula was enough to generate big buzz, the excitement was heightened by the fact that quite a few of the city's most talented designers had skipped town. With an eye to expanding their businesses globally, Proenza Schouler, Rodarte, Altuzarra, and Thom Browne all decamped to Paris.
"It definitely created space for others to take over," says Sies ­Marjan's Sander Lak, who showed his fourth collection in his midtown ­Manhattan atelier. The Dutch designer, who was the former head of design for Dries Van Noten, has a rumpled-romantic aesthetic that is capturing the imagination of the fashion crowd. In an Instagram post, the longtime critic Suzy Menkes anointed him the "color king."
Matthew Adams Dolan is another new darling. His offbeat approach to American workwear has been gaining cult appeal over the past two years—Rihanna even enlisted him to consult on her Fenty Puma line. His spring collection, his strongest yet, focused on oversize men's shirts and suiting, inspired by old images from Bruce Weber and Ralph ­Lauren campaigns. The fact that he chose to forgo his usual showroom appointments in favor of a runway show, at the Metal Shutter Houses, in ­Chelsea, made this season feel even more like his breakout moment. "It was the right time," he says. "Especially with all the gaps in the ­schedule."
Zoe Latta and Mike Eckhaus of Eckhaus Latta, meanwhile, ­managed to lure the fashion corps to the depths of Brooklyn. Known for their uniquely homespun approach, the Rhode Island School of Design grads stepped things up, sending out a notably refined collection filled with tailored pieces cut from Italian fabrics. "We've been working hard on escaping that art school we-don't-know-how-to-make-this-thing notion," Latta says. The pair also garnered kudos for their casting, which included the 70-something actress Barbara Ferris and the then-eight-months-pregnant artist Maia Ruth Lee, whose belly bulged out of a snap-front dress—an image that immediately went viral.
For years, the shop owner and designer Maryam Nassir Zadeh has been a fashion-insider's favorite. And while she maintains that her spring presentation was an intimate affair—she staged it at the track where she runs to clear her mind, showing arty clothes that recall her college days—it had the makings of a major happening. To the surprise of all in attendance, Solange Knowles, who is such a fan of the brand that she asked Zadeh to design her tour wardrobe, stepped out to perform while a stylish cast of It girls, including Hailey Gates, Ana Kraš, and Camilla Deterre, walked the runway. "New York," notes Zadeh, "is magical."
The Best Behind-the-Scenes Photos of New York Fashion Week Spring 2018
Inside the VFILES show on Wednesday, September 6th at Barclays Center during New York Fashion Week. Photographed by Serichai Traipoom for W Magazine.

SERICHAI TRAIPOOM
Inside the VFILES show on Wednesday, September 6th at Barclays Center during New York Fashion Week. Photographed by Serichai Traipoom for W Magazine.

SERICHAI TRAIPOOM
Inside the VFILES show on Wednesday, September 6th at Barclays Center during New York Fashion Week. Photographed by Serichai Traipoom for W Magazine.

SERICHAI TRAIPOOM
Inside the VFILES show on Wednesday, September 6th at Barclays Center during New York Fashion Week. Photographed by Serichai Traipoom for W Magazine.

SERICHAI TRAIPOOM
Kaia Gerber making her debut at Calvin Klein Show on Thursday, September 7th at the Calvin Klein headquarters during New York Fashion Week . Photographed by Serichai Traipoom for W Magazine.

SERICHAI TRAIPOOM
Inside the VFILES show on Wednesday, September 6th at Barclays Center during New York Fashion Week. Photographed by Serichai Traipoom for W Magazine.

SERICHAI TRAIPOOM
Inside the VFILES show on Wednesday, September 6th at Barclays Center during New York Fashion Week. Photographed by Serichai Traipoom for W Magazine.

SERICHAI TRAIPOOM
Inside the Calvin Klein show on Thursday, September 7th at Calvin Klein Headquarters during New York Fashion Week. Photographed by Serichai Traipoom for W Magazine.

SERICHAI TRAIPOOM
Inside the VFILES show on Wednesday, September 6th at Barclays Center during New York Fashion Week. Photographed by Serichai Traipoom for W Magazine.

SERICHAI TRAIPOOM
Inside the Adam Selman show on Thursday, September 7th at Skylight Clarkson during New York Fashion Week. Photographed by Serichai Traipoom for W Magazine.

SERICHAI TRAIPOOM
Tinashe at the VFILES show on Wednesday, September 6th at Barclays Center during New York Fashion Week. Photographed by Serichai Traipoom for W Magazine.

SERICHAI TRAIPOOM
Inside the VFILES show on Wednesday, September 6th at Barclays Center during New York Fashion Week. Photographed by Serichai Traipoom for W Magazine.

SERICHAI TRAIPOOM
Inside the VFILES show on Wednesday, September 6th at Barclays Center during New York Fashion Week. Photographed by Serichai Traipoom for W Magazine.

SERICHAI TRAIPOOM
Inside the VFILES show on Wednesday, September 6th at Barclays Center during New York Fashion Week. Photographed by Serichai Traipoom for W Magazine.

SERICHAI TRAIPOOM
Inside the Adam Selman show on Thursday, September 7th at Skylight Clarkson during New York Fashion Week. Photographed by Serichai Traipoom for W Magazine.

SERICHAI TRAIPOOM
Inside the Adam Selman show on Thursday, September 7th at Skylight Clarkson during New York Fashion Week. Photographed by Serichai Traipoom for W Magazine.

SERICHAI TRAIPOOM
Inside the Adam Selman show on Thursday, September 7th at Skylight Clarkson during New York Fashion Week. Photographed by Serichai Traipoom for W Magazine.

SERICHAI TRAIPOOM
Inside the Calvin Klein show on Thursday, September 7th at Calvin Klein Headquarters during New York Fashion Week. Photographed by Serichai Traipoom for W Magazine.

SERICHAI TRAIPOOM
Inside the Tory Burch show on Friday, September 8th at the Cooper Hewitt during New York Fashion Week. Photographed by Serichai Traipoom for W Magazine.

SERICHAI TRAIPOOM
Inside the Tory Burch show on Friday, September 8th at the Cooper Hewitt during New York Fashion Week. Photographed by Serichai Traipoom for W Magazine.

SERICHAI TRAIPOOM
Tory Burch SS18. Photographed by Serichai Traipoom for W Magazine.

SERICHAI TRAIPOOM
Inside the Tory Burch show on Friday, September 8th at the Cooper Hewitt during New York Fashion Week. Photographed by Serichai Traipoom for W Magazine.

SERICHAI TRAIPOOM
Inside the Tory Burch show on Friday, September 8th at the Cooper Hewitt during New York Fashion Week. Photographed by Serichai Traipoom for W Magazine.

SERICHAI TRAIPOOM
Inside the Tory Burch show on Friday, September 8th at the Cooper Hewitt during New York Fashion Week. Photographed by Serichai Traipoom for W Magazine.

SERICHAI TRAIPOOM
Inside the Brandon Maxwell show on Friday, September 8th at The Doubles Club during New York Fashion Week. Photographed by Serichai Traipoom for W Magazine.

SERICHAI TRAIPOOM
Inside the Brandon Maxwell show on Friday, September 8th at The Doubles Club during New York Fashion Week. Photographed by Serichai Traipoom for W Magazine.

SERICHAI TRAIPOOM
Inside the Brandon Maxwell show on Friday, September 8th at The Doubles Club during New York Fashion Week. Photographed by Serichai Traipoom for W Magazine.

SERICHAI TRAIPOOM
Inside the Brandon Maxwell show on Friday, September 8th at The Doubles Club during New York Fashion Week. Photographed by Serichai Traipoom for W Magazine.

SERICHAI TRAIPOOM
Inside the Brandon Maxwell show on Friday, September 8th at The Doubles Club during New York Fashion Week. Photographed by Serichai Traipoom for W Magazine.

SERICHAI TRAIPOOM
Inside the Brandon Maxwell show on Friday, September 8th at The Doubles Club during New York Fashion Week. Photographed by Serichai Traipoom for W Magazine.

SERICHAI TRAIPOOM