The Extended Jonas Family Is On A Ski Vacation, Including Sophie Turner and Priyanka Chopra
Priyanka, Nick, Joe and Sophie are having fun on the slopes.
---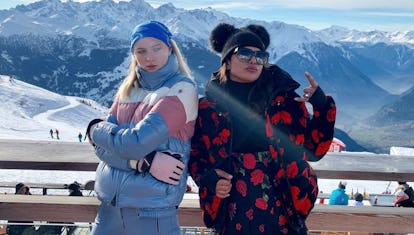 Instagram: @sophiet
The extended Jonas clan is currently on vacation in Switzerland, and from the photos, it's basically a winter wonderland. DNCE frontman Joe and his fiancé, Game of Thrones' Sophie Turner, hit the slopes with singer Nick Jonas and his new wife, superstar Priyanka Chopra, in ski resort town Verbier, in the Swiss Alps.
According to People, the famous foursome was joined by Chopra's mother, Madhu Akhouri Chopra, Frankie (the "bonus Jonas" brother who wasn't in the family's namesake boy band) and "friends Cavanaugh James, Chris Ganter and Martin Barlan." We don't totally know who those last three dudes are, but with names that preppy, we bet they're fantastic skiers.
The trip is being well-documented on Instagram, where everyone is using the Huji app to great effect. Jonas (Nick, that is) posted pictures from the private flight there, wither everyone relaxing and sipping a pre-mountain beer. With Chopra gazing placidly out the window at the mountains, Jonas captioned the pictures, "The mountains, my love, family and friends."
Joe, meanwhile, was a little cheekier, posting goofy selfies with his lady love "Giving our best 80's Ski Vibes ? ?" and the gang having fun on the slopes:
Later, he posted a video showing off his ski skills as he cut through powder (is that a term?) and smooched Sansa:
"Great day on the mountain ?" indeed.
Turner posted a similar series of snaps, but our favorite is her buddy pic with Priyanka that gives us a good look at their outfits. Chopra's is rose-covered?
Obviously, the most professional-looking pictures are courtesy of Chopra, whose Instagram name is now Priyanka Chopra Jonas! She's all about that "ski life." She's "kissed by a rose." She's feeling the "Happiness in the mountains." She and Nick are really enjoying themselves, you get it.
Related: Priyanka Chopra Wore a Custom Red Dior Ballgown to Her Second Wedding Reception
The Cheesiest Celebrity Holiday Cards of All Time: From the Royals to the Jonas Brothers
Kate Middleton and Prince William may have stepped a little bit too far to the side this year to make way for newlyweds Meghan Markle and Prince Harry. Thankfully, Princess Charlotte and Princes Louis and George—the latter of whom appear to have grown twice their size—aren't about to morph into a Lands' End catalogue without a fight.

Courtesy of @kensingtonpalace
Hold up, is that Meghan Markle and Prince Harry watching the world burn?! No, it's actually the (faceless) couple proving to be fallible humans like the rest of us, putting in the absolute minimum effort into their first-ever family Christmas card by using a pre-existing photo, rather than going to the trouble of staging another shoot. (Never mind that there weren't exactly holiday vibes at their wedding reception back in May, which was the real reason they actually took this photo.)

Courtesy of @kensingtonroyal
Sorry, Jason Biggs and Jenny Mollen, but we're pretty sure the majority of people who received your card last year only saw it for about half a second, before mistaking it for yet another American Eagle ad and sending it straight to the recycling bin.

Courtesy of @jennymollen
Maybe Mark Wahlberg really did need some of that jumbo All the Money in the World salary, seeing as his family's 2016 holiday cards could just as easily have come from your neighbor down the street.

Courtesy of @markwahlberg
"Oh hi, I didn't see you there…" – Beyoncé in the midst of her no doubt meticulously planned holiday card shoot, 2013.

Courtesy of @beyonce
Yes, even before they had four kids together, Hilaria and Alec Baldwin have always been over the top.

Courtesy of @hilariabaldwin
There's just one thing missing from this busy composition that Dwayne "The Rock" Johnson appears to have discovered on the internet and shared in 2014: its hashtags, "#LookinLikeTwoBuffLesbians," "#WhoJustExfoliated," and "#MistleToesAndFannyPacks," which we're going to let speak for themselves.

Courtesy of @therock
Behold Elizabeth Chambers and Armie Hammer's perfectly ordinary, pastel pink, and 100 percent Call Me By Your Name-reference free Christmas card from 2017.

Courtesy of @elizabethchambers
He may have turned his attention to his fiancée, Sophie Turner, in the years since 2013, but rest assured: Joe Jonas would still like you to have a very, very quirky Christmas.

Courtesy of @joejonas
Not sure how to sign off your family holiday card? Why not make like Naomi Watts and polish it off with the hashtags #hohoho, #tistheseason, and #dab?

Courtesy of @naomiwatts
As if your friends and acquaintances need yet another reminder that you're obsessed with Game of Thrones. Still, we have to give Kelly Clarkson—and her husband Brandon Blackstock, pictured here in a kilt—points for their sheer effort in 2015, a few years before Donald Trump ruined GoT references forever.

Courtesy of @kellyclarkson
For his holiday first in office, Donald Trump didn't even pretend to get inclusive with his seasonal wishes, which he limited to a simple "Merry Christmas," but also did so as loudly as possible by supersizing his cards. (See the penny at left for scale.)

Splinter
Luckily, Kevin Hart had the foresight not to mention the Academy Awards anywhere on the movie poster he created for his family in 2017.

Courtesy of @kevinhart
Hiring David LaChapelle to photograph their 2013 Khristmas Kard perfectly showcased exactly how much the Kardashians' annual tradition means to them—though unfortunately still managed to leave out exactly why.

Courtesy of @kendalljenner