Nicky Hilton and James Rothschild Welcome Second Daughter
She's named after Hilton's grandmother.
---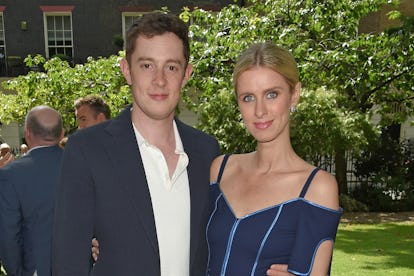 David M. Benett/Getty Images
The Hiltons now have a next generation of socialite sisters. This week, Nicky Hilton Rothschild gave birth to her and husband James Rothschild's second daughter, the heiress shared on Twitter on Friday. "Christmas came early! On December 20th James and I welcomed a baby girl, Teddy Rothschild into the world. Feeling very blessed this holiday season," Hilton Rothschild tweeted.
According to People, the newborn's full name is Teddy Marilyn Rothschild; her middle name pays tribute to Hilton Rothschild's paternal grandmother, Marilyn June Hawley. Hilton Rothschild reportedly gave birth in New York City, with the rest of her family flying in from California to meet the new addition.
The couple married at Kensington Palace in July 2015 and welcomed daughter Lily-Grace Victoria in July 2016. Last month, Hilton Rothschild told People that she thought Lily-Grace would make the transition from only child to big sister without a hitch. "I think she'll be really sweet," Hilton said. "She doesn't have a jealous bone in her body. When I hold other babies, she doesn't care. She's very sweet."
The Rothschilds declined to learn the sex of Lily-Grace's new sibling before she was born. Hilton Rothschild told People that the new baby's nursery had been decorated in "all neutral" colors, and the tea party–themed baby shower Hilton Rothschild's mom and sister hosted in her honor just before Thanksgiving featured cakes, cookies, and decor in shades of pink and blue. That said, Hilton did hint that she was hoping for another little girl. "I did love having a sister," she admitted.
For her part, Paris was leaning the opposite direction. "I hope it's a boy," she told People in October. (Clearly, she doesn't want any competition in the "best socialite sisters" race.) Either way, though, Paris said she's thrilled to become an aunt again. "[Nicky] is literally the most beautiful pregnant woman I've ever seen in my life," she said. "She is a trooper, and I can't wait for the baby."
Related: Barron Hilton, Brother of Paris and Nicky, Becomes Engaged to Fellow Socialite