Yes, Nicole Kidman Is Keith Urban's "Maniac in the Bed"
"The song is actually about Nicole—and she loves it."
---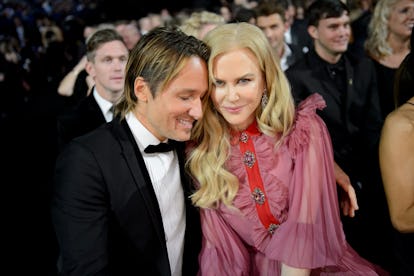 Getty Images
Last year, Nicole Kidman shared the key to her marriage, which was then a dozen years strong, with Keith Urban: never texting. A new interview with Urban, however, suggests that there might be more to it than that—and no, it's not that Kidman has repeatedly supported the 51-year-old country singer through his sobriety, or that she's not afraid to join him onstage or in singing duets.
Instead, it's because he knows that she's a "brainiac"—and, well a little bit more than that, as Urban first shared last year on his last album, Graffiti U, which he released in 2018. In a new interview with iNews, Urban took a moment to reflect on the song "Gemini," which just so happens to be his wife's astrological sign. That, he confirmed on Friday, is no accident: "The song is actually about Nicole," he said. And, supportive as she is, it is a bit surprising that, according to Urban, Kidman "loves it." (Though she also apparently loved his controversial song "Female," a simplistic and arguably sexist ode to women that was also on Graffiti U.)
The chorus of "Gemini" doesn't just praise Kidman's intellectual prowess; in fact, Urban may have only done so in the first place to create the rhyme "She's a maniac in the bed / But a brainiac in her head." Those words, Urban continued, were simply "what came out" when his co-songwriter, Julia Michaels, asked him to describe Kidman, presumably inspiring the verse "A little bit left, a little bit right / She's waking to make love in the middle of the night" that follows.
As the Daily Mail points out, the chorus doesn't end there: The full verse goes, "She's a maniac in the bed / But a brainiac in her head / And I know that everybody knows / Ooh, that she's both." Actually, can't say we did, Keith!
Related: Nicole Kidman Says She and Keith Urban Have "Never Texted"
It's Gemini Season for Angelina Jolie, the Olsen Twins, and (Yes) Kanye West
Naomi Campbell, born May 22nd, photographed by Steven Klein for W Magazine.

Steven Klein
Natalie Portman, born June 9th, photographed by Steven Klein for W Magazine.

Steven Klein
Carey Mulligan, born May 28th, photographed by Alasdair McLellan for W Magazine.

Alasdair McLellan
Helena Bonham Carter, born May 26th, photographed by Inez van Lamsweerde and Vinoodh Matadin for W Magazine.

Inez van Lamsweerde and Vinoodh Matadin
Angelina Jolie, born June 4th, photographed by Steven Klein for W Magazine.

Steven Klein
Kanye West, born June 8th, photographed by Mario Sorrenti for W Magazine.

Mario Sorrenti
Nicole Kidman, born June 20th, photographed by Tim Walker for W Magazine.

Tim Walker
Mary-Kate Olsen, born June 13th, photographed by David Sims for W Magazine.

David Sims
Adriana Lima, born June 12th, photographed by Charlotte Wales for W Magazine.

Charlotte Wales
Annette Bening, born May 29th, photographed by Craig McDean for W Magazine.

Craig McDean
Octavia Spencer, born May 25th, photographed by Mario Sorrenti for W magazine.

Mario Sorrenti
Julianna Margulies, born June 8th, photographed by Nathanial Goldberg for W Magazine.

Nathanial Goldberg
Kate Upton, born June 10th, photographed by Mert Alas and Marcus Piggott for W Magazine.

Mert Alas and Marcus Piggott
Chris Evans, born June 13th, photographed by Mario Sorrenti for W Magazine.

Mario Sorrenti
Kat Dennings, born June 13th, photographed by Inez Van Lamsweerde and Vinoodh Matadin for W Magazine.

Inez Van Lamsweerde and Vinoodh Matadin