Noah Centineo's Very Public Thirst For Selena Gomez: A Brief History
Here's a brief history of his very public thirst.
---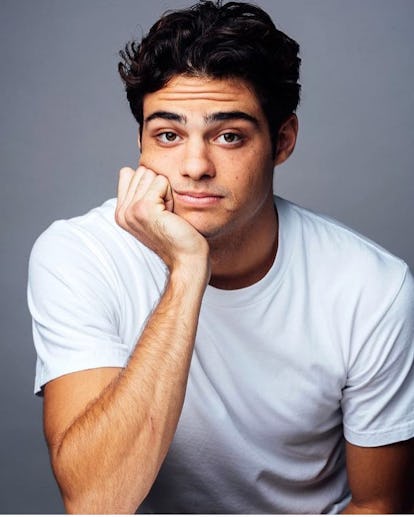 Photo by @ncentineo
To all the girls Noah Centineo has loved before: Sorry, but you're no Selena Gomez. Ever since the release of Netflix's To All The Boys I've Loved Before made Centineo the internet's number one boyfriend, questions have abounded as to the identity of his celebrity crush. And Centineo hasn't held back: Ever since naming Gomez as his ideal partner, he's all but launched a campaign to make that relationship happen, from leaving fawning comments on other people's Instagram photos of her to, most recently, detailing exactly what he has planned for their first date—despite the minor fact that, at time of publication, he and Gomez still have not met.
Read on for the brief but remarkable timeline of Centineo's completely one-sided public displays of affection for Gomez.
September 2018: Centineo declares his love
In an interview with Seventeen during his mind-bogglingly fast rise to the A-list, the 22-year-old was asked about his celebrity crush. "Selena Gomez seems like one of the coolest people ever," he said. "And she's an activist, as well." He added, "And clearly she loves love and is a loving person. I don't know if it's clear because I don't know her, but it feels that way."
Gomez didn't respond to or even acknowledge this declaration of love, perhaps because, as she told Elle in an interview released earlier that month, at that point, she hadn't been on the internet in "months."
November 2018: Centineo steps up his game
Apparently still unable to catch Gomez's attention by mentioning her in interviews, Centineo changed course, turning to the platform for which Gomez served as most-followed queen until very recently. In late November, when Gomez's former agent Nick Styne shared a throwback photo of him and the actress on Instagram, the ever-vigilant Centineo popped up in the comments to wail, "Bahhhhh she's gorgeous."
Again, his efforts went unnoticed by Gomez, who has stayed well away from the spotlight since undergoing treatment for a reported "emotional breakdown" in October.
December 2018: Centineo outdoes his own thirst
Apparently turning to desperate measures after being consistently ignored by Gomez, in the span of just one week, Centineo escalated from leaving comments on photos of Gomez to planning out their (still nonexistent) future together on the red carpet. While attending GQ's Men of the Year party on Thursday, Centineo told Entertainment Tonight that although he hasn't yet slid into Gomez's DMs, he'd "love to have a conversation with her," and already has an idea of where they would go on their first date. "[We could do] some yoga, go on a hike to the Wisdom Tree. You know, maybe go overseas, do something," he said. All good ideas, though, of course, impossible without ever having met Gomez.
As has been her M.O. throughout Centineo's blitzkrieg, Gomez has yet to respond to his date ideas. At this rate, Centineo will soon be proposing to Gomez via Instagram Live—and still all before she's ever even spoken a word to him.
Related: Noah Centineo From To All the Boys I've Loved Before Responds to Becoming the Internet's Newest Boyfriend