Princess Beatrice Said to Be Dating Edoardo Mapelli Mozzi
The eighth in line for the throne is apparently smitten with her boyfriend of two months.
---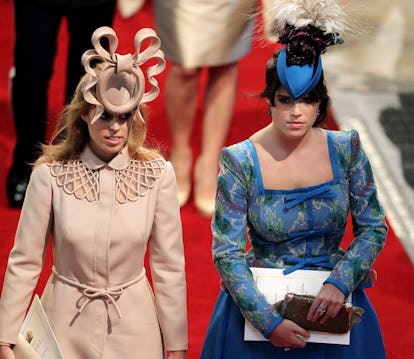 David Jones/PA Images via Getty Images
There might be a new royal wedding on the horizon, and this time, it's Princess Beatrice. Last month, Princess Eugenie of York married longtime boyfriend Jack Brooksbank in a ceremony at St. George's Chapel at Windsor Castle—the same place where Meghan Markle and Prince Harry exchanged vows earlier this year. Well, if the rumors are true, it's looking like royal wedding 3.0 might pass on to Eugenie's sister, Beatrice, who is reportedly entirely smitten with her new boyfriend of two months, Edoardo Mapelli Mozzi. So much so that Beatrice's friends are already predicting an impending engagement and wedding to swiftly follow, according to the Daily Mail.
Per the Daily Mail, Mozzi, 34, and Beatrice, 30, were introduced by a mutual friend; they began dating two months ago and have quickly proceeded past the usual relationship milestones, like meeting the parents (which has a decidedly more serious tone when you're actually ahead of your already-married younger sister in the line of succession), attending parties thrown by wealthy moguls, and going on holiday together.
"They hit it off instantly and have a real laugh together," a friend told the British tabloid The Sun. "Things are moving very quickly, and it wouldn't surprise anyone if they got engaged within a short period of time." The friend went on to muse the wedding could take place as soon as 2019.
Princess Beatrice was last publicly linked to Uber executive Dave Clark, from whom she split in 2016 after nearly a decade together. (He married Lynn Anderson in a ceremony attended by Scooter Braun, Sara Sampaio, and Ariana Grande the following year.) Mozzi, or "Edo," as he seems to be known among friends (which is great, because Beatrice apparently goes by "Bea," according to a friend quoted in the Sun), is the CEO of a London-based property developer, Banda, which he founded in 2007, per the company's site. He has a 2-year-old son, Wolfie, from a previous marriage (theoretically, he would join Camilla Parker Bowles's children as royal stepchildren). He apparently loves cricket, opera, and dogs, according to the Sun.
Well, Beatrice might be ahead of her sister in the line of succession, but her wedding probably can't eclipse the celebrity power of Eugenie's nuptials, attended by Cara Delevingne, Kate Moss, Naomi Campbell, Ricky Martin, Liv Tyler, Demi Moore, Robbie Williams, and James Blunt. (But seeing as they're sisters, and many of these connections come via their mother, Sarah Ferguson, they might share a similar guest list.)
In any case, when one royal wedding ends, the next begins. It's the circle of life.
Related: Princess Beatrice Hung Out With Kate Moss, Confirming Her Status as Britain's Busiest Socialite