Princess Beatrice Hung Out With Kate Moss, Confirming Her Status as Britain's Busiest Socialite
Their first hang since the royal wedding.
---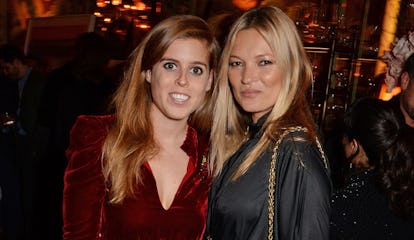 David M. Benett/Dave Benett/Getty Images
Princess Beatrice is living proof that you can live a royal life and still let loose. The great-granddaughter of Queen Elizabeth II has managed to keep up an active social life, despite not having much privacy. The guest list at her sister Princess Eugenie's wedding was further confirmation, where the pair mingled with their close friends like Kate Moss, Naomi Campbell, Cara Delevingne, Liv Tyler, Demi Moore, Robbie Williams, James Blunt, Ellie Goulding, and Ricky Martin. (Clearly their interests are wide-ranging.)
Today, Beatrice and Kate Moss reunited and partied together for the first time since the October affair, which was at the same venue where her cousin Prince Harry married Meghan Markle this past May. Beatrice and Moss were decidedly less buttoned up in a non-royal setting. Instead of wearing a hat — for which she's become known for, much to her own dismay — Beatrice let her hair down in loose, red waves. She wore a complementary burgundy velvet dress with a Gucci clutch and pointy heels. Meanwhile, Moss, who wore a polished suit to the wedding, opted for a witchy draped black dress, belted with an ornate brass clasp. The reason behind their hang was for a good cause: the Annabel's Art Auction fundraiser in aid of Teenage Cancer Trust & Teen Cancer America in London.
While Princess Beatrice's many high-profile friendships are public knowledge, less is known about the origins of them. For instance, it's assumed that she and Moss formed a bond through her mother, Sarah Ferguson, Duchess of York. Fergie, as she's known, and Moss have spent time together over the past decade, most likely sparked by attending the same events and discovering mutual friends. The pair have even gone on vacation together with Princess Beatrice and Princess Eugenie. The foursome went to Venice in 2013, while Beatrice, Fergie and Moss went to a wedding in Lima, Peru together to witness the nuptials of Prince Christian of Hanover.
Moss isn't Beatrice's only close model friend — the Princess is also close with Karlie Kloss. Earlier this year, the BFFs took a trip together to the Jordan desert Wadi Rum with Kloss' fiancé Joshua Kushner, Ellie Goulding and a few others in tow. She might not be towards the front of the line for the throne, but if she was then she wouldn't be having nearly as much fun.