Princess Eugenie Pregnancy Rumors Shut Down, Expertly, By Fergie
Sarah Ferguson was happy to dispel the rumor.
---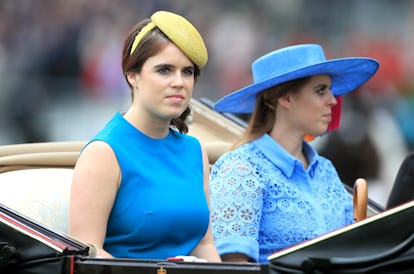 Mike Egerton – PA Images/Getty Images
Is Princess Eugenie pregnant? Depends who you ask. If you ask her mother, Sarah Ferguson, the Duchess of York, the answer is no. If you ask the gossip-hungry UK tabloid media, she's pregnant with twins fathered by Elvis, who is very much alive. And so in conclusion…no.
Speaking to a gaggle of reporters, the ever blunt and rarely censored Ferguson said, "What else can I tell you? No, she's not pregnant!" according to JustJared. "I'm just going through what the journalists say and they're all here, so I just thought I'd fill it in." She gave the quote while attending a party stateside for businessman Ernie Boch, Jr. Ever the spokeswoman, Fergie also remembered to plug her son-in-law Jack Brooksbank's business, noting, "Jack sells tequila for Casamigos, which we love. It makes me even more of a yummy mummy because I just drink the tequila when I go and sell it."
Brooksbank and Princess Eugenie, daughter of Prince Charles' brother Prince Andrew, married last October. The pregnancy rumors don't appear to be based on anything in particular except the traditionally quick altar-to-baby turnaround of the royal family.
Seizing on the opportunity to set the record straight, Ferguson also told the crowd that yes, she lives with her ex, with whom she is famously on good terms, saying, "Yes I do live at the Royal Lodge with the handsome prince, who is the best-looking prince of the whole lodge."
Whenever the Princess and her husband do have a child, Ferguson and her "handsome prince" will be thrilled to expand the family. Before the wedding, the Duchess of York said in an interview that she felt "excellent" about the prospect of becoming a grandparent, and described the family ethos thusly: "The thing about Andrew and I is that we go with our hearts, we go with the family unity. We really believe in that, you can see that the York family unity, it's all about seeing the light in life."
Related: Is Sarah Ferguson Finally Ready for Her Royal Comeback?
Why Can't All Royals Be More Like Camilla Parker Bowles?
Camilla Parker Bowles wielding a knife in front of Prince Charles during a visit to Seppeltsfield Winery in Barossa Valley, Australia, November 2015.

Getty Images
Camilla Parker Bowles double-fisting ice cream during a visit to the village market in Droromore, Northern Ireland, May 2017.

Getty Images
Camilla Parker Bowles hanging out with a crew of "Donald Trumps" at the ICAP's annual charity day in London, December 2017.

Getty Images
Camilla Parker Bowles trying some of her 61st birthday cake during her visit to the "Dig for Victory" organic allotment in St James's Park in London, July 2008.

Getty Images
Camilla Parker Bowles holding a koala named Matilda with Prince Charles during their Diamond Jubilee Tour of Papua New Guinea, Australia, and New Zealand, in Adelaide, November 2012.

Getty Images
Camilla Parker Bowles presenting a "special doggy cake" and long service certificate to a rescue dog named Ruby in Warminster, England, February 2015.

Getty Images
Camilla Parker Bowles holding an umbrella at the VE Day 65th anniversary tributes, in commemoration of Victory in Europe day, in London, May 2019.

Getty Images
Camilla Parker Bowles eating ice cream with Dame Judi Dench at the Queen Victoria's private beach in East Cowes, Isle of Wight, England, July 2018.

Getty Images
Camilla Parker Bowles taking a sip of rum punch during a visit to the Hermitage Plantation House in Saint Kitts and Nevis, March 2019.

Getty Images
Camilla Parker Bowles going to great lengths to cut a cake during a visit to the Newquay Fire Station in Cornwall, England, July 2017.

Getty Images
Camilla Parker Bowles encountering a reptile known as a Tuatara on her and Prince Charles's visit to the Orokonui Ecosanctuary in Dunedin, New Zealand, November 2015

Getty Images
Camilla Parker Bowles reacting to Prince Charles lighting the candles of her 60th birthday cake during a visit to Bronham in Wiltshire, England, July 2007.

Getty Images
Camilla Parker Bowles preparing to take a shot of gin during a visit to a food market in Honiton, England, July 2018.

Getty Images
Camilla Parker Bowles taking in the action at the Essex Dog Training Centre in Brentwood, October 2011.

Getty Images
Camilla Parker Bowles marveling at a plastinated dog's heart during a visit to Beaumont Sainsbury Animal Hospital in London, February 2015.

Getty Images
Camilla Parker Bowles and Prince Charles wielding boomerangs during a visit to Kings Park in Perth, Australia, November 2015.

Getty Images
Camilla Parker Bowles at a loss for words upon glimpsing the cake at the opening of Ebony Horse Club in London, October 2011.

Getty Images
Prince William and Camilla Parker Bowles laughing during the opening ceremony of the Invictus Games, a sporting event for wounded servicemen and women, in London, September 2014.

Getty Images
Camilla Parker Bowles and Prince Charles reacting to a bald eagle flapping its wings during their visit to the Sandringham Flower Show in King's Lynn, England, July 2015.

Getty Images
Camilla Parker Bowles double-fisting cupcakes at a "Women in Business" event during a royal tour of the Middle East, in Muscat, Oman, November 2016.

Getty Images
Camilla Parker Bowles preparing to cut a cake at the 30th anniversary celebration of the Queen Mother Hospital for Small Animals in Hatfield, England, April 2016.

Getty Images
Camilla Parker Bowles toting a giant teddy bear that an admirer gave her during an official visit to Leipzig, Germany, May 2019.

Getty Images
Camilla Parker Bowles sampling a spread on the set of ITV's This Morning, where she was celebrating the 90th anniversary of the Royal Television Society, in London, January 2018.

Getty Images
Camilla Parker Bowles sampling a glass of Australian wine during an Australian Day Reception at the Violin Factory in London, January 2015.

Getty Images