Remembering Jim Walrod, the Insider Who Showed David Bowie, the Beastie Boys, and So Many Others How to Live with Style
The interior designer and man about town passed away over the weekend.
---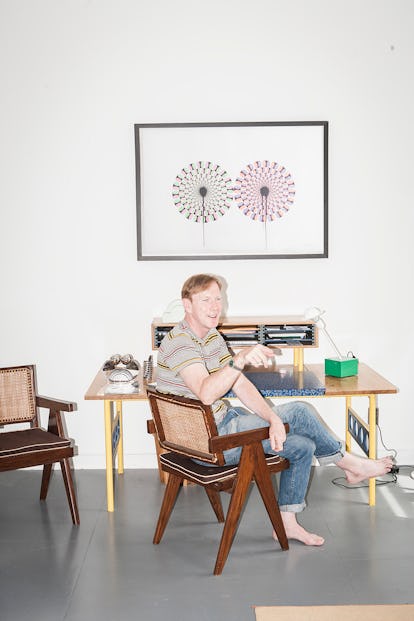 Photo by Jeremy Liebman
As far back as any of us can remember, Jim Walrod was a fixture of downtown New York. Jim, who passed away unexpectedly over the weekend, was an interior designer by trade, and also dabbled in curating (for design galleries like Patrick Parrish and R & Company) and writing (for Apartamento, where he was a contributing editor, and in his book of delightfully obscure information, I Knew Jim Knew).
To the people who were friends with him, Jim was both larger than life and completely down-to-earth. Like many of us here in New York, he grew up in New Jersey. Back then he was right across the Hudson River in Jersey City, eyeing this great and tarnished city, which in the 1970s and 80's felt like another planet. As the writer and musician Ian Svenonius has said, many of the participants of New York's fertile art and music scenes in those years had grown up looking at the city from the wilds of New Jersey, and they'd wanted to be a part of New York more than anyone. That was Jim, too. Like his musical heroes playing at CBGB or the Mudd Club—Suicide and all the rest—he was from outside of Manhattan, and couldn't wait to cross the river for good.
Once he did, what followed was a number of exploits that he recounted many times, and which, in the years since, have acquired an air of mythology. He got an early job working at the original Fiorucci shop, thanks to a recommendation from Andy Warhol. He opened a vintage-design store, Form and Function, which carried mid-century modern furniture back before most people realized they should care about that stuff. (He got shout-outs from the Beastie Boys, who referred to him as their "furniture pimp.") And later, when he went into interior design, he convinced David Bowie to furnish his home with pieces from Ettore Sottsass's now-revered Memphis Group, well before it became everyone else's obsession.
In his day job, he designed interiors for hotels like the Thompson LES, and worked on private clients' residences. But as Jim often explained, his role was to perform a service: to help the people who hired him to refine their own taste into something they wanted to live with. At the end of an interior-design gig, he liked to say, if his clients wondered why they'd bothered to hire him in the first place, he knew he'd been successful.
But to define Jim Walrod by his job, by any of his jobs, does his memory a disservice. Jim was far more than what he did. He was even more than his (seemingly bottomless) font of knowledge and opinions. He could speak in detail, and with authority, about any esoteric subject, from the furniture at the old Comme des Garçons store in SoHo to why the latest releases from Frank Ocean and Radiohead were better than anything else out at the moment. ("I don't know anything else that sounds like those albums," as he said in his inimitable way.)
He also had a popular Instagram account, which revealed not only his excellent taste and deep knowledge about design, from the 20th century to the present, but also his earthier side, including his unvarnished opinions about our current (and in Jim's mind, hopefully soon-to-be-former) president. There, on his Instagram account for all to see, you got the many sides of Jim Walrod. And that motherf–ker could curse. But that wasn't all.
Jim was also the best kind of autodidact. From what he told me, he hadn't gone to college, but his move to New York in the 1980s served as a better education than any tuition could've paid for. He read voraciously, and even in this fallen age for print media, Jim held books and magazines in the highest regard. He was constantly on the hunt for something new, unearthing a rare photography book or an impossible-to-find volume about Superstudio, or one of the other semi-arcane 20th-century cultural movements he loved. And he always wanted to share. Whenever I went over to his perfectly furnished Chinatown loft, he'd grab the latest obscurity off his shelf and casually hand it over, like an archaeologist just back from a successful dig.
Sure, he was partially showing off his scores, but he always made you feel like he was including you in his successes: Look at the one we pulled over on the world by finding this rare Jean-Paul Goude book for only 20 bucks. And he was generous—beyond generous—with his things. Jim regarded them as totems, perhaps, but he also gave them away easily. One time, he showed me an old catalog from a MoMA show he'd just picked up—"it was cheap!"—that had a hand-poured resin cover by the Italian industrial designer and architect Gaetano Pesce. As I'm sure he could tell, I was practically dizzy with envy at such a find. (I made a mental note to try to track one down as soon as possible.) But later, when I mentioned that it was my wife's and my first wedding anniversary, he gave us the book as a gift. He did it lightly, like it was nothing. In a way, it was—that book is great, but his gesture, and the memory of it, was bigger than any mere material object could ever be.
And though he made his living from imparting what he knew, he also gave away plenty of information for free. In a long-running series of posts on Instagram, he showed some of the books he'd find, the volume propped in his lap, his long legs draped easily over this or that rare, impossibly expensive piece of vintage furniture—often one of Robert Venturi and Denise Scott Brown's Queen Anne chairs, which Jim said he'd found so ugly that he couldn't live without it.
Instinctively, and probably from a young age, Jim must have understood that knowledge is power, but it can also be a gift. Talking to him, reading his articles, or looking at his posts made New York seem exciting, the way it must have been back when he'd moved here in its pre-Giuliani heyday. When Jim recommended this or that classic restaurant (Katz's, JG Melon) or talked about the city's hidden treasures (the Isamu Noguchi lobby in midtown, the last Gordon Matta-Clark building cutout left in town), it felt like he was letting us in on its secrets. So it's strange to think that he's no longer here. He was always around—at the Met Breuer's Sottsass opening, or the Jacques Tati screening at Metrograph. And it seemed like he always would be, well into old age: his; mine; the city's. But today, New York feels less like itself without Jim Walrod in it.
See W's most popular videos: