Sadie Sink on Balancing Stranger Things Season 3 With Studying for the SAT, and What Happens When She Wears Miu Miu to School
The 16-year-old actress explains how she became a runway model, in between shooting Stranger Things and studying for the SAT.
---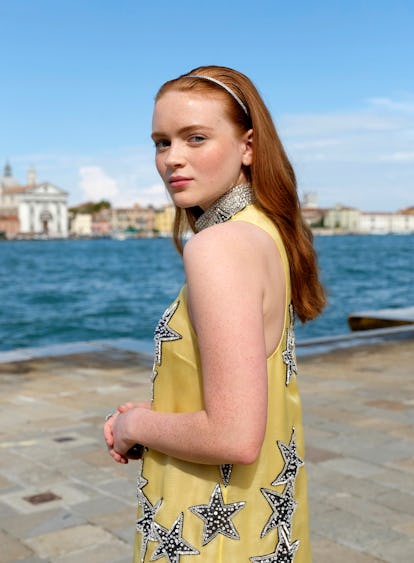 Courtesy of Miu Miu
It's been a busy past few days for Sadie Sink, the 16-year-old actress who turned the Upside Down upside down last year when she joined Millie Bobby Brown and company on the second season of Stranger Things as the effortlessly cool skater girl Mad Max. On Sunday, the Miu Miu muse found herself in Venice, Italy, for the premiere of The Wedding Singer's Daughter, the latest installment of the label's film series, Women's Tales, with some of its directors, like Dakota Fanning.
By Tuesday morning, though, she was already hard at work back in Atlanta, making it just in time for her first day of school. Since class breaks on the set of Stranger Things usually consist of skateboarding and battling imaginary demagorgons, it wasn't too tricky for Sink to sneak off and share her tales of everything from her trip to Venice to that time she shared the runway with Naomi Campbell.
How's filming going?
Well, I'm on set right now, but it's actually my first day back at school. Junior year is supposed to be the hardest year, so we'll see how it goes. I'm doing psychology, chemistry, calculus…
Are you going to take the SAT too?
Yeah, actually, I think so!
I was joking, but wow, how do you have time? When did you even get back from Venice?
I got back yesterday at 4:00, so I'm a little jetlagged—just a little disoriented. But it was incredible. I've never been to Italy before, and Venice is one of the most beautiful cities I've ever seen.
How was your night with Miu Miu?
I'd never even seen any of the Women's Tales before. I was going to watch some before I went, but I decided to just sort of go all-in, and they were great. Dakota Fanning made a really great film, and so did Haifaa al-Monsour. It was interesting how they incorporated the Miu Miu clothes in them in such different ways, like Haifaa setting hers in the '80s.
Speaking of the '80s, I saw you had a mini Stranger Things reunion with David Harbour (aka Hawkins's Sheriff Hopper) while you were there.
Yes! I was waiting in the hotel lobby, and I was like, David? I had no idea he was going to be there. It was interesting, too, because I usually just see him on set. And then I didn't get to meet Tilda Swinton, but I did see her, too! Miuccia Prada held this dinner after the screening, and there were a lot of cool people there, like Lily James, who I'm kind of obsessed with right now.
How did it go being vegan in Italy?
It was a little difficult, but it was a short trip. There's always fruits and vegetables. [Laughs]
You've really gone full Miu Miu now—it's been less than a year, and you've already done a campaign and walked a runway show, too.
It's been great. It's like this little family. I feel really comfortable with everyone, and, of course, the clothes are incredible. I have so many of their bags and T-shirts. It's definitely changed my everyday style; they have so many individual pieces that you can have fun pairing with, you know, plain jeans and sneakers. I actually did that at school one time last time year, and people looked at me kind of weird, like, Oh, my God, she's wearing Miu Miu to school. [Laughs] It was kind of outrageous—it's this beautiful red sweater with all these jewels on top. But I didn't care; I was like, It's beautiful. Get over it.
Do you ever get nervous? You've walked two shows now, including the Miu Miu one this past July, with people like Naomi Campbell and Uma Thurman.
Oh, yeah. That was crazy, being around all these super-big models, too. I'm five-three, so they put me in some pretty tall heels, which were interesting to walk in, but I managed. But I mean, before I put the heels on, my neck was hurting from looking up so much. Once I got the shoes, though, it was all good. And it was nice to meet a few of them at the dinner afterward—Rowan [Blanchard] also walked, and so did Kaia Gerber, so I made some new friends.
Do you plan on keeping it up?
I love it; I'd love to do more. It's so much fun. I had never thought that would be something I'd be interested in or have fun doing, and it was really surprising, the first time, how much fun I had. I was originally supposed to be attending the show, and then I got a call from my manager who said Miuccia wanted me and some of the other girls to actually walk in the show, and I just felt so honored. I was like What? Me?
Getting back to Stranger Things, what can you tell me about season three?
All I can is what's already been said. It's summer, so the clothes are different and it has a whole new feel to it, also because now it's 1985. The mall plays a big role; we spend a lot of time there. I mean, it's still the Stranger Things you know and love, but it's summer now, and that changes things.
Now that Max is dating Lucas, are you getting to do any scenes with his younger sister, Erica? You were both definitely the standouts last season.
I can't say—I can't say yes, and I can't say no. [Laughs] But Priah [Ferguson] is, like, the cutest girl I've ever met. She's so sweet; I can't wait for everyone to see her. It's really a family now: Me and Caleb [McLaughlin] and everyone on set are just super, super close now. They're all my brothers and sisters.
You've definitely had a crazy past year together.
Yeah, a lot's been going on. And actually, for me, fashion is one of the biggest changes. I never got to wear Chanel or anything like that growing up, or really experience fashion the way I get to now. That's one of the best perks. And I have more interesting things to post on social media now that I'm going to Venice and stuff like that, instead of, you know, going to school and sitting on my couch.
Related: Dakota Fanning Made a Movie About Her (Maybe) Leaving New York