Selena Gomez's Hairstylist Explains How to Choose the Perfect Hair Cut and Color for 2018
Hairstylist Marissa Marino breaks down the right cut and color for you.
---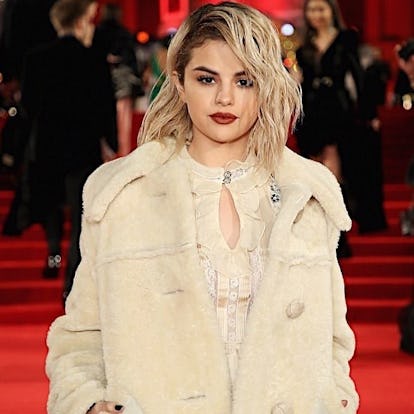 @marssia.marino
While the New Year has always been a time of fresh starts and daring beauty transformations, this year a few A-listers got a head start by debuting radical style changes right before the holidays. Think Chrissy Teigen's bangs, Allison William's brunette makeover or Selena Gomez's head-turning platinum blonde locks. And thanks to Gomez's hairstylist, Marissa Marino, approaching a new look for 2018 isn't that at all that daunting if you know what you're doing. Here, Marino breaks down how to choose the right color, cut, and style just in time for the new year.
What are some hair trends you hope to see in 2018? A few years back it was all about ashy colors. I am seeing warmer colors come back into the picture, which I love. It compliments more skin tones and makes you look vibrant and fresh.
What is your go-go hairstyle during the holidays? I love a good chic ponytail that has a lot of shine to it.
How do you like to prep the hair before styling? I like to start with wet hair so I can put in a mousse or styling cream that will help hold the shape of the style. I love R+Co Jackpot Styling Crème ($25, nordstrom.com) and Oribe's Soft Lacquer Hair Spray ($36, neimanmarcus.com).
What is your best advice for those looking to try a new hair color? Make sure it's a color that compliments you and your skin tone, not the color that looks good on the girl in the magazine or your best friend.
What is your best advice for those looking to try a new haircut? Make sure you have thought about it for at least a month. If you still want to make then change then go for it! Then the chance of loving it is pretty high because you were really ready for it.
When it comes to a dramatic makeover, what is your the best advice on a approaching a new look for 2018? Pull reference pictures and consult with a professional about what is realistic for you. It might be something that needs to be done in phases and won't be where you want it to be in the first appointment. Be patient and trust your stylist!
The Most Radical Blonde Transformations of 2017, From Cara Delevingne to Selena Gomez
Big Little Lies actress Zoë Kravitz paired her newly blonde pixie with a bare pink lip.

@zoeisabellakravitz
Ditching her famous red locks, Game of Thrones actress Sophie Turner went to the platinum side.

@cwoodhair
Actress Kristen Stewart stepped out in her platinum blonde buzz cut at her Personal Shopper movie premiere.

Getty.
Although Lily Collins' blonde locks were a temporary gig, the actress proved that she can rock any shade.

@lilyjcollins
With Kim Kardashian unveiling her platinum blonde locks during New York Fashion Week, mother Kris Jenner quickly followed with a platinum do of her own.

@kimkardashian
Singer Solange Knowles traded in her long, brunette braids for a platinum blonde afro.

@saintrecords
Katy Perry unveiled her platinum locks during Paris Haute Couture Week in a fresh pixie cut.

@katyperry
Supermodel Karlie Kloss pairs her shoulder length platinum locks with radiant skin and a mauve lip.

@karliekloss
In the latest to join the platinum blonde movement, singer Selena Gomez unveils her new do at the American Music Awards.

@hungvanngo
Although her platinum transformation was just for the night, singer and actress Zendaya makes the case for a blonde pixie cut and dewy skin.

Photo via Getty Images
As the ultimate hair chameleon, model and actress Cara Delevingne proves that side swept bangs and a sleek cat eye are the ultimate duo.

@caradelevingne
La La Land actress Emma Stone ditched her signature auburn red locks for shoulder length platinum blonde waves.

Getty.