Shay Mitchell Is Ready for Her Big Return to TV Post–Pretty Little Liars, but First a Stop at Coachella
"If it is good content, I don't care where it is."
---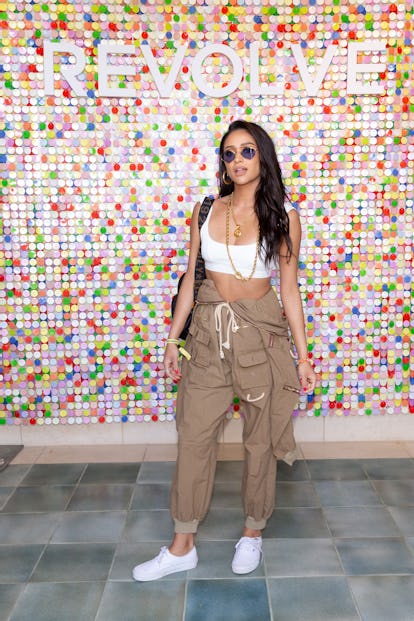 Like many supremely famous TV starlets, Shay Mitchell is no stranger to the Coachella music festival, held annually in Indio, California. In fact, she's starting to lose count of how many times she's attended.
"This is my third year," she declared, before quickly stopping herself in doubt, turning herself to a nearby friend for confirmation. "Wait, [is it ] three years I have been to Coachella or more?" (A quick Google search confirmed it was, indeed, three.)
"The first one was with Troian [Bellisario] and Ashley [Benson] from my show [Pretty Little Liars]," she recalled. "I miss them so much. It was cool to have that experience."
In short, Mitchell, at this point, is something of a pro of the festival scene. Take her outfit, for example. The actress was relaxing in the shade on the Friday afternoon of weekend one, playing hostess for Revolve's daytime pool party at #hotelRevolve, clad in a black crop top and white denim shorts by Girlfriend denim. It was a look that was part very festival-ready but also extremely functional. "I always want to be comfortable," she said. "I never want to be sweating or super hot, so shorts are good for me."
It was also an ensemble that easily translated from day to night—a must for the weekend's many pool parties and late-night concert sets.
But, Coachella is only two weekends a year, after all, and Mitchell was thinking ahead to her next project: the new television series You, which is, according to the show's official release, a "21st-century love story about an obsessive yet brilliant 20-something who uses the hyperconnectivity of today's technology to make the woman of his dreams fall in love with him."
"It's just fun and it's dark," Mitchell said of the show, which will premiere on Lifetime this summer. "It's so different from Pretty Little Liars, but I'm so excited. I remember reading the pilot and thinking, If I'm not involved in this, I'm still going to watch it."
In the show, Mitchell costars alongside another former star of a cult-favorite television show: Gossip Girl's Penn Badgley. "He's awesome—a smart, incredible guy. He plays this character better than anyone could have," she said.
The show also marks Mitchell's return to television after last summer's finale of Pretty Little Liars, and sees her following in the footsteps of former costar Lucy Hale's return to television. "To be honest with you, I don't care what kind of medium it is as long as it is good content. If it is good content, I don't care where it is."
Related: Lucy Hale Is Very Excited (and a Little Frightened) to Return to TV with Life Sentence