Relax: Stormi Bree Isn't Upset About Kylie Jenner's Baby's Name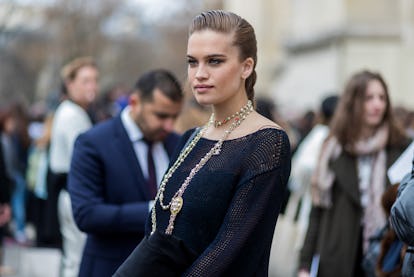 Christian Vierig
You'd think there'd be enough Kardashian-Jenner news out there lately without people having to make some up, and yet the model Stormi Bree found herself drawn into a purely fictional feud this week simply because she happens to share a first name with Kylie Jenner's new daughter, Stormi Webster. Never mind that Bree herself is a 27-year-old adult woman raising a recently born baby of her own, and probably doesn't have the time nor the inclination to pick internet fights with seven-day-old infants. And never mind that the vast majority of people happen to share a first name with other people (in some cases millions of other people) without drama.
Sure, Bree may have been pretty much the only person in the public eye named "Stormi" before Jenner announced her baby name yesterday. Still, when she happened to post an otherwise innocuous Instagram post yesterday just hours after the name reveal, it was kind of a stretch to assume, as did not only many teenage Twitter users but also online publications presumably run by paid adults, that it was intentional shade.
Bree posted a black-and-white photo of herself in which her expression conveyed displeasure with the caption, "Current mood?." Soon headlines started filling up the feeds with stories about some perceived drama. Things got so out of hand that Bree had to go back in and edit the caption with the addendum, "(goodness gracious that was bad caption timing lol)."
It should not be a surprise that Bree happened to post a selfie on the day Jenner announced her baby's name, considering that Bree posts a selfie to Instagram on most days.
Bree is pretty busy these days with things other than social media, though. There's the former Miss Teen USA's modeling career, and her duties raising her own infant daughter Gravity Blue Smith. The child, by the way, makes frequent appearances on both Bree's Instagram and on that of her father, male model Lucky Blue Smith.
Of course, while most of us go through our lives sharing first names with others without incident, occasionally the situation does pose problems to those in the public spot—something that Kylie Jenner knows all too well. Her lawyers recently had to work out a deal with Kylie Minogue's lawyers after Jenner attempted to trademark the word "Kylie" for certain uses. But it was all straightened out, and Kylie Minogue recently reminded the world that, much like Bree's Instagram, there was no personal animus behind the little legal tiff.
Related: Kylie Jenner's Daughter Stormi Has Already Broken an Instagram Record
A Brief History Of All the Times the Kardashians Have Gone Blonde
Kim Kardashian steps out in a blonde lob alongside husband and rapper Kayne West during Paris Fashion Week in 2015.

@kimkardashian
Kendall Jenner looks unrecognizable with her blonde wig walking alongside Gigi Hadid who also sports a brunette wig after the the Balmain Fall 2016 show in Paris.

@kendalljenner
Known for her ever-evolving hair colors, the youngest of the Kardashian/Jenner crew wears her locks in long, tousled waves.

@kyliejenner
These days, Kim Kardashian can regularly be seen sporting her blonde locks and poses alongside with singer Fergie and model Chrissy Teigen backstage during Fergie's "M.I.L.F" music video.

@kimkardashian
Khloe Kardashian, the most regularly blonde of the whole family, wears her long platinum locks sleek straight with a nude lip.

@khloekardashian
Sporting dramatic platinum blonde locks during New York Fashion Week, Kim Kardashian steps out for the Yeezy Season 3 show.

@kimkardashian
Kylie Jenner takes on a silver platinum shade, wearing a sleek, middle-parted pony in tousled wet waves.

@kyliejenner
As the most recent Kardashian to go blonde, Kris Jenner debuts a chic platinum blonde pixie.

@kimkardashian
Khloe Kardashian takes her blonde locks to new heights, sporting perfectly tousled air-dried beachy waves.

@khloekardashian
At the 2017 Met Gala, Kylie Jenner showed up in a side-swept chin grazing blonde bob.

@kyliejenner
After debuting silver platinum locks during New York Fashion Week, Kim Kardashian styles her locks in an ultra sleek high pony.

@kimkardashian
Posing alongside sister Kendall, Kylie wears her blonde locks in soft, polished curls.

@kyliejenner
While she may have temporary tried on a platinum pixie, Kris Jenner starts off the New Year with freshly dyed tousled do.

@krisjenner